Nokia 7650


The Nokia 7650 was the first Series 60 phone. With a built in camera this phone was one of the first to support MMS to its fullest extent. With GRPS and dual band GSM this is a European phone. On board software includes an agenda and integrated contacts together with e-mail and messaging clients, as well as games and much more. The phone supports third party programs, written in Java or C++. The phone can be sync'd to desktop clients via bluetooth or infra red.

Nokia 3650
The Nokia 3650 is the second Series 60 device from Nokia. Series 60 is a Nokia UI which uses the Symbian OS. The Nokia 3650 has a built in camera and supports both still imaging and video capture an playback.The phone has GPRS support and is triband and has support for bluetooth. The phone supports the MDIP 1.0 Java langauge and has support for polyphonic ringtones. Expansion is provided by an MMC card slot. E-mail and internet acess (via XHTML browser) is fully supported. The 3650 is described by Nokia as aimed at the Youth market.
Nokia 3660 and 3620
Nokia's 3650 sucessor is a small upgrade. The main enhancement is a 64k colour screen.

Nokia N-Gage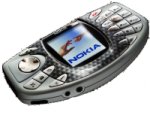 The N-Gage is Nokia first dedicated gaming device. Running both standard Series 60 games and programs it also support a N-Gage only locked MMC format for the distribution of Rich Games. This Gaming Device with a phone is tri-band, and supports Bluetooth and GPRS for multi player gaming. The device is also an FM Radio and MP3 music player.

Nokia N-Gage QD
QD (Latin for Every Day) is Nokia's second gaming phone. It cures the main problems of the first phone (it has no side talking and can hot swap MMC cards), but removes the Radio, MP3 player, USB connectivity and adds a seperate Okay button instead of a push down onthe rocker. Memory, OS, Tech Specs and Screen Depth remain unchanged. Both units are 100% compatible with each other.

Siemens SX1
The first Symbian phone from Siemens and the first non Nokia Series 60 device. The Siemens SX1 supports stero sound, and has more memory the the 3650, 760 and N-Gage. Its keys are arranged up each side of the phones screen. The phone is tri-band, has GPRS and MMC for expansion. Due for launch in the Q4 2003.

Samsung SGH D700
The first Symbian flip phone. The D700 features a rotating screen and camera so that the device's screen can be turned back to front. In its flip closed size it is currently the smallest Symbian handset available. The phone is the second Series 60 device outside of Nokia's range. It is unclear whether this phone will ever be publically available. Samsung announced the D710 which may be a replacement to this model.

Nokia 6600
It runs Series 2.0 which runs on Symbian 7.0s (previous Series 60 devices used Symbian 6). The device has a standard keypad arrangement. It is a triband world phone with GPRS and a MMC slot for expansion. Due for launch in the Q4 2003.

Sendo X

The Sendo X from British manufacturer Sendo is one of the most advanced smartphones on the market. Featuring a heavily customised Series 60 1.2 (additions include the Now! screen, customisation elements and improved usability). The phone boasts SD and MMC card support (the first released phone to do so) and memory cards can be hot swapped. The camera has a built in LED 'flash' to help take better pictures in the dark.
Panasonic X700

The X700 is Panasonic's first Symbian phone. This flip phone feature built in picture and video editing. Support for the miniSD memory card format. It runs Symbian 7.0s and Series 60 2.0
Samsung SGH D710
Samsung's second Symbian and Series 60 phone has a slide design similar to the first Series 60 phone the Nokia 7650.
Nokia 7610
Nokia's first megapixel camera phone. With support for reduced siezed MMC and the first phone to ship with Nokia Lifeblog - Nokia's multimedia diary software. The 7610 is available from Q2 2004. The phone runs Symbian 7.0s and Series 60 2.0.
Nokia 6630
The first Series 60 3G phone. Features include a megapxel camera, RS-MMC, Bluetooth, WCDMA, GPRS, and GSM network connectivity. Runs Series 60 2.0 with feature packs 1 and 2.
Nokia 6670
The sensible key layout version of the 7610 does have a lot going for it, with tri-band coverage, mega-pixel camera and camcorder functio, 8mb internal memory and space for an RS-MMC card,
Nokia 6260
Nokia's first Series 60 flip phone is aimed at the business user. The phone includes a dedicated push to talk button and the camera is located on the size. Other business focused features include always on e-mail courtesy of Blackberry technology which Nokia licensed.
Nokia 3230
Announced at NMC 2004, the 3230 appears to be the first true mid-range Series 60 device, targeting those looking for imaging, video playback, and the create your own crowd with ringtones and basic video editing software on board.
Sendo X2
Announced at 3GSM 2005 the Sendo X2 is the second Series 60 phone from Sendo. It is aimed at the music lover (Sendo term it a music phone) and it supports MP3, AAC and AAC+ out of the box.