I won't pretend that this particular mini-group test isn't somewhat niche in the grand scheme of things. After all, these things are supposed to be phones! However, the ability to produce natural audio from built-in speakers is very important indeed.
And no, before you ask, it's not all about music reproduction, although the variation in volume and quality was easiest to tell by playing the same music track, as in the photo below. The reason I'm passionate about testing the speakers in these smartphones is that I'm addicted. To podcasts. No, not the AllAboutSymbian one, I get fed up with the sound of my own voice as it is, but to podcasts from around the world. Podcasting works so brilliantly in all modern S60 phones that it's trivial to stay on top of all the latest episodes. So, when I'm washing up, or doing other chores, or driving, it's an utter pleasure to let my mind take in the podcasts while my hands are busy somewhere else.
And no, headphones aren't really the answer, since then you're somewhat isolated from the rest of your environment, from children crying, doorbells ringing, the dog getting loose, and so on. Hence my speaker test, looking (for sheer interest's sake) at the Nokia 5800 XpressMusic, the N95 classic, the N86 8MP and the N97, plus [update] the Nokia E90, E75, N96, 6220 Classic and Samsung INNOV8.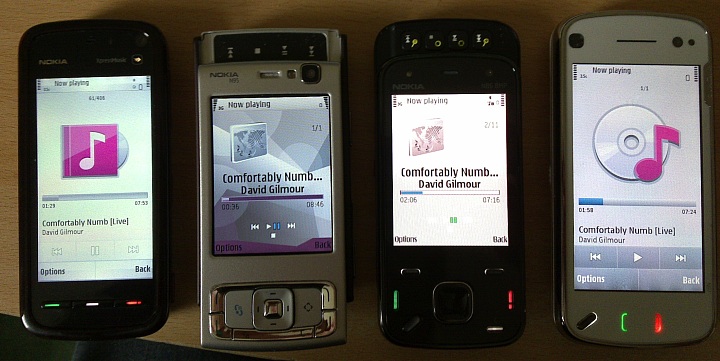 The order of the devices in the photo is relevant, by the way, since here are my findings (playing exactly the same rock music track on each, with volume in each case set to 90% of maximum):
| | | |
| --- | --- | --- |
| Devices (updated June 23, 2009) | Approximate volume (out of 10) | Comments |
| Nokia 5800 XpressMusic | 10 | Amazingly loud and with audible bass and plenty of mid-range |
| Nokia 6220 classic | 9 | Seems, standalone, as good as the 5800 in terms of speaker output, but pales in a direct comparison. Still, impressive for a single speaker! |
| Nokia N95 classic (or N95 8GB) | 8 | A well known quantity, audio from this device - reasonable volume and some pretense at audio fidelity |
| Nokia E90 | 8 | Less stereo separation, obviously, but nice loud speakers - place the phone on a hard desk for best effect |
| Nokia N86 8MP | 6 | A bit quieter than the N95, but noticeably tinnier - Nokia have used quite small speakers here and there just isn't any kind of fidelity - not pleasant to listen to |
| Nokia E75 | 5 | Not that loud, compared to other devices here, and with a mono speaker, but fidelity was good, pleasant to listen to |
| Samsung INNOV8 (i8510) | 5 | Same volume as the E75, despite having twin speakers, but tinnier and with not much depth |
| Nokia N97 | 4 | Surprisingly, for a flagship phone, sound from the N97's speakers was as tinny as that from the N86 and a third quieter - if I'd bought the N97 for podcast listening over speakers then I'd have been devastated - one of the N97s weakest areas, in my opinion |
| Nokia N96 | 4 | Also surprisingly quiet, but slightly less tinny than the N97 |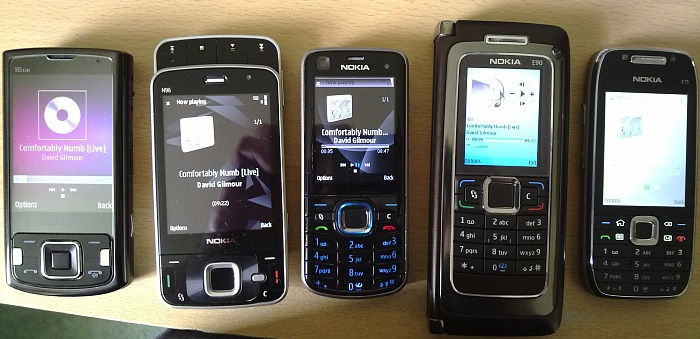 Is it just me? Do other readers out there care about sound output over speakers?
Either way, I hope this little test has proved interesting. If you have experience of especially good or bad audio output on another smartphone then comments are welcome!
Steve Litchfield, All About Symbian, 20 23 June 2009 [updated]