The Nokia N96 is the latest in Nokia's Nseries line up. It has the familiar dual slide design from the N95, but this is a TV and video focussed mobile device. As such it is not a replacement for the N95, although it does share many of its attributes and features and is, of course, a very high-end handset.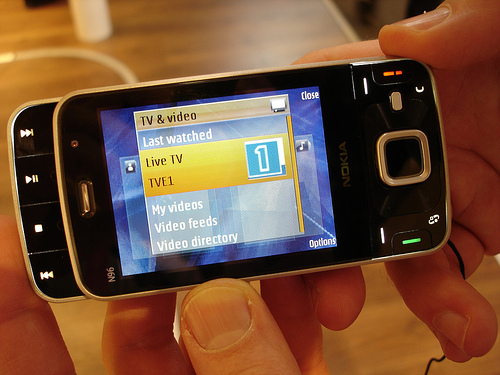 General Design and Hardware
The N96's overall design and styling is very similar to that of the N81, but there are elements of the N95, N82 and N81 in the design too. The overall impression is that of polished, flat surfaces with silver highlights. The N96, at least subjectively, looks and feels like a high end device and this should improve the device's appeal among style conscious users.
At 103 x 55 x 18 mm, the N96 is relatively large, but much of that is necessary to accommodate the large 2.8inch screen. It is marginally longer and wider than the N95, but very slightly thinner.
The shiny front of the device is susceptible to fingerprints, but at least the flat surface will make it easy to clean. The screen is flush with the rest of the device which maintains the stylish lines and avoids the dust problems associated with recessed screens. The screen is the same 2.8 inch leviathan found in the N95 8GB and impresses with its clarity and sharpness and gives a good video playback experience. The control keys cluster is dominated by a large navi-wheel enabled D-pad, which is surrounded by multimedia playback controls with the multimedia key off to the right hand side. The navi-wheel is effectively a touch sensitive scroll wheel and is used selectively within the UI to navigate long lists (e.g. music playlists) or to move around carousels (e.g. the multimedia menu). It avoids repetitive key presses in select instances, it does take a bit of getting use to, but fortunately the directional controls can be used exclusively if desired. The usual hardware softkeys, S60, cancel and calling keys are on the left and right hand side. There is a front facing camera for video calls though you have to look hard to spot it.
The back of the device, which is dominated by the five megapixel camera, uses a similar material to that of the N82 which is less prone to finger prints and has an attractive ridged pattern embedded within it. The plastic surround of the camera is my favourite innovation on the N96. It is hinged so that it can act as a stand when the device is in landscape mode – ideal for watching video on a plane, for example.
The sides of the device use the same hard silvery-gray plastic as the N82. The right hand side of the device is similar to the N82 with the volume rocker button and camera capture at opposite ends, surrounded by the stereo speakers. The stereo speakers are positioned for optimal performance when the device is being held in landscape mode, which makes sense given the video and TV focus. Gone is the Gallery key, which makes sense in some ways given the diminished importance of this application. However I don't see why it could not have been included and pointed to the new Photos application. This key does, after all, closely mimic the review/view media key found on most standalone digital cameras, making for a more familiar user experience.
The left hand side of the device houses the microSD card slot, which officially supports capacities up to 8GB but should also accept the 16GB and 32GB cards once they become available. Together with the 16GB of 'mass storage' flash memory (enough for 40 hours of video) and 256MB of dynamic 'internal' flash memory (the 'C' drive, best for applications), there's plenty of space for applications, music, videos and maps.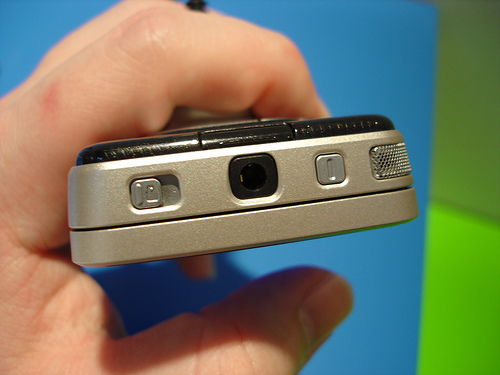 The top of the device has the usual power button, the 3.5mm audio jack (also used for TV-Out), which is in the optimal position to avoid headphone wire tangles, and a lock key (a welcome addition, which means user can avoid the usual fiddly key combo lock sequence). The bottom of the device has the power port and microUSB port.
The bottom slide houses the numeric keypad. The keypad is made out of a single piece of plastic and, with the exception of small raised ridges between each row of keys, is completely flat. At first glance this looks like a bit of a usability disaster, but in use it is clear a lot of work has gone into the keypad. The plastic has just enough 'give' to allow you to press each key easily and, despite appearances, there is a key dome under each key which gives good tactile feedback. This, together with sensible layout and spacing means that, overall, there's little to complain about in this department, with a slightly cramped top row being a possible exception (an issue common to all sliders).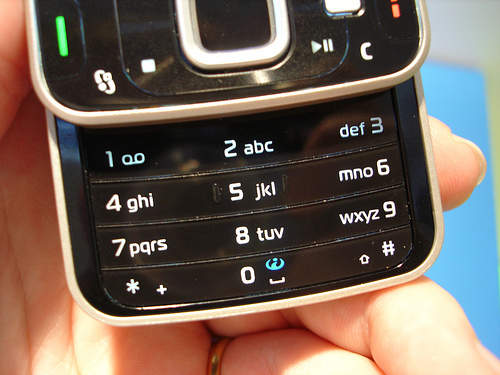 The top slide multimedia playback keys are made in a similar fashion, although in their case there's a more obvious break between the individual keys. The doubling up of multimedia playback keys seems a bit strange until you realise that those surrounding the navi-wheel fade away when you open the top slide. With the slide closed, they reappear and this means playback controls can be used at any time in any application.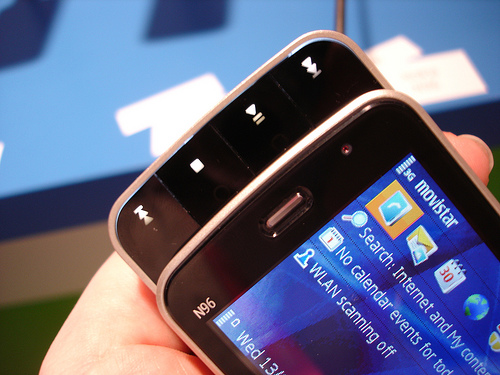 On the prototype devices I handled, the build quality seemed to be very good with a stable slide mechanism and very little wobble. Of course we'll have to wait for production models and a few months of usage before coming to any conclusions, but the signs are certainly very positive.
Connectivity
Connectivity is comprehensive, with quad band GSM, dual band WCDMA (900/2100) and WiFi, together with Bluetooth and the aforementioned USB for local connectivity. One connectivity omission, compared to earlier Nseries devices, is the absence of an IrDA port.
USB performance has been greatly improved on the N96; the current prototype is five times faster than previous Nseries models and Nokia hope to improve this further in the production model. This means that you will be able to load media onto the device much more quickly – an absolute must, given the video focus.
DVB-H - Mobile TV
The lead feature for N96 is the inclusion of DVB-H for receiving mobile TV. DVB-H is a superset of DVB-T technology (used for most digital terrestrial broadcasts in Europe) but is designed for use in mobile and handheld devices. Specifically DVB-H is designed to be power efficient through the use of time-slicing technology (broadcasting in bursts so that the receiver can be switched off for short periods to save power).
Current mobile TV implementations are focused around video streamed over a 3G cellular network connection (unicast). However, this is a relatively inefficient solution as it ties up 3G bandwidth, limits the quality of the received TV and is power and resource intensive for the phone. DVB-H is a broadcast (multicast) technology and is able to provide higher quality pictures. It also provides an easy way to implement recording functionality (including instant replay), interactive services and an EPG (electronic program guide). Incidentally DVB-H is also the technology most likely to be used to deliver digital radio to mobile devices (DAB is much less power efficient).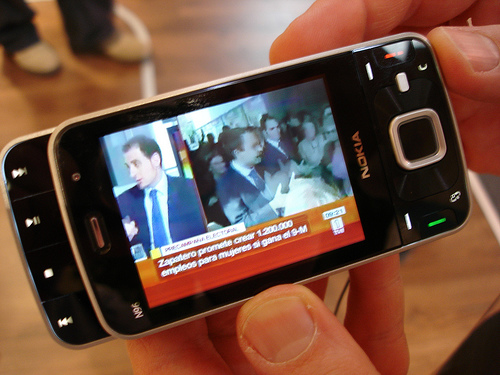 On the N96, the TV application handles the mobile TV functionality. Features include the ability to scan for and switch between channels, view an electronic program guide (from which you can set program reminders or even set a TV program to be recorded), replay the last 30 seconds of TV (referred to as instant replay) and participate in interactive services (e.g. voting). In terms of picture quality, DVB-H is very impressive, especially when compared to other mobile TV services. The quality is dependent on the broadcast service (i.e. some DVB-H services will provide higher quality than others), but typically you can expect QVGA resolution at around 20 frames per second.
Effectively, these features make the N96 a pocketable PVR (personal video recorder) and could, at least theoretically, replace your set top box (e.g. Sky+ in the UK). However, in practice it will not be that simple because the phone does have to be in range of the DVB-H signal and the ability to record programs may be restricted by broadcast rights. While free-to-air services will not be a problem, it is likely that (at least) subscription based services will set flags preventing you from recording live TV. Subscription based services will dominate DVB-H services at first, mainly because the implementations tend to be operator led and they do need to make money. Even with these caveats, DVB-H remains impressive. It makes you wonder how long it will be before Nokia becomes a major 'TV' manufacturer (following in the footsteps of cameras, MP3 players and soon GPS units) – although ubiquitous DVB-H is a lot further off than GPS.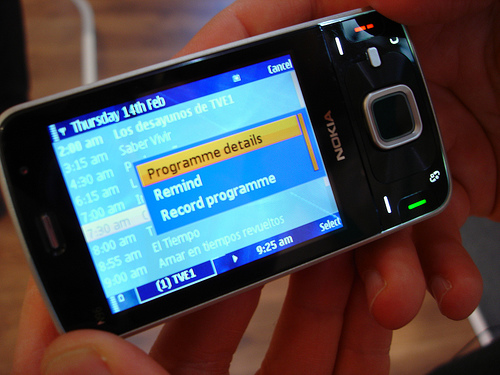 Clearly the utility of DVB-H in the N96 depends on service availability in your particular market (the official DVB-H site maintains a good list of services and trials by country). DVB-H does now seem to be the accepted mobile TV standard for a large part of the world and I expect to see more services rolled out over the next few years. However full service availability is currently restricted to a handful of countries and, even then, tends to be restricted to urban areas. How much this will change in the lifetime of the N96 is open to debate.

It is worth noting that there are several standards for broadcast mobile TV. A major competing technology is MediaFLO, which is advocated by Qualcomm and is being used in the US. Nokia have no plans to use any technology other than DVB-H, so US users will most likely be out of luck. Europe and Asia are largely standardising around DVB-H and a number of services have already been launched. For example, one of the most advanced markets is Italy, where the operators 3 and TIM have launched services.
GPS and Nokia Maps 2.0
GPS is becoming a standard feature on Nokia's higher end phones – all four of its phones announced at MWC have GPS hardware on board. They are all A-GPS (Assisted GPS) capable too, which greatly improves lock on times, especially from a cold start. The N96 will ship with Nokia Maps 2.0, currently in beta, on board. Maps 2.0 brings a number of new features, such as a dedicated pedestrian mode, improved mapping, satellite imagery and revamped city guides. We'll be covering Nokia Maps 2.0 in more detail in a future article.
The location information provided by the GPS is starting to be used in other applications; the first of these is for geotagging captured images which we discuss below. However, there's plenty of room for improvement, it would be good to see location information passed to the Search application for example.
Multimedia
The N96 has the now familiar multimedia carousel, which is navigated using the navi-wheel and/or the D-pad. The panels each represent a major category of functionality and offer shortcuts to the key multimedia features of the phone. We've looked at this in more detail in our earlier Nseries reviews.
Camera and Photos application

The N96 has a 5 megapixel camera with auto-focus and Carl Zeiss optics; it should produce similar results to other 5 megapixel Nseries devices. Accompanying the camera is a dual LED flash which, according to Nokia, was chosen because it allows the best all round compromise. A Xenon flash, which is the main alternative, might give superior still images in low light conditions, but is unable to provide continuous illumination during video capture. The advantages and disadvantages of LEDs over a Xenon flash are clearly up for debate but their inclusion in the N96 reflect the 'all rounder with a video focus' positioning of the device. Unlike the N82, and as with the N95 8GB, the N96's camera does not have a lens cover; it is recessed into the phone, which provides some protection. For me, personally, a mechanical lens cover was less about protection and more about an easy way to start the camera application. The camera capture key does do this, but it does not feel like such an intuitive solution.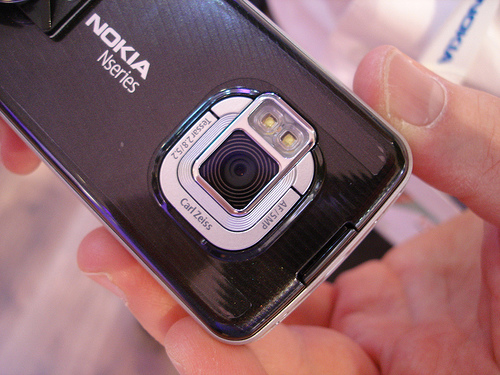 The camera application will be familiar to Nseries users, with its icon-based settings controls. Each set of Nseries releases seem to add a little something to the camera functionality and the N96 (and N78) are no exception - there's now built in support for automatic location tagging (also known as geotagging). Geotagging stores location data, obtained from the phone's GPS, within the image file. There is a certain amount of intelligence built into the geotagging functionality. It will, for example, only try to get a GPS lock for so long before giving up, preserving battery life, but it will also apply location information retrospectively if it's able to get a lock later on (e.g. when you move outside a building), but only within a certain time frame (so that you haven't moved too far).

The biggest change on the multimedia software front is the new Photos application. This replaces Gallery as the key application for viewing photos and videos(!) captured with the phone. Gallery is still present on the phone because some of its functionality, such as storing streaming audio links, is still required, but it is tucked away in sub folder.
The opening view of Photos gives you a list of viewing options: Captured (recently captured images), Months (view by time), Albums (view by user created albums), Tags (view by user specified tags), Downloads (view downloaded images) and All (view all photos). This is effectively a hierarchical categorisation system; it gives you far more flexible viewing options than were previously available. There are some nice touches in the UI too – for the tag view a 'tag cloud' is generated, based on the frequency with which tags are used in the photos stored on the phone.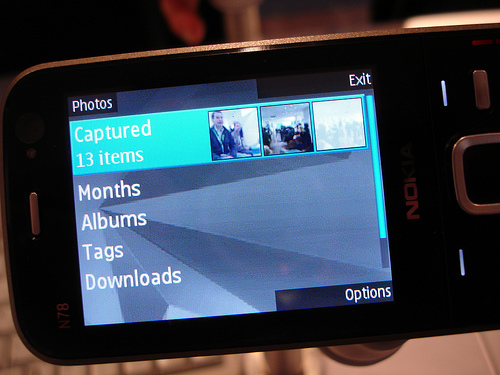 For browsing sets of photos from the categories outlined above, the application uses a carousel photo view (as seen in earlier Nseries devices). This includes a carousel-location wheel (bottom right of the screen) which makes it much easier to visualise where you are on the carousel – something which is especially useful if you are viewing several hundred photos. When viewing a photo, the Options menu lets you attach tags to a photo or add it to an album. Where a photo has been geotagged you'll also see a small push pin indicator below the photo and, in this instance, a 'Show on map' option is added to the menu. Selecting this starts the Nokia Maps application and zooms to the location where the photo was taken. It is this sort of integration that really demonstrates the attention to detail that has been put into the application. Photos can be seen as an early realisation of Nokia's ideas around context awareness that is at the heart of its Ovi and Web 'next generation' strategies.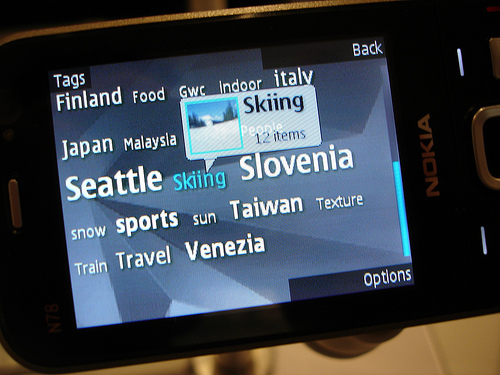 The Ovi vision of a seamless experience between mobile and PC is realised in the PC version of Nokia Photos. Aside from aligning the naming convention between PC and mobile (i.e. it's not 'Nokia Photos and Videos'), it provides vastly improved mobile to PC sync (and vice versa). It also uses and displays the contextual information we mentioned above. This means you'll see the same tag cloud, location information and albums in Nokia Photos on the PC as you do in the Photos application on the phone. Nor is the web angle of Ovi forgotten – the evolved Share Online application provides the link. Share Online allows you to upload media to online services such as Flickr and Nokia's own Share on Ovi. It is available as a standalone application on the phone, but much of its usage will be within other applications. For example, the camera application supports one click upload to the default online service using the Share Online engine.

Video

Unsurprisingly, as a video focussed device, the N96 has excellent video playback attributes. It supports an array of formats, including H.264 at VGA (640x480) resolutions at 30 frames per second. A notable addition is support for Windows Media Video (version 9) at CIF (352x288). Flash video is also supported, thanks to the inclusion of Flash Lite 3 – its main use will be in the web browser on sites like YouTube.

Clearly an important source of video, whether live or recorded, will be the included mobile TV, but there's also the Video centre application. As on earlier Nseries models, this allows the user to download extra video from a variety of sources. Some are preloaded on the device, with more available via an 'Add videos' link. I imagine Nokia will beef up the catalogue of available material and sources before the N96 launches. Video centre also allows you to add your own sources (as RSS feeds), there are a increasing number of these video podcasts becoming available and they serve as an easy way of getting free video content onto the device.

As yet there's no video or film store from Nokia in the style of iTunes or Amazon. Nokia are presumably open to this, but have yet to make any formal announcements. It does, however, seem inevitable, as I think on demand and download video consumption will become increasing popular in the next few years.

Audio
The standard Nseries Music player and Podcasting applications are present, as is the Nokia Music store. By the time the N96 is available, the Nokia Music Store will be available in a number of countries in addition to the UK: Nokia has promised a H1 2008 roll out for Australia, Finland, France, Germany, Ireland, Italy, Spain, the Netherlands, Singapore and Sweden, with more to follow in the second half of the year. The standalone music application/music store client for Windows PCs should also be available by then.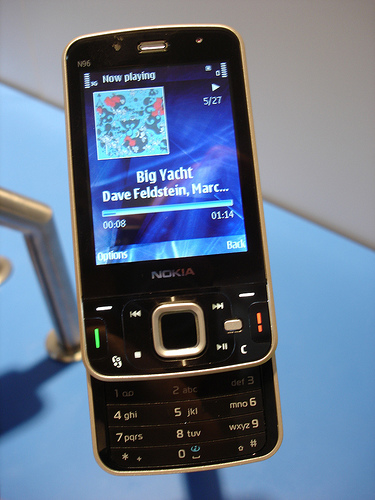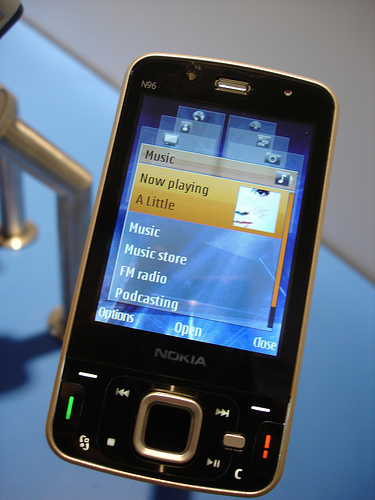 The usual FM radio is also present, but new is its support for RDS (Radio Data System), which is typically used to display the radio station's name and the current song or programme name. Sony Ericsson has long included RDS in their FM radios so it is good to see Nokia finally catch up here.
Nokia's recently announced Internet radio application, for listening to radio streams via the Internet, is present and is integrated into the multimedia menu. It adds yet another audio/music feature to the N96's multimedia department and, bitrate permitting, can out perform the FM radio (and doesn't need an aerial).
The usual Nseries audio output options are all present with a choice of 3.5mm audio jack (headphones or TV-out), stereo audio Bluetooth (A2DP/AVRCP) or the integrated stereo speakers.
UPnP
UPnP functionality, used for connecting media device over a home network, has been updated in the N96. The Home network application now offers bi-directional sync with a designated UPnP Media server. There are a variety of configurations options for sync, including smart settings which allow you to automatically sync new photos and videos to your media server and, optionally, leave a thumbnail (QVGA resolution) copy of the media on the phone.
Nokia point out that there are an increasing number of UPnP devices attached to TVs, most notable the XBox 360 and Playstation 3 gaming consoles, and its good to see Nokia continue to push and innovate in this area.
Software
The N96 runs S60 3rd Edition Feature Pack 2. The usual suspects, such as Calendar, Messaging and Contacts, are present with some small updates here thanks to Feature Pack 2. Contacts now integrates SIM contacts into the main contacts store, Messaging has a unified editor for SMS and MMS (the phone decides what type to use based on the content of the message).
The main focus of Feature Pack 2 is improving the usability of S60. The most obvious of these changes in the presence of a central softkey label in the majority of views. This explicitly labels functionality that was already there. Current experienced S60 users may find little benefit, but it should make things easier for novice users. Every Options menu now has an 'Open applications' entry at the top, to encourage use of multitasking. For similar reasons, the application switcher has also moved from the left hand side of the screen to the bottom.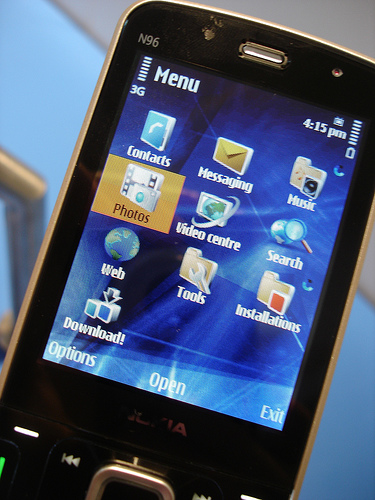 There are numerous other changes; we'll be looking at Feature Pack 2 in more detail in a future preview article, but suffice to say that it is the biggest upgrade to S60 yet, with the exception of the move between 2nd and 3rd Edition.
With 128MB of RAM on board, the N96 should have no problems with multi-tasking. In use, the speed of operation was comparable with other recent Nseries devices. Speed of the UI is much less of an issue than it once was with S60 devices, and most application launches are under a second. Of course, if you take advantage of the multi-tasking capabilities, applications appear instantly. Feature Pack 2 has a role to play here; some of the underlying work has gone into optimising UI and application performance.
Technical
Battery

The N96 has a BL-5F 950 mAh battery – the same as the N95, but a step down from the 1200 mAh battery of the N95 8GB. Nokia said that considerable effort has gone into improving power management and the technical changes mentioned below would support this. However, until the device reaches the market it's not possible to draw any meaningful conclusions, although it is a shame than the larger BL-6F battery could not be squeezed in. As ever, battery size is a compromise between providing enough usage time against overall device size.

Video and audio performance

The N96's hardware video acceleration supports H.264 video (previous Nseries used software decoding for this). This results in improved video performance (higher bitrates can now be played back smoothly) and reduces power requirements during playback. This means that the N96 has a longer video playback time than earlier Nseries models. Nokia quote 5 hours of video playback on the N96 (offline mode) compared to 3 hours 35 minutes on the N95 8GB, that's a boost of around 40%.

H.264 has other benefits too - it is more efficient than earlier standards (able to achieve good quality video at lower bit rates). For example, the Spiderman movie that came with the N95 8GB would be 33% smaller, in file size terms (compared to H.263 and MPEG-4 Part 2), if encoded in H.264 while maintaining similar quality levels.

The N96 also has a dedicated DSP (digital signal processing) chip, which gives improved audio performance and uses less power (N96: 12 hours playback; N95: 10 hours). The DSP chip converts audio signals from digital to analog and vice versa. Usually this function is carried out by the central processor. Dedicated DSP chips stand alone from the central processor and generally have better performance because they are made of high quality components. Dedicated DSP chips are typically found in high-end dedicated MP3 players - the chip used in the N96 is, according to Nokia, an evolution of that found in the Nokia N91.

Whether you are able to hear the difference a dedicated DSP chip makes depends on how good your hearing is and how much of an audiophile you are. It is likely to be difficult to tell the difference using the supplied headphones, but a difference should be discernible when using higher quality headphones.

Chipset

The N96 uses a chipset from STMicroelectronics' Nomadik line. The initial specifications of the N96 caused a bit of a stir in techie circles as the absence of 3D graphics acceleration was noticed (Nokia have opted not to use a graphics co-processor). Hands on, it didn't seem to have any impact speed of the UI or operational speed of the device.

One area where the lack of 3D graphics acceleration might be relevant is gaming. However, even this is debateable - in an announcement at GDC (held just after MWC) Nokia indicated that for future games (the first of which is likely to be ONE) that did make use of OpenGL graphics (which could use hardware acceleration) they would also have a software rendered version made available. This means that the N96 will not miss out on any N-Gage games, although there may be some graphics performance differences.

In considering the chipset and technology in the N96, remember that it is first and foremost a video and mobile TV focussed phone. Thus, Nokia have chosen to use the solution that fits best for the market positioning of this device. While some power users may get agitated over the chipset used in a given device, the reality is that it is the experience for the consumer that really matters, not the technical implementation.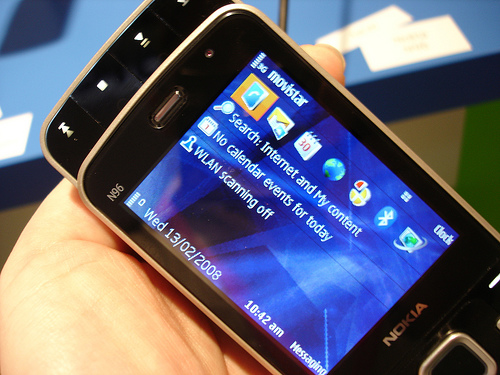 Conclusion
As one of Nokia's flagship devices, the N96 will deservedly receive a lot of attention from the media and consumers. It is inevitable, thanks to its looks and its model number, that the N96 gets compared to the N95 or is referred to as its successor. However, this is a mistaken attitude – the N96 should, at best, be seen as the video and TV focussed version of the N95. The N96 is to the N95 as the N77 was to the N73 –a sister device.
One handset tends to get held up as being the ultimate, but the truth is that there are generally several handsets that fulfil this role – to my mind, the current ones from Nokia are the N82, N95 8GB and N96. Despite this, it is fair to say that the N96 with its redesigned styling, added hardware features and up to date software has benefited from lessons learnt with the N95 and its variants and as a result it really does out perform the N95 8GB in some areas. But it is very likely that another (double slide) form factor Nseries device, perhaps with slimmer dimensions, with some of the same hardware and software changes as the N96, and running S60 3rd Edition Feature Pack 2, will appear soon (relative to the N96' Q3 release date).
What struck me about both the N78 and the N96, from a software viewpoint, was that they are starting to deliver on the promise laid out in Nokia's Ovi vision. The photo functionality, in particular, seems to go a good way towards providing an integrated experience between mobile, PC and the web. It is still earlier days, but it does feel like the technology is starting to be joined up into a more seamless consumer experience.
It is easy to get blasé about the N96 as it is an evolutionary, not a revolutionary device - it is not going to have quite the same impact as the N95. But the fact remains that the N96 is, from a technical standpoint, an amazing device. In particular, the PVR in your pocket functionality means that the N96 stands out from the crowd. As with its Nseries predecessors, it takes us further down the road of convergence than ever before. With a GPS, 5 megapixel camera, multiple connectivity options, comprehensive software suite and now a mobile TV receiver built into a single phone, you'll be hard pressed to find anything that competes with it.

Rafe Blandford, All About Symbian, 22 Feb 2008