Introduction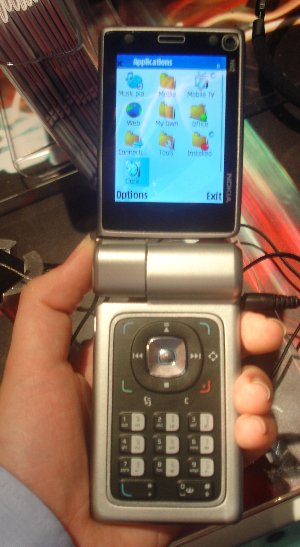 With an integrated DVB-H receiver (a mobile TV broadcast technology), 802.11g Wi-fi, a 2.8 inch 240 x 320 pixel 16 million colour screen, FM Visual Radio, 2 megapixel camera and 3G connectivity, the N92 is a true top range multimedia smartphone. Nokia are using the N92 to showcase DVB-H technology, which is truly impressive, but the device has plenty to offer besides mobile TV.


Design
The N92 is a chunky handset and given what is packed inside it is not surprising that it tips the scale at a relatively heavy 191g, but size-wise at 107 x 58 x 25 mm it is not a total pocket buster.
The N92 offers a new design form factor – a flip and fold – with a total of four usage modes. In closed mode there is a small secondary screen that displays a limited amount of information (time, message, battery and signal notifications). In flip-open mode the phone operates as a traditional flip phone and it fits snugly in the hand.
In capture mode, the screen is twisted around 90 degrees so that is at right angles to the keypad. The camera is located in the barrel of the hinge with a button on one end acting as the capture key. This mode has already been very popular in the 6260 and the N90 so it was good to see it included here. It makes taking pictures a much more intuitive process. Unfortunately, unlike the N90, there are no softkeys or direction pad on the screen of the phone. Consequently, it's actually quite difficult to change settings or access the menus in this mode because it's more difficult to associate the keys with the labels on the screen and the ergonomics are such that two hands are a necessity. On the plus side, the capture button is ideally located for one handed use so it should be a bit easier to take those time-critical snapshots.
In TV mode, the screen is rotated a further 90 degrees so that it becomes flush with the long side of the keypad. This gives the impression of a clamshell device. It is this mode that is used for watching TV. However, thanks to Series 60 3rd Edition, all the normal applications also work in landscape mode. This is particularly good for web browsing, but also has benefits for any kind of data entry, especially text messages. However, once again the position of the soft keys is less than optimal. They are tucked away towards the back and slightly under the screen which means they are quite difficult to press. The stereo speakers are located on the back of the unit (away from the person watching TV), which is not ideal, but was probably dictated by space constraints.
It seems that Eric the keypad monster has escaped from the broom cupboard that Nokia locked him in after they released the 7610, and he's done a job almost as bad as the infamous 3650 rotary keypad, because it is not just the softkey position that is poor. The whole keypad is made out of a single piece of rubber and many of the keys are almost completely flat, with just printed labels differentiating them from those around them. The result is that you have to look at keys to check what you are pressing and the tactile feedback is poor. You are certainly not going to be breaking any speed records on this keypad. On the other hand, keyboard opinion is something subjective and it seems to be the thing Nokia improve most between prototype and final device models.
The screen on the N92 is mid resolution (240 x 320), high colour (16 M colours) and has an anti-glare feature, all of which add up to one excellent screen. Physically, it is a little bigger that other Series 60 phones, but the pixel density is higher, resulting in a crisper and brighter display.
The Pop-port is located on the side of the keypad which is good for the TV mode, but is not going to work as well in the other modes as any headset plug will protrude from the side of the unit which could be inconvenient when sitting in a shirt pocket.
The case and general feel of the phone itself is a little plastic, with a slightly fragile feel, especially when compared to other N-Series devices such as the N91 or N70. There is definite room for improvement here. Nokia did say they would look at tweaking the design in the next 6 months, and the casing and keypad should be the priorities.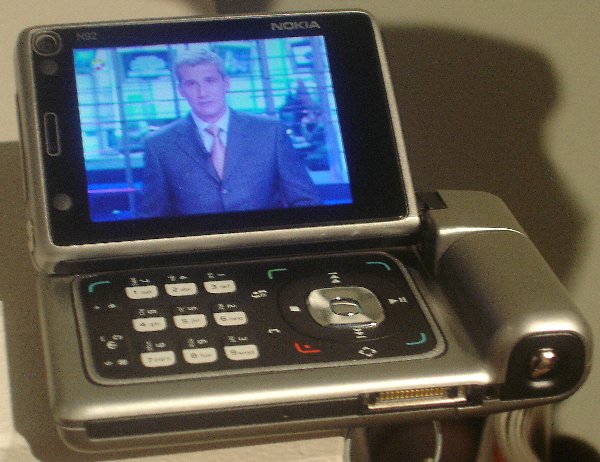 Connectivity
With tri band GSM (900, 1800, 1900) and single band WCDMA (2100), the N92 is not a world phone, though it is possible there will be regional variants. Outside of cellular connectivity, the device is well specified. Wi-Fi 802.11g, Bluetooth 2.0, Infrared and USB 2.0 are all provided. Bluetooth version 2.0 brings improved connection speeds, lower power usage and improved multi-link usage and performance. Additional profiles are also supported such as A2DP (Advanced Audio Distribution Profile) which allows for stereo Bluetooth headsets among other things. A very welcome addition is support for the USB Mass Storage profile, this means that when you plug your phone into your PC it will appear as a disk drive (just as flash memory drives or external hard drives do) allowing for files to be copied back and forth more easily and potentially sync the files of third party programs.


Software
The N92 runs S60 3rd Edition, which together with the underlying Symbian OS 9 is the engine behind many of the improvements found in the phone. The S60 platform team have put a lot of work into making the user interface and bundled applications generally easier to use. There are four key reasons for this. Firstly the higher screen resolution than earlier devices gives a crisper, easier to read display. 3rd Edition supports scalar vector graphics, meaning a similar physical size can be retained whatever the screen resolution. In general, a similar amount of information is shown on screen as earlier (lower resolution) devices, thus avoiding the readability issues often found in other high resolution devices. However in some instances, such as photo viewing and web browsing, the higher resolution can be used to display more information on the screen than was previously possible. Thus 3rd Edition enables the best of both worlds and makes the most of the extra screen resolution. Secondly, there have been several sensible UI design changes. These include making the height of the title/status area smaller in some instances, such as the applications view, and and the introduction of scrollbars in several areas such as in list views. Thirdly, support for a landscape view across all applications (in contrast to the N90, which was Camera and Gallery only) means users can choose the one they prefer. Certain tasks and applications have a better user experience in landscape mode, with browsing being an obvious example. Finally, many of the built-in applications have received minor updates in layout, menu structure and functionality.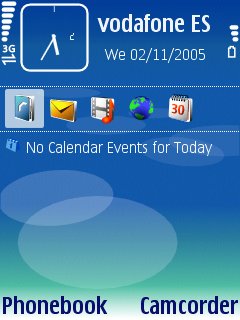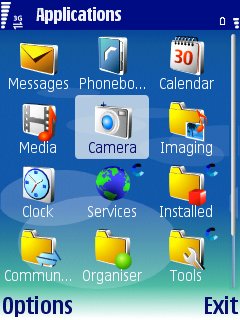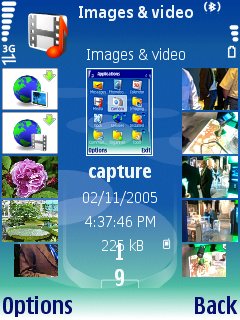 As with previous S60 phones, there is a full range of software (PIM, Telephony, and Multimedia) on board and 3rd Edition should see Office applications (Word, Excel, Powerpoint and PDF viewers) become standard.
The web browser application has received a complete overhaul and is now based on WebCore and JavaScriptCore from Apple's Safari browser, resulting in improved standard compliance and support. Innovations include a 'MiniMap' which allows you to see the whole page (effectively a view of the whole rendered page, zoomed out to 20% or so) at a glance and helps you to navigate around it, 'Visual History' which allows you to see a graphical representation of pages you have visited, and support for RSS feeds. The N series also has an exclusive feature in the form of a 'Scroll MiniMap' which pops up when you are scrolling around the page to aid with navigation around the page. We will be covering the new browser in more detail in a later preview.
Multimedia - Music and Imaging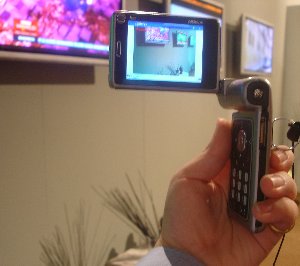 With the XpressMusic brand attached, the N92 is also a capable music phone. Music can be copied directly to the phone thanks to the USB Mass Storage Device, but it will also be possible to synchronise from Windows Media Player. This is thanks to the licensing agreement Nokia made with Microsoft which also enables the playback of Janus DRM protected files in addition to MP3, AAC, eAAC+ and RA. This means the N92 will be able to use subscription-based music services such as Napster or Yahoo Music. The N92 will ship with an adaptor to convert the POP-Port to a standard 3.5mm audio socket so you can use your preferred headphones.
The N92 will shop with 90 MB of internal memory. Although this is generous for a smartphone it is not going to go far once you start adding multimedia. Fortunately the memory can be expanded via the miniSD slot. Currently sizes upto 2GB are available and the slot supports hot swapping of memory cards.
Like its sibling the N80, the N92 supports UPnP, which allows you to play music on your phone over your home UPnP-enabled HiFi system, download music and content from your PC, and display images and video from your phone on your UPnP TV. This is done over a Wi-Fi connection, using the industry standard UPnP protocols. UPnP compatibility can usually be added by means of an add on box. We will be covering UPnP further in our N80 preview.
An FM Radio is also squeezed into the device, and as with other recent Nokia phones there is support for Visual Radio, which allows additional content to be shown on the phone (it is received via a GPRS data connection).
The main camera is mounted in the barrel of the flip hinge, and at 2 megapixels will produce good results. However, unlike the N90 (and other high end camera phones), it does not have an auto-focus, which means that, like all fixed focus cameras, the ability of the camera is limited. Pictures from the camera seem to be on par with the N70, and as such are very good, but it would have been nice to see some of the N90's camera features rolled into the N92. As with other S60 phones, you can print via the USB cable (using PictBridge), via Bluetooth and (new to N92) via UPnP. As with other N series devices, the Camera and Gallery applications are a generation on from earlier Series 60 phones, with a greater range of settings and more intuitive controls and both benefit from the higher screen resolution.
The multimedia key, first seen in the N70, has had a software update. The multimedia key now brings up a screen which allows quick access to up to five applications (one for each direction of the keypad). This is surprisingly affective and is a definite improvement over dedicated short cut keys found on other high end devices.
Mobile TV
The TV functionality is accessed via the Series 60 TV application when in view mode (landscape). Within this program you can easily change channel and access an ESG (electronic service guide). It is clear the device is optimised for watching TV in this mode. You can sit the N92 on a desk in front of you and adjust the viewing angle, or it will sit just as easily in the palm of the hand.
The TV picture is displayed full screen and the quality of the picture is excellent, and channel changing is near instantaneous. It is difficult to get across how good it looks without seeing it for yourself, but between the high resolution screen and the DVB-H technology, the N92 offers an unsurpassed mobile television experience. At the NMC Nokia demo we were receiving a live stream of several channels which was about 2 or 3 seconds behind traditional TV (shown on the wall). In the keynote Nokia executives talked of the convergence of the world's most popular entertainment medium (2 billion viewers) with the world's most popular communication device. It is easy to be dismissive, but seeing BBC World broadcasting live coverage of Rosa Parks funeral gave a real sense of the potential of the technology.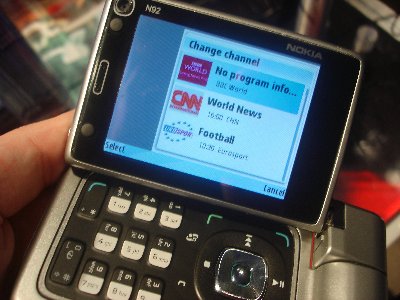 There is also a constant 30 second rolling record function (like many PVRs) which means you can get an instant reply whenever you wish and you can record TV direct to the memory card (limited only by the space available). There is also support for subscription services, meaning, potentially at least, the device will support premium and pay per view channels.
Nokia were also keen to emphasise the interactive capabilities of the device. With cellular connectivity built in, it is far easier for TV to become a two way medium compared with traditional TV, with TV voting and additional web discovery being two of the possibilities highlighted.
So what is DVB-H and when are we going to be able to use it?
DVB-H is designed for mobile devices. Time-slicing means that information is broadcast in high concentration short bursts (one second of TV in one tenth of a second) so that the receiver can be switched off 90% of the time and thus save battery power. Unlike TV broadcast over the cellular network, once broadcast DVB-H can be received by an unlimited number of people. DVB-H also has enhanced error correction built into the specification, reflecting the fact that mobile devices with small aerials that may have varying quality of reception levels.
DVB-H is a technology still in its infancy, currently only pilot projects are up and running and it is unlikely there will be a commercially launched network before summer 2006, which is when the N92 is first expected to be available. How successful DVB-H will be remains to be seen, but there are plans for commercial networks in countries all round the world (including the US, the UK and many other European countries, but the first to launch are likely to be in Asia) and analysts predict there will be 76 million users by 2010.
Conclusion
There is no doubt the N92 is a very powerful device. Seeing it working for the first time does engender a sense of wonder. There is something undeniably cool about convergence devices and one that has TV built in definitely packs that extra wow factor. The device is well specified and feature packed. S60 3rd Edition is a real boon and offers an extra refinement of usability and functionality compared to previous versions. However, the design may not be to everyone's tastes, with the general feel of the device, a not quite good enough camera and the keypad being low points; and there is no getting away from the fact that it is large and heavy.
There is an obvious collision here between the feature packed smartphone which has eaten all the other consumer devices in a bid to become the one true converged device and is consequently a bit fat, and the the rise of the thinphone (such as the Motorola RAZR). Which solution is right for you is a personal decision – both are good as phones, but only one is something more. If you're looking to reduce the number of devices you carry or find a powerful mobile solution then a smartphone is for you.
If DVB-H is launching in your country then you should consider the N92, otherwise you should look at the smaller and perhaps even more desirable N80.
The N92 Reloaded
A recent blog post had pictures of what was described as the N92. However there were several design changes. The keypad has been changed to a more standard looking design (made up of individual keys), softkeys and a directional pad control added to the screen section and a better camera (with a Carl Zeiss lens and optical zoom). Indeed the changes correct most of our major gripes about the intial design. Given Nokia said that the N92 design shown in Barcelona was not necessarily final, it is quite possible that the pictures in the blog post are from an updated version. Equally this could be something akin to the 7700/7710 difference (only one was ever released) or it could be the next series in the DVB-H model line.