The Nokia N77, which was announced at the recent 3GSM in Barcelona, is a DVB-H (Mobile TV) focused Nseries smartphone. The N77 is a monoblock form factor, very similar in styling and build to the Nokia N73. It is likely that the N77 and N73 share a common base, although there are a number of important differences outside the obvious DVB-H functionality.
The N77 is Nokia's second integrated DVB-H handset. The first, which will continue to be available (in some markets), is the transformer-style form factored Nokia N92. Whereas the N92 was something of a higher end 'technology-test' phone that was relatively expensive and lacked something in the design department, the N77 is a well put together smartphone aimed at a wider market. In its form factor, styling and pricing, it is clear that the N77 should achieve broader appeal. For operators with DVB-H services, the N77 should become a standard handset in the offering and is likely to be one of the better selling DVB-H phones.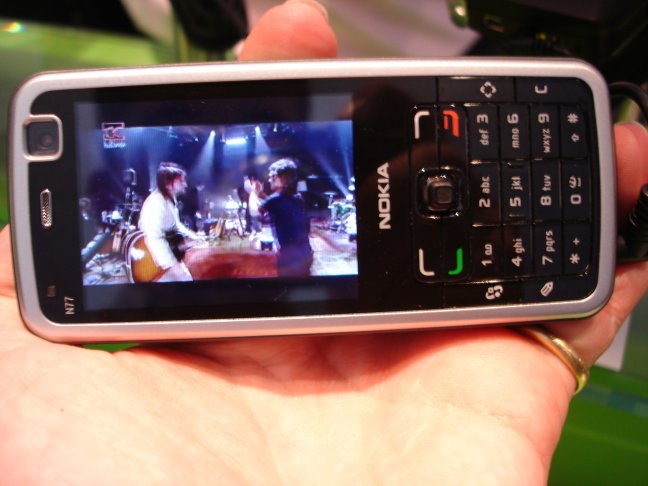 The N77 shares the N73's styling and key layout, but is finished in black and sliver plastic. It is solid and sturdy in the hand, but the plastics that make up the materials of the casing and keys do dominate the feel of the device. The dimensions of the device differ only by a few mm or so and the N77 shaves 2g off the weight of the N73. The camera is reduced from a 3.2 auto-focus camera with Carl Zeiss optics to a standard 2 megapixel camera (similar to that found in many other Nokia models). The camera should still produce acceptable results, but will satisfy fewer people as a standalone camera replacement. This change makes a big difference to the quality of the captured images, and will be a disappointment for those moving to the N77 from the N73. On the other hand, the screen is changed from 256k colours to 16 million colours, which shows captured photos more accurately and gives excellent display properties when viewing TV. The extra colours may make the screen less usable outside, but given the main feature of the phone it is a very acceptable trade off. The internal flash memory in the N77 has been decreased compared to the N73 (42MB down to 20MB) and the memory card format is microSD (up to 2GB). Nokia says that the changes in the specifications are about 'optimising the device for use with Mobile TV while relying on well known technologies within an acceptable price point'...
The N77 is a triband GSM phone (900/1800/1900) and supports the 200 MHz WCDMA band. There is a BP-6M battery (1100mAH) which should provide adequate time between charges and is an improvement over some of the more anaemic batteries supplied in other Nseries models. Audio support is good, with stereo speakers, an FM Radio, support for the A2DP (stereo audio) Bluetooth profile, and support for the MP3, AAC and WMA formats. There is no 3.5mm audio jack, but the sting of this is taken out by the provision of a Pop Port to 3.5mm adaptor in the retail pack. Outside of hardware, the usual S60 refinements are present. The N77 runs S60 3rd Edition with the usual array of applications, plus the third party Quickoffice (read Word, Excel and PowerPoint documents), Zip Manager and PDF for email attachment support. Gallery is the latest version and includes image editing and printing support.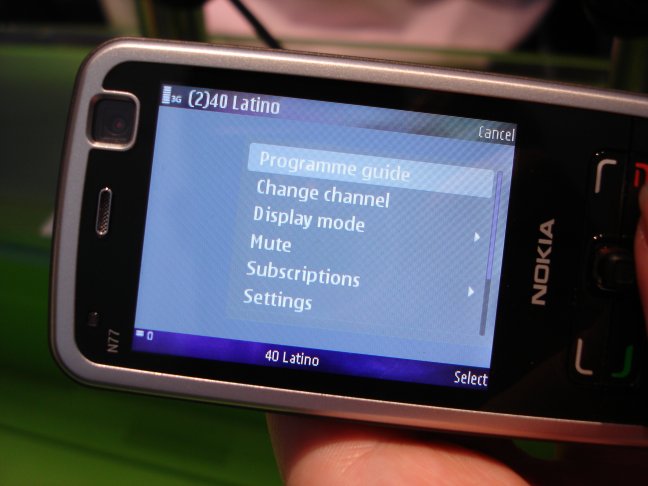 Of course, the main focus of the N77 is its Mobile TV features. The N77 DVB-H implementation supports frequencies of 470-750 MHz and the H.264 AVC codec (384kbps at QVGA (15 fps) or QCIF (30 fps) with AAC (18kbps)), plus there is also built in Digital Rights Management (via OMA DRM2.0 and IPSec). In practice, this means it will support all current and planned DVB-H services.
The N77 has a TV application which handles all of the Mobile TV features. There also a dedicated TV button on the side of the device. Pressing this button will launch the TV application and automatically start the previously used channel. The N77 is capable of automatically scanning for and discovering channels, but most users will find their devices already set up. Channel changes are via a simple left/right on the joystick or via the menu. Channel changes take between 4 and 6 seconds (mainly due to the way DVB-H works); it is long enough to be noticeable and prevent casual channel hopping, but not really long enough to be annoying.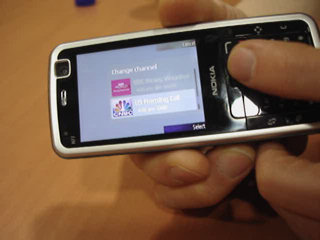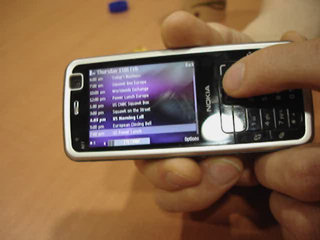 There is a full electronic program guide (EPG) available. This takes the form of a list of forthcoming programs with optional descriptions. Browsing through the electronic program guide is quick and is the best way to check on what is showing on each channel. From the EPG it is possible to set a reminder for forthcoming programs which is integrated with the alarm functionality of the phone. Thus reminders will show even when the TV application is not open. There is also a Replay feature which allows the last 30 seconds of TV to be replayed at any time.
Channels can be broadcast free to air or they can be broadcast encrypted and available only via subscription. The N77 supports such subscription channels and offers a limited amount of management (purchase) of such services. Subscription services could be for fixed periods of time or for a particular event. Interactive services are also supported; these can include voting and participating in quizzes or surveys. These can also take advantage of the cellular connection to send information back to your service provider, which opens up a new level of two way interactivity which is not usually available in TV. How much these sort of services are used initially is open to debate, but with wider spread adoption they offer a great deal of potential.
In actual usage the quality of the picture and audio is impressive and is especially good when compared to existing 3G based Mobile TV services. The 2.4 inch screen and stereo speakers provide as good as an experience as possible within the limitations of the hardware. There is definitely something of a 'cool factor' to watching live TV on a phone and there is no doubt the N77 represents an impressive implementation of the technology.
About DVB-H
DVB-H is a broadcast/multicast technology that is a derivative of the existing DVH-T (digital terrestrial) standard, but designed for use with mobile devices. The common routes with DVB-T offer a major advantage as where there are existing DVB-T implementations adding DVB-H is cheaper than implementing a system from scratch. DVB-H is independent from the usual cellular networks (although many operator installations may share infrastructure with cell locations). Previously, Mobile TV efforts have been focused on delivery content over a cellular network connection (usually 3G). These are referred to as unicast services as they go to only one user. The problem with 3G based Mobile TV services is that there is a fixed capacity to the network and the number of simultaneous users is limited to the 3G bandwidth available, only a certain number of connections can be sustained at any one time. Currently this is not an issue, but if the popularity of Mobile TV increases then it is a potential bottle neck to uptake. DVB-H and other multicast services have the advantage that it is broadcast to everyone simultaneously (in the same way as traditional TV) and it is much more power and bandwidth efficient than unicast services.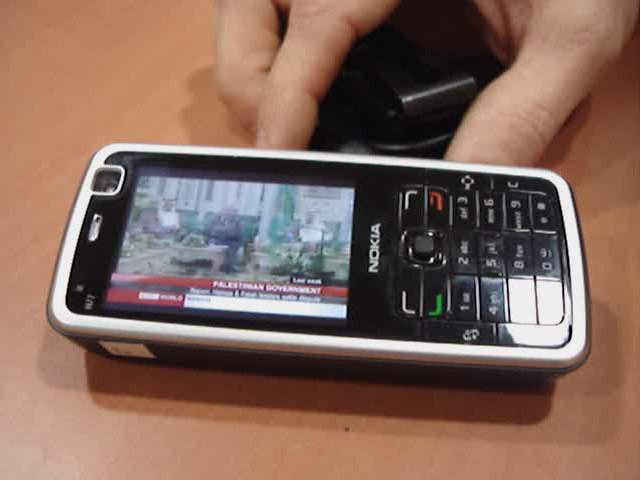 However, unicast's advantage is that it can be made available on demand and the number of channels that can be made available is unlimited. Thus in the future we will see a combination of both unicast and multicast services available. Multicast services will be used for popular content such as a BBC News channel or for live coverage of major sporting events whereas unicast (3G) services will be used for less popular niche content such as coverage of sheep-herding competitions or specialised documentaries.
Mobile TV via DVB-H is obviously dependent on a service being available and currently it is yet to be widely adopted. It is very early days for broadcast Mobile TV in general and, to complicate matters, there are a number of competing standards. Notable among DVB-H competitors is the MediaFLO technology which is popular in the US. Sadly, as with other mobile standards, it is likely that there will be different standards in different markets. DVB-H has a stronger position in the European and Asian markets. Commercial services have already launched in Italy on three of the major mobile networks and other countries including Spain, France and Germany are set to follow later this year.
Of course, the success of DVB-H is also dependent on whether people want to watch TV on their phone. This should be divided into an actual desire to watch TV and whether the experience is good enough. Thus far existing (unicast) services have met with mixed results and the user experience and pricing of these services may be preventing mass market adoption. Noteworthy is that trial DVB-H services (e.g. the Oxford trial in the UK - 83% satisfaction and 76% willing to pay) have published positive findings, but these are published by companies who wish to show a positive result.
However, DVB-H does promise significantly better quality and potentially lower pricing for consumers, while the interactive features, in-built program guide and recording abilities also promise a much better user experience. The question then becomes one of consumer desire - and that is something that is difficult to quantify even in trial services. MMS was forecast to be a very popular service, but failed to meet expectations, but by contrast using phones as a way to show off photos (i.e. a virtual photo album) has become a major feature. Furthermore, the TV-out features of some Nseries devices suggests that future DVB-H devices may blur the line between mobile and fixed TV services.
Conclusion
The N77 is among the best of the DVB-H handsets currently available. The TV functionality has been well thought out and should be a good way to demonstrate the benefits of DVB-H to an as yet unconvinced public. Its highlights include the easy to use TV applications and excellent screen and audio output, while its lowlights include a slightly plasticky feel and moderate specifications. The N77 boasts a reasonable camera and good music functionality, backed up by the S60 software platform which brings all of its usual advantages, but the reality is that these will take something of a back seat to the Mobile TV functionality.


Rafe Blandford, 19 Mar 2007