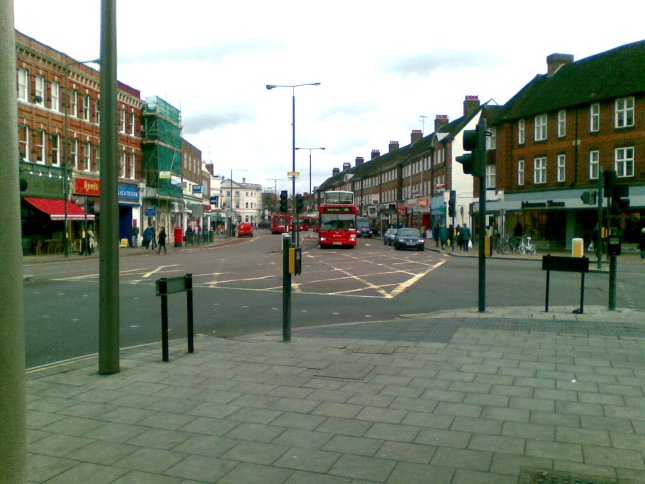 "Deposited in Twickenham by train, never been there before, I am at a loss as to which direction to go as the signposts helpfully suggest which route the motorist may take to get deeper into London or away from it.
Help is at hand as my thoughtful husband has loaded a mapping system onto my Nokia E51. He hates to travel, you see, and being the better (male) map reader has provided a substitute for his own company. We had a quick training session before I set off, so I take the GPS out and flick it on. So far so good. I tuck the unit into the pocket of my fleece so I don't have to juggle two bits of kit at the same time, then it's on to the tricky bit. You'd think being married to a certain journo who knows a bit about these things, some of his knowledge would have rubbed off, but no. A bit of fiddling around gets me the mapping programme but I'm stuck with the screen for my home address so I have to make a call home. I'm letting the female of the species down, I know, but at least I'm trying! '0' – that's all I had to do to get my current position.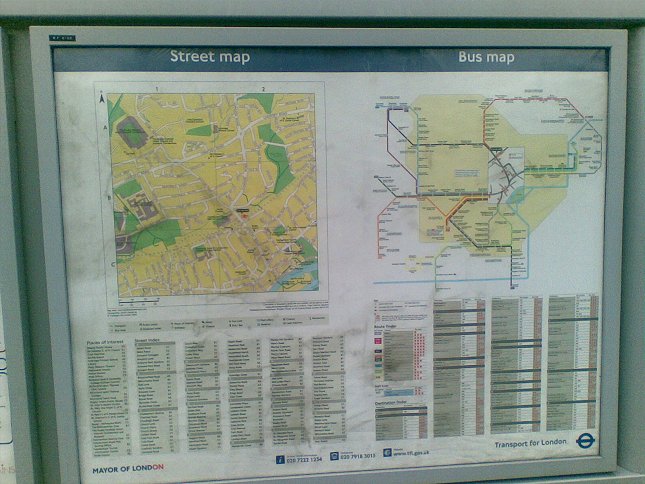 The old fashioned way of getting around. Pah! I've got Nokia Maps 2.0 and a GPS!
Apparently I'm outside a train station (hah!), so the icon tells me, A310 London Road. There is no search feature for (normal-sized) shops, so instinct tells me which direction to head in. GPS is safe in my deep pocket but I'm going against instinct by having the phone out on view as I try to track my slow progress. Single woman. Distracted. Expensive smartphone on full view. Etc. I'm also (apparently) a big red blob that spills across both lanes of the A road. My self esteem helps me rise above this insult and I turn on my heels and head left.
I do need cash though and risk getting the Nokia out to search for the nearest cashpoint. Maps tells me there's one just round the corner and guides me successfully to... a queue of people standing behind a frustrated lady who's lost her card in the machine. Ten out of ten for Maps in terms of location though. Luckily I spot another cash machine just up the road and I'm soon sorted.
I do keep losing the GPS signal as I dip in and out of the shops but it doesn't seem to affect the mapping, only the bank balance.
I get to a junction where two A roads collide and encounter a problem as the program is not sure which side of the road I'm on and throws a wobbly. Once it's established which road I'm on, the map is back on track. I tuck it discreetly into my jacket as I'm feeling very self-conscious about having it in my hand and giving it all my attention. The town isn't too busy but I don't want to be bumping into pedestrians or having a would-be-thief think I'm so absorbed they can help themselves to my bag.
Once the shops begin to thin out, I ask the program to show me a list of museums. Apparently I can choose from several museums and galleries, so I opt for the Twickenham Museum and ask it to plot the pedestrian route. I'm less than 1km away, so turn about and set off for a cultural experience.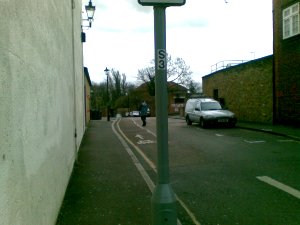 Here's the rub, as Shakespeare would say. We come back to that old problem of I'm a woman and I'm reading a map. Guess what … the arrow points one way but I still end up turning the Nokia around in my hand so I can read which way to go. I did note that a compass reference for North is helpfully included in the bottom left corner. It's small. I'm now wondering if I'm at the age where bi-focals are inevitable. Steve tells me later that Maps would have rotated the map for me if I'd just been patient for 30 seconds after each turn so that it could work out whether I'd made the turn or not. Ah. I just thought it was trying to be annoying by rotating the map on my nicely rotated phone... anyway.
'Turn right', the map seems to purr at me, but I'm not inclined to take the most direct route which will take me to the riverside. It looks distinctly dodgy. Nobody local seems to be using it, so I think I'll give it a miss as well. I keep walking and take the next right. It's very pretty and leads directly to the river. I'm then taken down a road that has no pavement. It's crucial I have the phone out at this point as I'm close to my target, but I'm spoiled for choice as to whether I look at the screen or look up for passing traffic that's about to run me over.
I opt for the nodding dog effect and dash between the two. I have 45m to go and am tempted to put the phone away, so I do. Many metres later I'm thinking I've overshot the Museum so get out the phone and track backwards and forwards checking my location. It's not here. Well Nokia Maps says it is, but the evidence of my eyes cannot find it. An Internet search later at home reveals it does it exist, but it's quite small and has a front entrance just around the corner. Presumably this sort of problem doesn't happen when looking for places that are larger than my own house! It does look and sound interesting - a photograph of the building in Google is not one I recognize, but it seems it has restricted opening hours anyway and wouldn't have been open, perhaps something I could have checked on the Internet function of my phone? [first things first - that'll do for next time - Ed]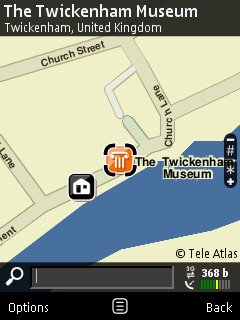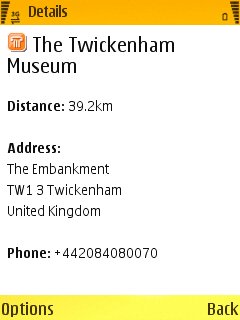 Nokia Maps says it's there, Google Maps says it there (later), but I couldn't find it. Having no house number in the details screen didn't help. Neither did the lack of a mention that the musuem is closed for the majority of the time.
What's a girl to do but put on a brave face and go back to the shops? I pass a fabulous fountain in some gardens as I do (cue the phone's really rather good camera):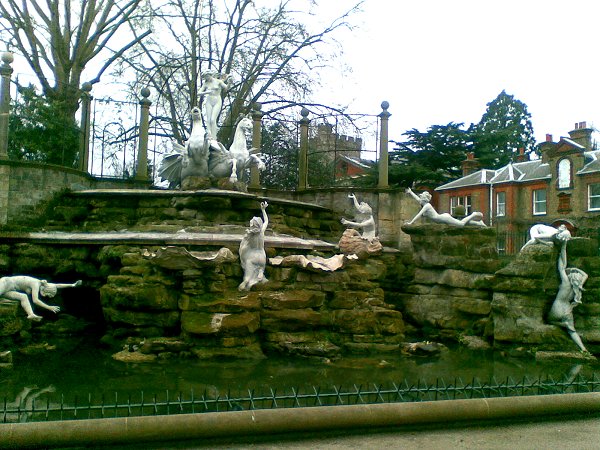 Out of curiosity, putting myself into the male mind-set, I opt to map a route to the famous Twickenham Rugby ground and think maybe I should just have gone there as it's quite close.
I set the red blob to go back to the station.
Steve tells me that my rail ticket is tax-deductible. I decide I'd better not mention how much I spent in the shops....
Still... until next time..."
Fiona Litchfield, AllAboutSymbian.com, 17 March 2008