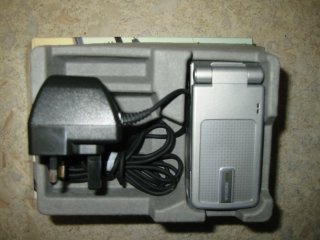 The last review system I had was a HP Ipaq, which turned up in a box the size of a small car, so it was quite refreshing to see the Nokia arrive in a box not much bigger than a couple of paperbacks. Once unpacked, the most obvious thing you notice is that, for the first time, Nokia have gone for a flip style phone, but true to its quirky design roots, the 6260 has a few tricks up its sleeve. The lid not only flips, but with a quick twist, it swivels round and folds back on itself, to form a mini tablet. This is nothing new in PDAs and Laptops, Sony have been doing it on high end Clies for years, but itís the first time I have seen it on a phone. You can also stop the swivel halfway, and with the camera lens being on the side, the 6260 can be used like one of those mini video cameras with a flip out screen.
Closed, the phone is almost exactly the same size as an Ericsson T68, so it fits easily into a pocket, and doesn't make too much of an unsightly bulge. Opened, the flip is dominated by the bright 65k screen, which is the standard 176*208 pixels. Just under the screen, still on the flip are the standard soft buttons, the Menu and Edit keys and the navigation D-Pad. The base is taken up by the normal phone keypad and a large area that looks for all the world like the sort of wrist rest you see on a laptop. With all that spare space, its a shame the keys werenít made a bit bigger, but it does give you a button free area to hold when in the camcorder mode. On one side of the base is the camera lens, and the other has the call volume controls and a dedicated shutter button. Along the top is a standard Nokia Charger socket and the hands free plug.
Under the battery cover on the back we find another first for Nokia, the reduced size memory card is hot swap-able, no more removing the battery to change cards. The phone is supplied with a 32mb memory card, and although Nokia only specify up to 128mb cards can be used, it swallowed my 512mb card and worked perfectly. The SIM card slides neatly under the memory card, but you do have to remove the battery to change this.
On the subject of the battery, Nokia have excelled themselves here, unlike any other Series 60 phone, this one switches off the screen when the flip is shut which means that the battery life is much better than, say, a 6600. In the three weeks I have had the phone I have got up to five days use before needing to charge it! Obviously this rather depends on what you are doing, but even for reasonably heavy use, charging every three days is quite feasible. When you do need to charge it, any standard Nokia charger will work and only takes about an hour from almost flat.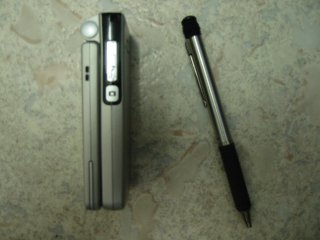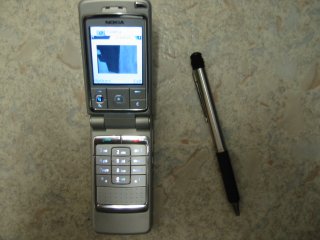 In common with other Series 60 phones, the 6260 has only 6mb of memory built in, which, initially looks to be a bit sparse, but Symbian applications tend to be very small, and as long as you have a memory card to install extra applications and data such as multimedia files onto, it's not a problem. Everything can be installed to a card, Ring tones, MP3 files, Video files, Images and Applications, so the internal memory can really be left well alone.
The phone is running the latest version 2 of Series 60, and looks almost identical to every other Series 60 phone I have used. There are obviously some differences internally though, as some third party software doesn't seem to work, most notably Active Desk and Active Today, which interfere with the call terminate and screen switch off when the flip is closed. Also I have heard of some camera or call related applications misbehaving or not even starting. My advice would be to check before investing in any add-on applications that they are compatible. Most authors are working on updates though, so this shouldn't be a problem for long.
According to TaskSpy, a neat free app that gives all sorts of details about whatís going on on the phone, the 6260 uses a ARM 1040 processor running at 123MHz. Whatever, it is plenty fast enough, there is never any lag in opening applications, searching contacts is instantaneous and even rendering web pages is pretty nippy. Note that the web browser is Nokiaís own, and not Opera as on the 6600. As far as video playback performance goes, the PC based conversion software does a good job, I was able to playback some recorded TV shows without any dropped frames, and the file size for an hour long show, shrunk from 577mb to a much more manageable 22mb on the phone.
A few more details for you, the phone has Bluetooth 1.1, IR, a VGA camera that supports up to 30 seconds of video, an FM stereo radio and MP3 and video playback (sadly not stereo!) using the Real Player Client. It comes with all the standard Series 60 applications, plus PowerPoint and Word viewers and a VPN client built in. The viewers are especially useful as it allows any documents sent via e-Mail to be opened for viewing, fire up Quickword or Quickpoint and any e-mail attachments show up in its browse list for reading. If you have a Bluetooth equipped projector you can even run a full scale presentation from the phone, or just check over changes someone has made to a slideshow. There are also a few network dependant utilities such as Presence, Chat, Push to Talk and Positioning which I have not been able to try out.
A copy of Nokiaís latest PC Suite is included in the box, which has improved beyond all recognition from the last time I used it. Now itís a very slick application that controls everything from syncing PIM information with Outlook or Lotus Notes, to converting Multimedia files. It connects over Bluetooth, Infrared or cable and makes managing the data on your phone a very simple affair. All my contacts and Diary entries came over from Outlook without any problems, and even notes in Outlook were copied across, something Microsoft can't do on their Smartphone yet. The only glaring omission is that your Inbox canít be synchronised, something I have found useful on Windows Mobile devices via Activesync.
In day-to-day use the phone is as good as you would expect any Nokia to be, placing and receiving a call is simple, Bluetooth headsets work well, supporting voice dialling, and even playback of MP3s through the headset, though I canít think why you would want to, as the quality is pretty bad. Another good point is that signal reception is far better than my XDA II or MPX200. Call volume is very loud at maximum and the speakerphone works well. Battery life, as I have said before is very good, and the PDA and multimedia functions of the phone work really well, navigating your calendar or to-do list is quick and intuitive and always having a FM radio and camera available is quite handy. With the installation of Quick office and using my Stowaway Bluetooth keyboard, I can see this as direct replacement for my XDA II.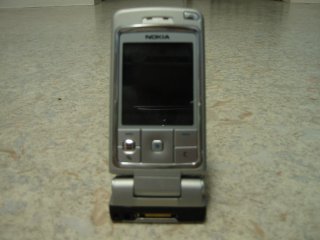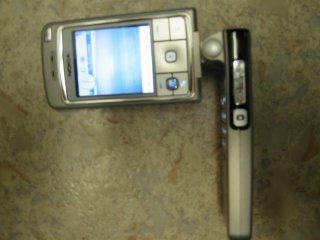 Nokia make a big fuss in their promotional literature about the flip and swivel form factor, and with good reason. At first I thought it was a bit of a gimmick but the more I use it the more convinced I am that itís a good idea. Fold the screen to its tablet mode and reading e-books or web pages becomes much easier, you can carry it in your pocket like this, and a quick glance shows you the phone status, tilt it up slightly and you can sit it on a desk to watch a video or, using the Bluetooth keyboard, enter lots of data. Swivel it into camcorder mode and you can take self-portraits or use it as a camera. Then spin the lid round and close the flip to protect the screen. All it really does is give the device a little bit more versatility, but I can't see any downside, so why not?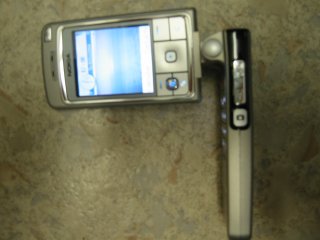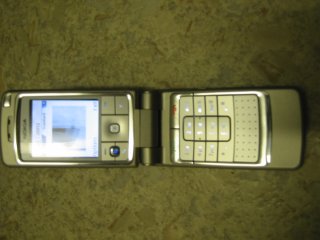 Going back to the camera, whilst only being VGA quality, it does produce some good results, at least as good as the competition, and has a 2x digital zoom in both still and video mode. It wonít replace your stand-alone camera, but for quick snaps itís more than adequate.
Over the past three weeks I have used this as my main phone and PDA and it has performed faultlessly, I have used it to play music and video, read e-Books, surf the Web and catch up on RSS feeds. It has managed my schedule, organised my tasks and allowed me to keep up to date with the news on the radio. I have taken pictures, and videos, kept my expenses up to date and checked some documentation in Word files that were e-mailed to me. I have also written this review on it using the Bluetooth keyboard. In short it has done everything my XDA can do and more, but in a much smaller package.
Is it better than any other Smartphone out there? Well itís certainly the best Series 60 phone I have used, and, although it pains me to say it, it's far better than the MPX200 (not as stylish though). The Calendar and To-Do applications are streets ahead of Microsoftís offerings, and the inclusion of viewers for Word and PowerPoint caters for business users straight out of the box. I havenít tried the new Motorola or the SPV's yet, but from what I have read there doesn't seem to be anything there to worry the 6260. It can also hold its own as a multimedia device and a stand-alone PDA. The breadth of applications available for Series 60 means there is unlikely to be anything this phone can't do in the near future and gets my full recommendations as the best available at the moment.