Motorola's MOTORIZR Z8 was launched last week at 3GSM. The Z8 is a 'kick-slider' smartphone running UIQ 3.1 on Symbian 9.2. It packs an impressive feature set for a device with dimensions of 30 by 55mm and is just 15.3mm thin. The Z8 features HSDPA connectivity, 90MB of internal memory (and a microSD slot that supports cards up to 4GB in size), a 2.0 megapixel camera with a lumi LED light and video capture capabilities (QVGA at 30 frames per second), a 2.2 inch QVGA screen with 16 million colours and support for stereo audio Bluetooth profiles (A2DP).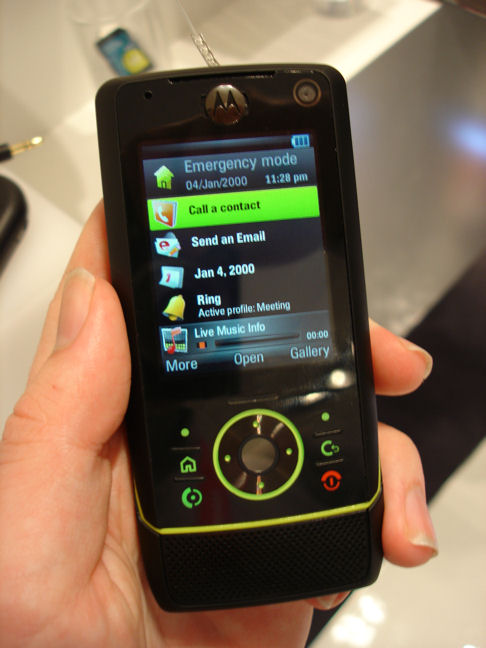 The design is one of the most eye-catching aspects of the device. Instead of a uniform slide, the back breaks into two halves angled in different directions. The result is that the phone forms into a concave shape similar to many clamshell phones. It is almost inevitable that the Z8 will get nicknamed as Motorola's 'Banana' phone. From the back and side of the phone the effect looks similar to that which you get when you start to break a Mars Bar in half [I'll take your word for that, Rafe - Ed]. As a result it is better matched to the shape of the human head and this should help improve usability and audibility over standard sliders.
The phones on show at 3GSM feature a black and lime green colour scheme, but an alternative colour scheme was seen in the presentation at Symbian's press conference. It is likely there will be a range of colour combinations released over the lifetime of the phone.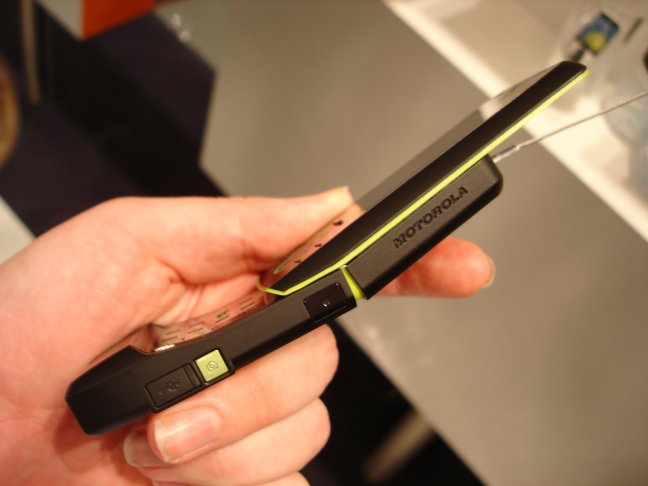 The Z8 has the potential to be an iconic phone for Motorola, in the vein of the RAZR and its design-led successors. How successful it will be depends on the pricing and marketing. The majority of people will not buy this phone because it is a smartphone, but rather because it looks good. A small number will buy it based on what it can be used for – watching video and programming a home TV. Both sets of people will be able to discover the extensibility of the device and its software platform. It is this potential that holds considerable promise. Moreover, users will be pleasantly surprised by the quality and usability of the user interface, an area where Motorola has traditionally under achieved.
Motorola were talking up the video and multimedia capabilities of the phone. Video can be played back at up to 30 frames per second and in the demo I saw playback was crisp and smooth. Motorola expect consumers to fit up to 10 feature length films on to a 4GB microSD card. Motorola will be shipping a 512MB microSD memory card with the phone that will include a full movie as a demonstrator of the film playback capabilities.
Even more impressive in some ways is that the video capabilities have been further enhanced by the presence of the Sky by Mobile app that has been developed in associated with weComm. Sky by Mobile allows you to access the full Sky Electronic Program Guide and, with one click, record a program on your home Sky+ box. It also allows you to stream Sky TV (25 channels available) directly to your handset via a 3G connection.
The popular multimedia upload application, Shozu, will also be preinstalled in the Z8. Shozu allows users to upload images and video to a number of popular photo and video sharing sites, such as Flickr and YouTube, as well as supporting sending of multimedia to email addresses and remote servers.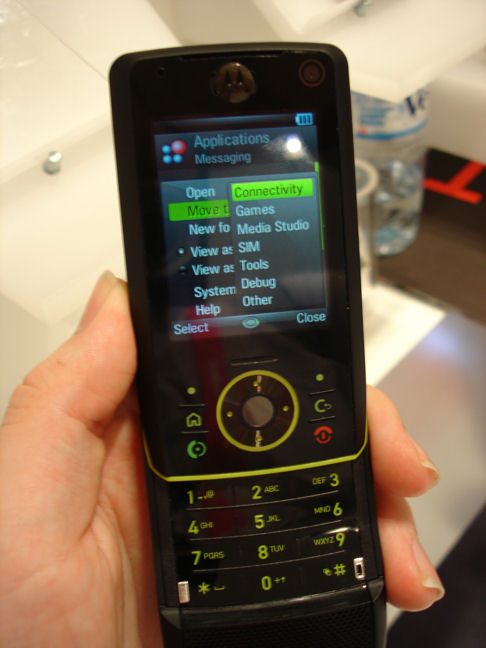 The Z8 runs the latest version of UIQ - 3.1, which was announced last week. It is the first UIQ non-touch screen device and the display was nice and bright (and shouldn't suffer too much in sunlight). All the UI interaction is carried out via softkeys. The demo phone I saw showed an extremely slick and speedy interface; given some of the early software problems with Sony Ericsson's UIQ phones, this was very impressive.
Motorola have developed a custom front end screen for the MOTORIZR Z8. This allows access to the most commonly used functions. For example, the first entry on this screen allows you to make a phone call. It is a small interface tweak, but it is an excellent way of making the initial user experience more approachable. Moreover, the screen is customisable and extensible.
The standard UIQ application launcher/list is a single click away. The usual applications are present, including the Opera Web browser and an email client. There is also a music player for MP3 and AAC playback. The music player includes playlist management, visualisation and the usual array of playback options. When paired with a stereo audio Bluetooth headset, this makes the Z8 a capable music player.
The Z8 will be available in Europe in late March or early April. Availability will follow in Asia a few weeks later. A USA variant is also likely, although no concrete announcements have been made. A USA variant would need to support different WCDMA/HSDPA bands to the European version.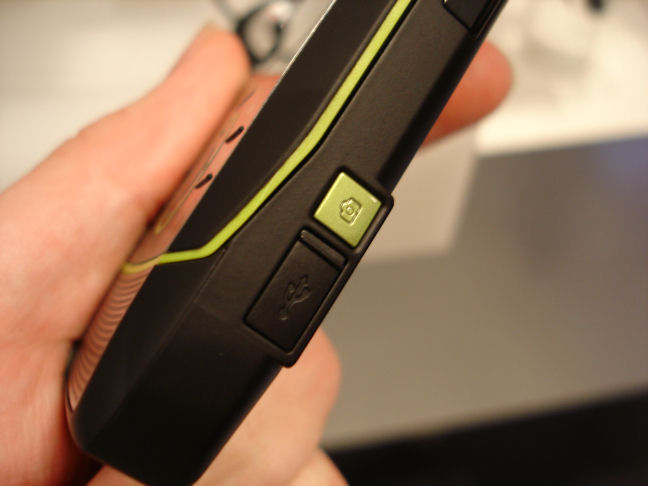 Motorola's Z8 was certainly raising eyebrows at 3GSM. For many within the industry, it came as something of a surprise. Motorola was assumed to have ceased Symbian development to concentrate on its own Linux platform. The Z8 is Motorola's first Symbian phone since the A1010, two years ago (which was eventually brought to market as the M1000 in Japan, but was never released anywhere else). As such, it represents a major strategic step for Motorola and is a major feather in the cap for both UIQ and Symbian.
Motorola's software platform strategy remains diverse. Its new Linux platform (first seen running on the MOTORIZR Z6) is starting to look mature. It is still intended as its main platform and will principally be used in mid tier and some high end phones. However, Motorola clearly plans to use both UIQ on Symbian and Windows Mobile in some of its high end phones. Windows Mobile, used in devices such as the Motorola Q family, will principally be for high end business devices, while UIQ on Symbian will be used for high end multimedia phones. Motorola say they use the software platform that is 'most appropriate for the situation' and it seems clear that a multi-platform approach is here to stay.
The development behind the Z8 represents a considerable investment for Motorola and it is likely that further UIQ smartphones are under development. Motorola have recently demonstrated a lot of success at quickly rolling out phone variants within the same family, for example making small changes in the casing, or in changing the radio frequencies used, and it is possible that a similar strategy may be employed with the Z8 in order to have a global sales reach and to appeal to more market niches.
---