---
Click here for a complete list of All About Symbian's Nokia 5800 XpressMusic tutorials
---
There are three basic options for the 5800's 'Home screen' - you'll find these listed in 'Settings - Personal - Home screen - Home screen theme':
Shortcuts bar

(the equivalent of the 'old' S60 standby screen and the subject of much of this tutorial)


Basic

(a simple wallpaper, this won't be used unless someone is particularly keen on a photo of a loved one, I suspect)


Contacts bar

(the activity and RSS-driven 'modern' alternative to the classic S60 standby screen, see below for comment)

Most users, familiar with the usual shortcuts and information-based S60 standby screen, will opt for the first option, so let's start here.
Shortcuts bar

Although there are only four obvious application/bookmark shortcuts, rather than the 5, 6 or 7 of previous S60 phones, there are several other, fixed shortcuts available which aren't immediately obvious. Here's the full shortcut breakdown for the Nokia 5800 XpressMusic:
(Obviously)

Four customisable shortcuts

with nice large, finger-friendly icons - you can set these up, to either applications or web bookmarks, in 'Settings - Personal - Home screen - Shortcuts'. Don't select your four, though, until you've seen the list below - there's no point in adding a shortcut to something you've already got access to!


Clock*

- tapping this launches the Clock application, from which you can also fiddle with alarms, look at world city times and also set date and time for the phone.


Calendar/Profiles*

- tapping the displayed network name/date brings up a pop-up menu giving access to Calendar or to any phone profile (e.g. 'Offline').




Bluetooth/Notifications/Upcoming alarms/Connectivity*

- tapping in the top right panel gives a different pop-up menu. Most useful here is the shortcut to Bluetooth, giving you a quick way of turning this off or getting to the Bluetooth 'Paired devices' tab. The Connectivity options let you go straight to your Wi-Fi connections or to simply see the connectivity overview.




Search

- a full Internet and local search utility. This can be used as a quick way to get into Google or as a faster way of finding contacts, Calendar items, music tracks, applications, and more. Very useful, even if this utility could do with a little more optimisation from Nokia.


Calendar

(again) - tapping any of your upcoming appointments or tasks will bring up Calendar.


Music player

- if this application is already running, then the current track will show up in the home screen and can be tapped on to switch immediately to Music player.

(Email, Ovi Contacts, Share Online - these home screen status panels and shortcuts aren't yet possible in v20 firmware on the 5800 XpressMusic, but they will appear in future software versions - watch this space!)


Music player*, Gallery*, Share Online*, Video centre*, Web*

- these five shortcuts are hard coded, assigned to the touch 'media' key above the main screen.




Phone dialler*

and

Contacts*

- obvious icons at the bottom of the screen - the two most frequently used 'Phone' applications?
Adding up just the applications and functions that are already available from the home screen, we get at least fourteen, and that's before we've added the four custom shortcuts, getting us to to eighteen, possibly enough that many people may not need to dive into the main S60 application menu very often. For the record, on my 5800 XpressMusic, I have the four custom shortcuts set to Messaging, Handy Safe Pro, Podcasting and Maps.
Contacts-based

The main alternative to the above 'classic' S60 home screen is the 'Contacts bar'. Many of the shortcuts mentioned above still apply, of course (see those marked with an asterisk), though the 'custom four' and loss of Search functions are the biggest downsides.
The idea of the contacts bar is to show, for each of the four contacts:
any recent calls to or from them

text messages to or from them

new items from a number of RSS feeds associated with them (e.g. Twitter)

along with their status and shortcuts to calling or messaging them.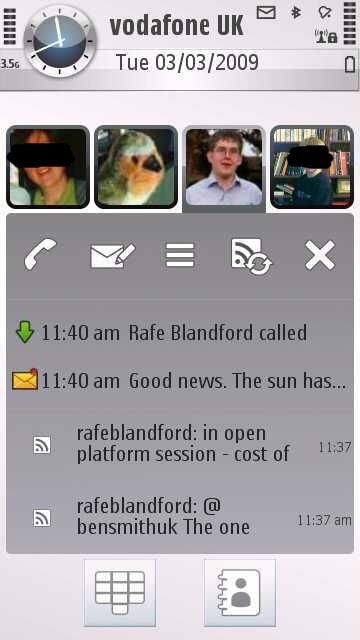 To get the most from each contact pane, get prepared by:
digging out a photo of said contact and having it available in the 5800's Gallery.

going to the contact's Twitter or Facebook or blog page in Web and using 'Options - Subscribe to web feeds'. Once 'in the system', you'll be able to pick this feed later on without having to type in any long URLs.

For each contact slot, tap on it to launch the setup wizard. Pick the aforementioned image and any subscribed web feeds ('from a list') when prompted. Each panel will start off empty and you'll wonder what on earth the point of this new view is, but stick with it and, provided you do have contact with each contact and provided you used the right feed addresses, each panel will build up quickly to provide a good (if slightly immature) overview.
---
So there we go - which homescreen style do you prefer? I think I'm leaning towards the 'classic' shortcuts bar - but then I'm just an old fogey - what about you?
Steve Litchfield, All About Symbian, 4 March 2009
---
Click here for a complete list of All About Symbian's Nokia 5800 XpressMusic tutorials
---