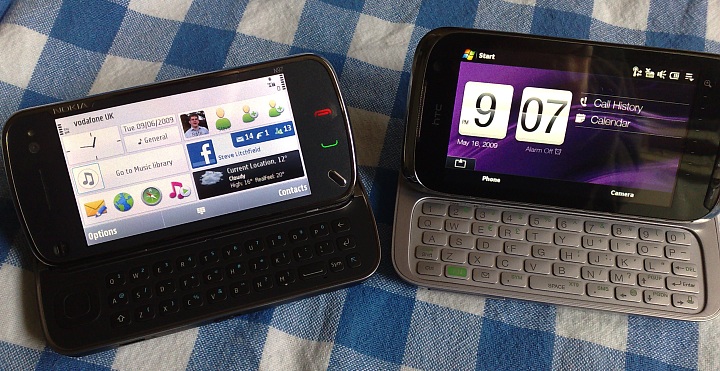 At first glance these two smartphones look very similar in design, but look past the initial form factor and there's worlds of difference in every aspect. Here's the full breakdown:
| | | |
| --- | --- | --- |
| Device | Nokia N97 | HTC Touch Pro 2 |
| Weight, dimensions | 150g, 117x55x17mm (19mm at points) | 180g, 116x60x17mm (i.e. slightly wider) |
| Screen mechanism | Double-jointed alloy hinge with solid ribbon cable barrier. Build quality is great, think Rolls Royce or Bentley. | Slide (and manual tilt) mechanism in sprung steel. Heavy but sturdy. Build quality is good, but think Volkswagen(!) |
| | | |
| Display | 640x360 (nHD) TFT, with resistive touch layer, bright, adequate in bright sunlight | 800x480 (WVGA) TFT, with resistive touch layer, bright, not as good as N97 in bright sunlight |
| Processor/RAM | 434MHz/56MB free (without Facebook widget) after booting. Speedy for most tasks, you have to hit the N97 quite hard to hit the RAM limit and start slowing things while apps are closed down | 528MHz/90MB free after booting, speedy for most tasks and unlikely to run out of RAM in any normal use |
| Qwerty keyboard | Three rows, somewhat condensed layout, space bar optimised for the right thumb. Estimate 30wpm possible. | Super five row keyboard, including numbers and punctuation without modifier keys. Estimate 40wpm possible. |
| Base OS | Symbian OS 9.4, plenty of heritage, very function-rich | Windows Mobile 6.1, also plenty of heritage, also function-rich, the core OS here is up to the task |
| User interface | S60 5th Edition, largely tried and tested UI concepts, but with some distinct quirks for touch | TouchFLO 3D app launcher and front-end for many (but not all) applications, plus original Windows Mobile 6.1 apps as well. Significant confusion and duplication |
| Application set highlights | Ovi Store, Share, Quickoffice viewers (editing version due imminently, though will be a paid upgrade), S60 PIM, Podcasting, etc. | Office Mobile (full editing, very nice), business card reader (works very well to put details into Contacts), various games |
| Navigation | GPS with Ovi Maps, with full voice route guidance on ad-hoc subscription model (first 30 days free though) | GPS with Google Maps, no turn by turn navigation, but sat-nav add-ons available separately as commercial products |
| Camera (stills) | 5 megapixels, Carl Zeiss optics, high quality, dual LED flash, superb results in average-to-good light conditions | 3 megapixels, low grade sensor, no flash, produces very poor results |
| Camera (video) | VGA, 30fps, very clear for objects over 2 metres away | VGA, 30fps, very disappointing quality, I suspect poor optics, poor sensor AND poor software algorithms |
| Electrical | microUSB data and charging, 3.5mm audio jack, 1500mAh battery | miniUSB data and charging, extUSB audio jack (hate this....), 1500mAh battery |
| Wireless specs | Quad band GSM, Tri band 3G | Quad band GSM, Dual band 3G |
| Capacity | 32GB internal mass memory, plus microSD expansion | microSD expansion |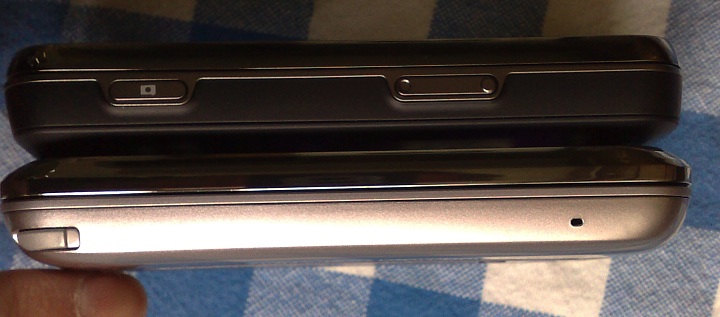 Looking at the hardware, as you can see from the table above, the keyboard size and quality is the only area where the HTC Touch Pro 2 is better than the Nokia N97 - away from text input, it's pretty much a romp home for the N97 in all departments.
And I'm afraid the romp becomes a veritable walk in the park once we start looking at software. You see, Symbian OS 9.5 with S60 5th Edition on top for the UI is a known quantity now. A rock solid base OS with a slightly quirky set of touch optimisations grafted onto the existing S60 3rd Edition FP2. The interface is most definitely not perfect, it's not even properly optimised in some areas, though the N97 variant is noticeably smoother than the 5800 version, showing the difference another 6 months development can make. But yes, I'll freely admit that Symbian/S60 (or as it will simply become, Symbian Foundation) is by no means the most intuitive system available - I enjoy using it and am familiar with it, but I can understand how setting it all up might present a new user some head scratching moments.
However, all this pales into comparison beside the unholy mess that is the software on the HTC Touch Pro 2. Starting with Windows Mobile 6.1 (the full 'Programs' list, stylus-based interface, miniscule dialogs and control icons), HTC have been fashioning an alternative user interface for years. But, rather than changing the core OS and UI elements, they've approached the problem by writing an all-singing, all-dancing app launcher and data viewer that sits on top of Windows Mobile. So you get a flashy finger-friendly interface some of the time - and then you do something simply like create a new Calendar appointment and bang, you're back in fiddly stylus world and WM 6.1. HTC have tried to help here by putting in a pretty good finger-friendly alternative to the old stylus-centric on-screen keyboard, and they've even started doing what they should have been doing since the start, reworking the menus to make them prettier and more finger-friendly - at last.
But, and I have to say this, the end result, as modelled in the Touch Pro 2, is a MESS. Jumping between pretty but limited top level TouchFLO 3D 'applications' and ugly but more powerful stylus-designed Windows Mobile apps, with the occasional hybrid element such as a finger-friendly menu grafted into an older application, is inelegant, it's horrible, it's confusing.
You might infer from the last two paras that I hate what HTC (and, to an extent, Microsoft, by their inaction) have done to Windows Mobile with a passion. You'd be right. You might infer from the name of this site (All About SYMBIAN) that I'm horribly biased and that you can't trust what I say. But you'd be wrong - this article could have appeared on any independent site with equal conviction. And I say much the same things in the upcoming cross-platform Phones Show 83.
Next time you complain about oddities in S60, just remember that it could be worse - your IT dept might be forcing you to use a modern Windows Mobile device like this one.
A deserved win then for the Nokia N97. I'm no fan boy and have already pointed out numerous problems with it. But, unless you're a die-hard Windows Mobile user with legacy apps and history with the platform, the N97 still roars past the Touch Pro 2 from a standing start and leaves it in the dust.
Steve Litchfield, All About Symbian, 17 June 2009
PS. Thanks to Clove for supplying the loan HTC phone.