Earlier this year I switched from using Windows XP to Ubuntu, a choice I'm very happy with. One thing that caused me some concern in the early days was how would I support my phone without Windows? In short, the answer turned out to be no trouble at all!

I am not looking to convert you or evangelise one operating system over another, you must use what works best for you. Although, if you're reading this, then I'm assuming you've given Linux more than a passing thought. When you're dealing with the systems and gadgets that your daily life revolves around, it can be somewhat nerve-racking to cast off into the unknown. Which is where this article comes in; I'd like to share my experiences0, so that you feel more informed on how to deal with using your phone along side a Linux computer.
Note 0: Everything in this article is based on my own tests with Ubuntu 9.04 and two S60 phones, an E51 and an E55.
Surprisingly, I've had a much more pleasant time working with my S60 phones in Ubuntu than I did in Windows. To get all of the Nokia features set up in Windows, you have to install four (or five if you include .net) applications: PC Suite (soon to be known as Ovi Suite), Firmware Updater, Maps Updater and Maps Loader. Once they are installed, you have to wait for them to load up before you can do anything with them. Whereas in Ubuntu, everything you need is already part of the operating system. There's nothing to install and nothing to wait for.

Let's go through the most common usage scenarios for when you plug your phone into your computer.
Synchronise Contacts, Calendar and other PIM data.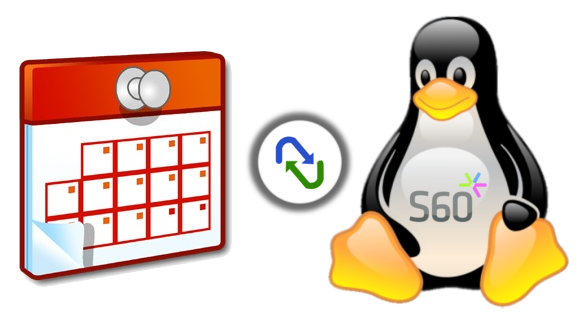 In Windows, PC Suite will synchronise your personal information manager (PIM) data between your phone and Microsoft Outlook (or Lotus Notes). If you happen to use any other desktop organiser, you're out of luck. Therefore, my answer for dealing with PIM sync in Linux is the same for using Windows without Outlook -- Switch to cloud computing!

This may sound like a cop out, but with how the Internet and mobile devices have developed, keeping your personal organiser online is the most versatile way to handle your data -- It is a platform agnostic solution. My only caveat for this is to make sure you use a service that makes it is easy to download a backup of your data. It is for this reason I would hesitate to recommend the Ovi services. It is very easy to sync your phone with Ovi, but it is seemingly impossible to get a copy of your data from their servers.
As far as your S60 phone is concerned, all you need is a service which supports
SyncML
, the protocol used by the Sync application in all S60 phones. The PIM sites I know of which support this are:
Memotoo
,
Scheduleworld
,
Mobical
, and
Ovi
1
. My personal recommendation goes to
Memotoo
because of the comprehensive format support and ease of downloading backups.
Scheduleworld
comes a close second.
You can still utilise these services even if you prefer working in a desktop application. Ubuntu comes pre-installed with
Evolution
, an open source alternative to Microsoft Outlook, you just need to add the
SyncML plug-in
. Also, Mozilla
Sunbird
can work with your online calendars, and there are plug-ins for Mozilla
Thunderbird
to access your on-line address books.
Note 1: I omitted talking about Google, because whether you use Windows or Linux, there isn't a clear route for syncing your phone with Google. You either sync with Microsoft Outlook, which in turn needs a plug-in, or you need to install GooSync on your phone to sync properly with Google. I know Google are providing better support for S60 phones, but in my opinion what they provide is not yet ready for prime time.
Editor's addendum: In addition, yes, Google's own SyncML server is still online, but it's not officially supported

File transfer and backups.
Nokia PC Suite has separate applets for transferring images, videos and accessing general files. If you set your phone's USB mode to "Mass Storage", then Ubuntu sees your memory card (alas, not the internal memory 2) as a removable drive and you can drag and drop all the files you want. You can even automate things, if you dare to use just one command line program called rsync, and this is the only challenging thing I ask of you in this article 3. For the pain of mastering one command line program, you can make a script that will synchronise the files on your phone's memory card. You can even create the equivalent of a quick launch icon for your script. Then, all the point and click work you would do in PC Suite can by achieved by just a single click on your Linux desktop.
Note 2: It is still possible to browse both the internal memory and memory card via Bluetooth. By default, you can only browse files with Ubuntu's file manager over Bluetooth, but if you want to address files on a Bluetooth device in a script, follow these instructions.



Your mobile showing up as a Bluetooth device.
Note 3: If you are not yet confident enough to try using the Linux command line, there is a graphical version of rsync, called grsync. Although I would encourage you to learn the command line version so that you have an understanding of all the options presented in grysnc.

PC Suite can import photos from your phone and organise them for you. Although, all that organisation is somewhat wasted when you consider that you probably want to integrate your phone's photos into your general photo archive (if you're reading this, I'm assuming you are that organised). In contrast, Ubuntu comes pre-installed with a photo organiser called F-Spot which will import photos from anywhere and file them into a central library (as will Google Picassa). It will also upload your photos to Flickr or whatever other photo sharing site you use. Furthermore, F-Spot embeds tags into your image files. In my experience of the Nokia E55, while you can tag photos, they aren't stored in the image files, and are therefore lost when the files leave the phone.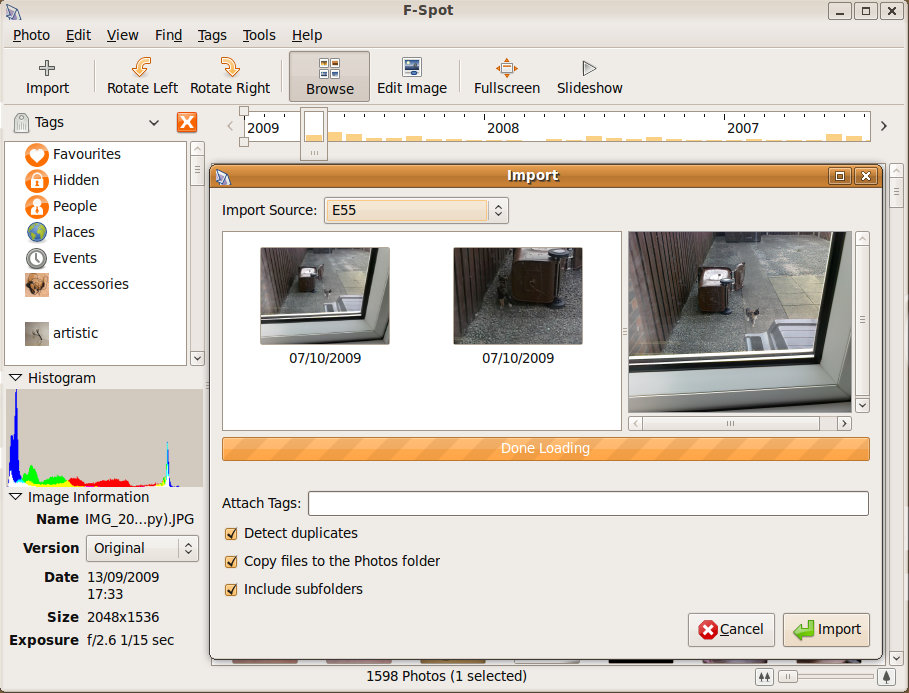 Importing your phone's photos with F-Spot.

PC Suite will convert videos for you too. This is doable in Linux, but I prefer to buy CorePlayer for my phones, which can play a huge range of video formats. This way, I'm not having to wait around for my computer to convert videos for me, regardless of the operating system.

The other advantage of using rsync to sync your memory card with your computer is that you have a running backup of your memory card in the event of failure or corruption. Again, for the pain of learning one command line program 4, you have a far more streamlined and reliable method of automatically exchanging files between your computer and your phone. What's more, backing up your phone in this way is fast, limited only by the memory card itself, unlike using PC Suite in Windows.
Note 4: If you need advice with how to write an rsync script for your phone, I'll be happy to help in the forum and comment thread.
Transfering Music & Podcasts
In Windows, unless you use the Nokia music store, you'll be using PC Suite to drag and drop your music files, just as you would in Ubuntu. However, Ubuntu's library-based audio player, Rhythmbox, sees your Nokia phone as portable music device. Therefore, you can drag and drop music to your phone from your music library instead, just as if it were an iPod.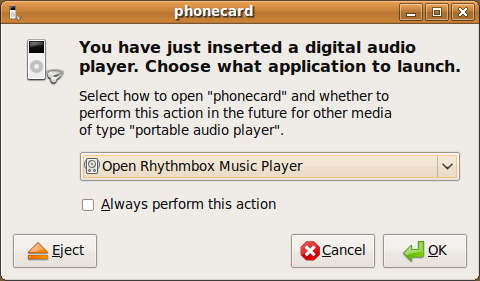 Ubuntu detecting your phone as music device.
If you have a large enough memory card, you could just include your whole music collection with your rsync script. Then, without any extra thought on your part, your new music would always be synchronised to your phone.

Which brings me to podcasts, you can either download directly to your phone via the Nokia Podcasting application, or you can download your podcasts to your desktop. Again, using rsync to share them with your phone; I do the latter. My recommended podcatching application is Miro; it is an excellent podcast manager for the desktop, in any operating system.
Connecting to the Internet via your phone
You may think that this is one area in which PC Suite would trump Linux, but no! I discovered that when I set my E55's USB mode to "PC Suite", Ubuntu would detect it as a 3G modem. In addition, if you are out and about with your laptop and have forgotten your USB cable, there is always Joikuspot, which will turn your phone into a 3G WiFi router. Also, future versions of Ubuntu will have support for Bluetooth 3G-tethering too.

Updating Maps & Firmware
These are two areas where not having Windows could sometimes be a problem. There's no way to update your phone's firmware without the proper Windows-only software. Although more recent phones, like the 3rd Edition Feature Pack 2 phones, can update their firmware over the air, removing the need for a desktop computer.
Maps is another debatable issue, as it can download maps on the fly, so using the Nokia Map Loader simply saves you time and data from your mobile contract. Alternatively, I'd simply suggest viewing the area you'll need to have maps for before you leave home via your home WiFi. Due to logic that escapes me, Nokia don't always release updates for their Maps application as a .sis file, instead you sometimes have to update it via their Windows-only utility.
Therefore, there is a last resort solution if you have a Windows OEM disk 5. Using VirtualBox, you can create a Windows virtual machine (VM) on your Linux desktop, at which point you have access to all the Nokia applications. Of course, you probably already have Windows, and the Ubuntu Live CD installer makes it easy to set up your computer to dual boot both.
Windows XP running as a virtual machine in Ubuntu.
Note 5: You cannot install windows with your "recovery disk", it must be an OEM disc.
Conclusion
If you have been thinking of moving to Linux, I hope you now see that there's nothing to fear when it comes to supporting your phone. I'd love to hear of experiences from anyone else who has ventured into Linux with their S60 phone, or are now going to after reading this.

David R. Gilson 20th October 2009, guest writer on All About Symbian
You can find me on twitter, @davidgilson and at my blog.