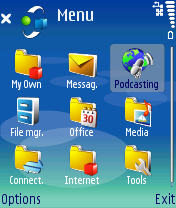 Nokia are making a big push with Podcasting at the moment for their S60 'multimedia computers' – and why wouldn't they? They want to make people happy with their new digital music phones, and what better way than to give them fresh new audio content every day? Which is where their Podcasting application comes in.
But much as everyone loves using this latest buzzword, it's not the easiest principle to set up and use. So here's the (as unbiased as I can make it - *winks*) guide to getting started with Podcasting on your S60 device.
First of all, while the Podcasting application is appearing in the firmware of the later Nseries phones, earlier Nseries devices might need to install the application as a standard SIS file. Download it from here, double click and let PC Suite do the rest.
There's one immediate thing to realise about Podcasting. The files are big. Really big. A basic audio show of 15 minutes could be around 8MB if the quality is equivalent to an FM Radio transmission, or 15MB if it is 'CD Quality.' On a pay per megabyte data plan you are going to see astronomical bills. Those of you with unlimited data plans will be okay – but I suspect the majority of people will use a Wi-Fi hot spot, given that a lot of Nseries (and Eseries) devices have Wi-Fi built in.
The other area is storage. As we've seen, podcasts are big. Even with the basic 60MB or so free when you start running, you'll need to use a storage card. Even the N91 with its multi-GB hard drive will still be initially set up to use the internal memory. Not good. So run the Podcasting application, hit 'Options' so you can sort the settings. The defaults should all be okay for Connection, so switch to Download and choose the appropriate 'Save To' for you.
Right, let's find some podcasts. First of all, Nokia have included a number of podcast networks and directories as default options to help you started.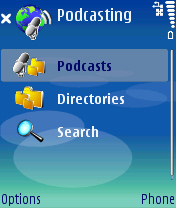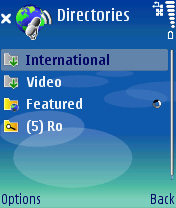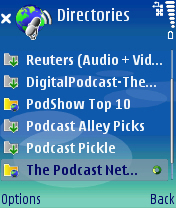 From the main screen, go to 'Directories', and then the 'Featured' section. The Podcasting application will now go online to query Nokia's main database, and come back with a list of recommended directories and top picks. Lets scroll down to one of those… The Podcast Network (yes that's one I'm involved in!)... With over 60 shows covering a variety of topics, you're sure to find something of interest here.
Lets go for something generic – such as my TPN Rock music show ('sok, gratuitous self promotion's allowed on AAS - hey, I do it all the time - Ed.) You could start scrolling down the list, but that's a lot of scrolling. So bring up the menu again and use the handy 'Search' option. Type in ROCK and it will be there in the results (along with The Rock and Roll Geek Show, another music podcast). Click on the show, you'll be asked to confirm the subscription, and that's that.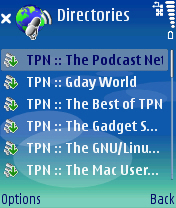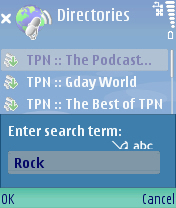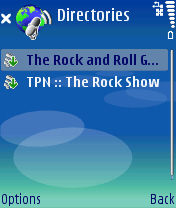 There are a lot of podcasts out there, and not every one of them is featured in Nokia's directory, so you also have the option to add podcasts manually. Go up to the top level directory and into the podcast section. You'll see here listed all the podcasts you are subscribed to. On the menu, you'll find 'New Podcast." Select this, and type in (or Paste in) the full URL of the podcast's RSS feed. A good one to put in here would be the American NPR comedy show "Wait Wait Don't Tell Me." The URL for the show's RSS feed is http://www.npr.org/rss/podcast.php?id=35.
Useful tip, rather than type all these long URL's in, try using Tinyurl (http://www.tinyurl.com/) which makes a much shorter link for you to enter on the smartphone. So the above URL becomes http://tinyurl.com/fkpot, which is much easier on the fingers.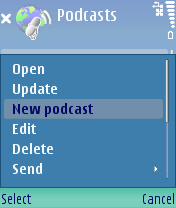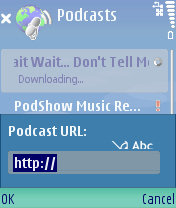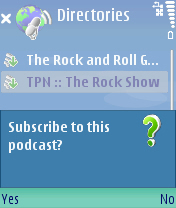 Now we have some podcasts subscribed, we can go and download some shows. Back up to the top level to the 'Podcast' option, and select that. You'll get a list of the shows you are subscribed to. Let's go with "Wait Wait Don't Tell Me" for this example. Click on it once, and the application will go online to check to see if there are new shows. If there are, when you go into the show, you'll see what needs downloaded. A show with a green arrow means you have not grabbed this show yet. Click on the show to start the download. You'll get a spinning circle showing that a download is happening, and a text percentage count of what's going on.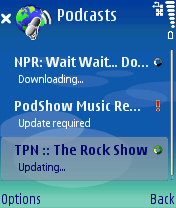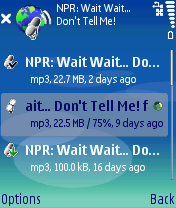 Note that sometimes the circle will spin when a download is stalled, so if you see that the percentage isn't going up, just click once on that show to stop it, and once again to restart it.
The icons beside the individual shows give you the stats, so a yellow microphone means download but not listened to. A black tick on the microphone shows a podcast has been listened to. Listening to a podcast is super easy – once you've downloaded the podcast, just click on it and the built in Music player will start to run with your chosen podcast.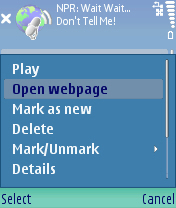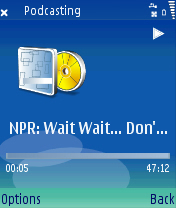 With so many podcasts to choose from, it's also worth pointing out the preview option that Nokia have supplied. This allows you to grab just the first thirty seconds of any of the podcast shows you have in your list, so you can see whether it's to your liking (unless the podcast has an ever so hand thirty second long advert for GoDaddy at the start!)