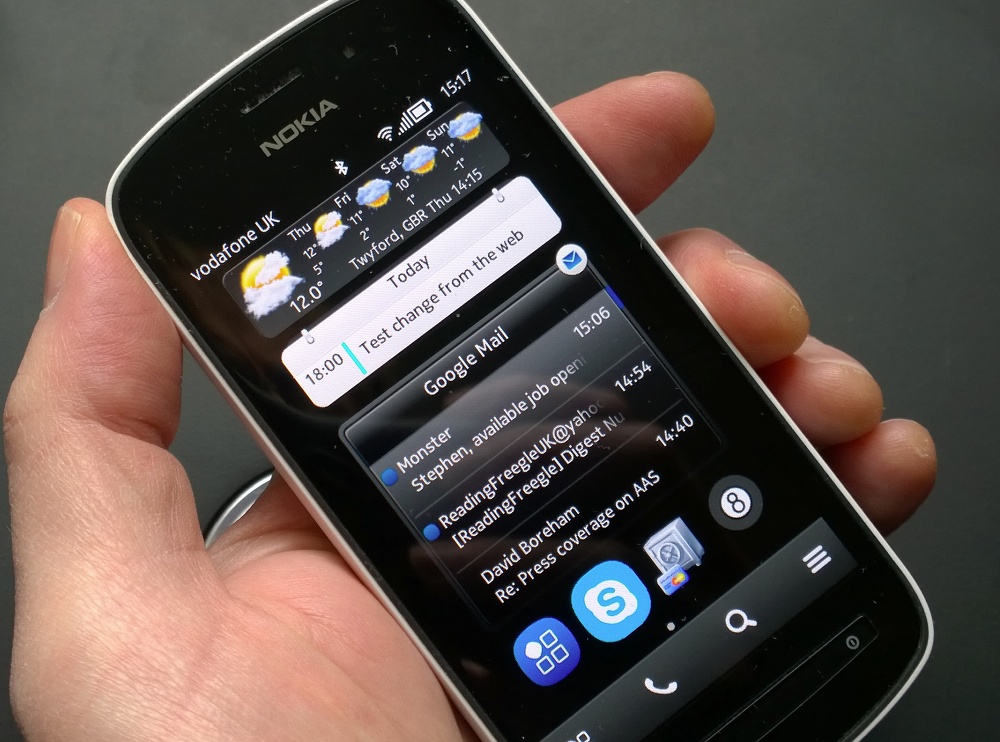 From my earlier article (looking at setting up syncing with Microsoft's cloud instead):
Although some local 'sync' options are available for our Symbian smartphones (e.g. locally to Nokia Suite on a Windows PC), for most of us 'sync' now means synchronisation to an online service. In the good (bad?) old days, this meant messing around with SyncML, but things have moved on and new protocols have emerged as standards. So where do Symbian handsets stand and is there a solution that is future proof? Could it be that the changes at Google's end are unwittingly nudging many of the hundred million Symbian users into a Microsoft-centric solution, following Nokia into the brave new world of Windows Phone?

Microsoft's Exchange ActiveSync has been through several versions in the last decade but had gradually emerged as the standard way to access email, contacts and calendar from any device and through any service... and then Google, trying to cut down on royalty payments to Microsoft, presumably, announced that it was terminating most people's access to Gmail, Google Contacts and Google Calendar using Exchange - quoting CardDAV and CalDAV as the replacement protocols. There was a slight extension to the termination but we now find ourselves in a situation where a new Symbian-powered device isn't accepted for Exchange set-up to Google's servers.
Leaving anyone determined to stay in step with Google's PIM systems in something of a pickle. I've tried switching to live.com PIM and it all works - but I've got other phones and tablets that talk to Google and it's something of a pain keeping two PIM systems in step with each other.
Neuvasync is a service we've covered before here on AAS, but not for three years. Where it used to be a way of getting genuine 'push' email, it has now become something more, a lifeline to Google's services for Symbian. Yes, it's a commercial service and is $15 a year for PIM syncing and $30 a year if you need 'push' email (rather than the 'every 15 minutes' that Google's IMAP server offers for Symbian), but the folks at Nuevasync have to keep their servers running, answer support questions and keep tweaking things to work when Google changes something, so a small cost is perfectly fair enough. Certainly $15 (about £10) for a year of Google Contacts and Calendar sync is extremely good value in the grand scheme of things.
For those interested, Nuevasync gets its PIM data from Google using a Google-specific data access protocol ('GData', or also known as 'the Google Calendar/Contact API'), rather than just using CardDAV and CalDAV - apparently the former includes a fuller set of fields and data. Fascinating stuff. So the only Microsoft Exchange section is between your phone and Nuevasync.

So how easy or difficult is it to get started with Nuevasync in practice? I gave it a go (there's a trial period) and wanted to report back in detail. The good news is that it all works in the end, my Symbian-based Nokia 808 is syncing Google PIM superbly, almost keeping in step with my Android phones. There's no bad news, but it's definitely worth putting aside half an hour for working through the various steps and dialogs so that there are no surprises.
Setting up Nuevasync Contacts and Calendar sync with Google PIM
There's nothing too tricky here, but let's take it screen by screen, step by step, so that nothing gets missed. Note that I started with a blank phone, contacts-wise, i.e. I had deleted my live.com Mail account, because I didn't want to confuse the situation by having two different Mail for Exchange systems syncing with the same PIM databases on the phone. Comments welcome if you've tried with both at once - what happens? Is there any cross-pollination between the two cloud PIM services?
It's also worth noting one potentially huge benefit of using Nuevasync - it supports multiple calendars, so you can bring in your wife's and daughter's and club's Google calendars, all through one conduit, though doing so goes beyond the scope of this walkthrough.
1. Head to Nuevasync.com
And click on 'Sync for Nokia' etc.: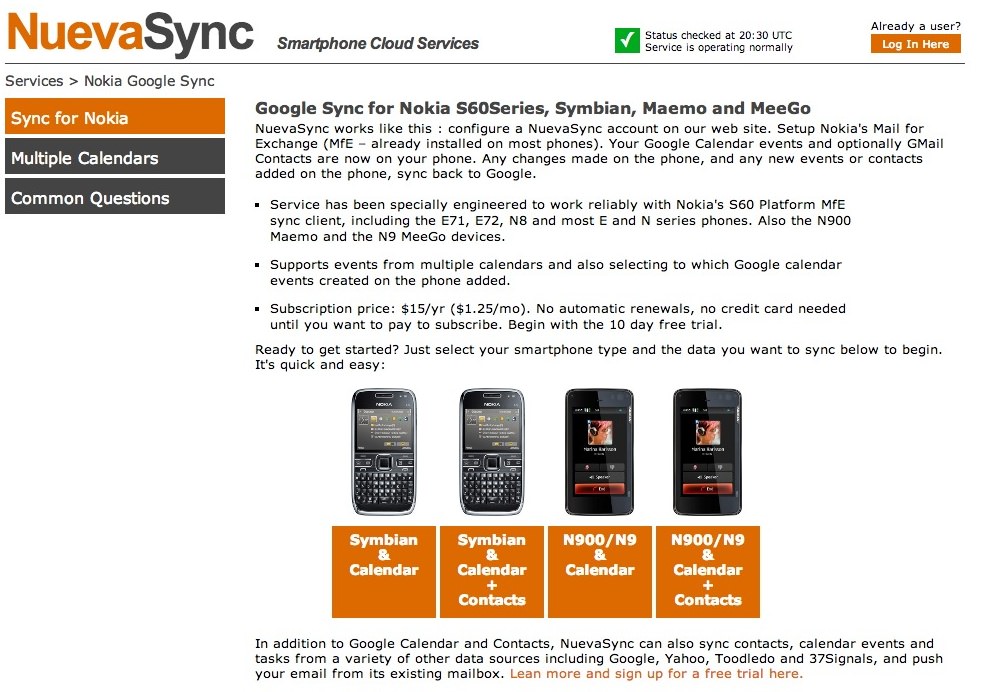 'Symbian & Calendar & Contacts' is the one to go for, obviously.
2. Account confirmation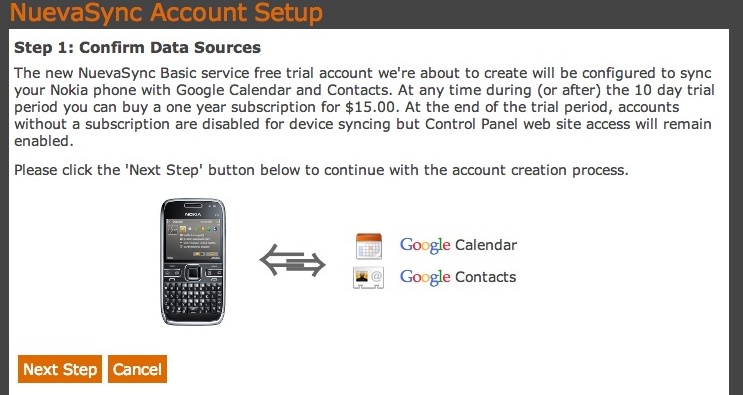 Just confirmation that it's $15 a year after the trial. Moving on....
3. Explanation of Google permissions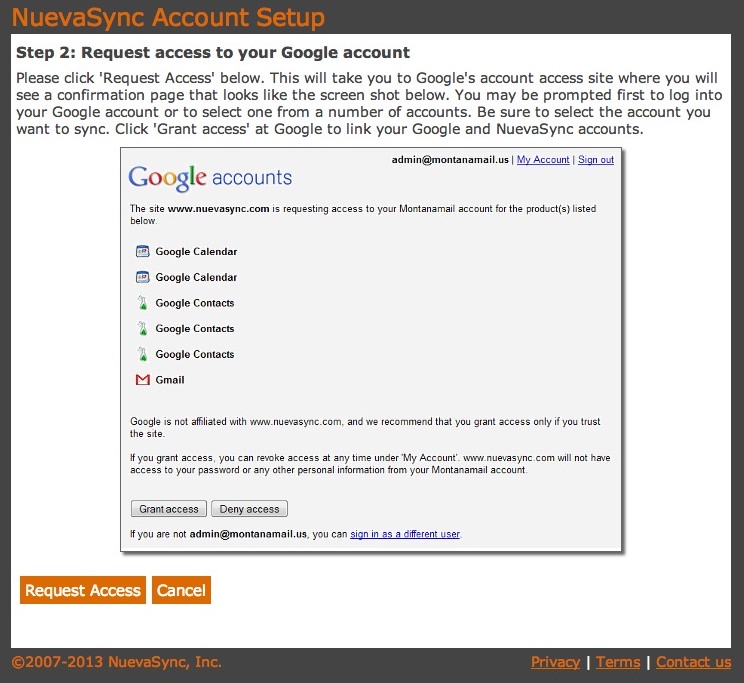 The web-based wizard primes you for the probable permissions screen that Google's about to throw at you....
4. Give Nuevasync.com permission to access your Google PIM data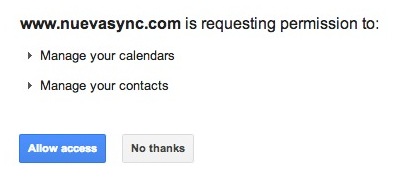 As expected, the Nuevasync needs access in order to work its magic....
5. Creating a new Nuevasync account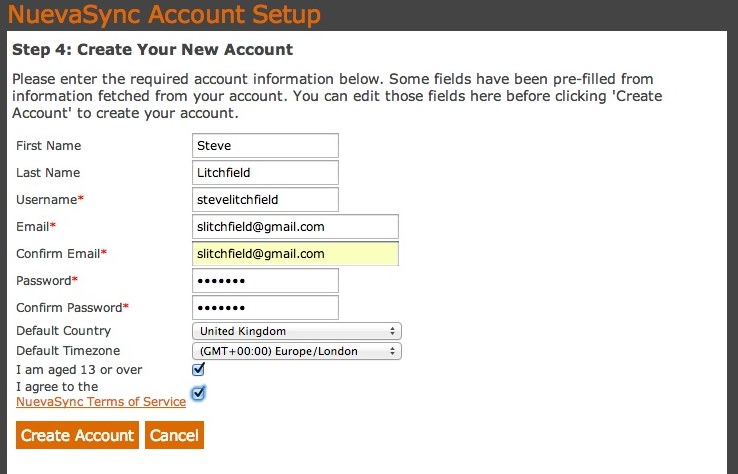 You'll need to remember these account details if you need to change something in terms of set-up in the future.
6. Success!

That's your Nuevasync account set up and connected to Google.
7. Hooking up your phone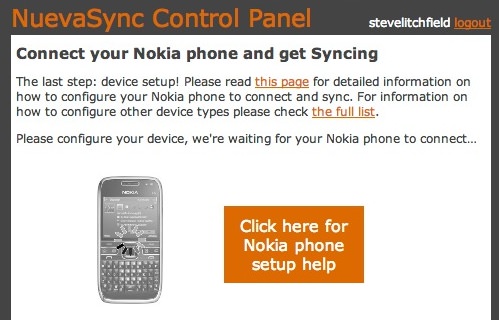 Don't be put off by the photo of the old Nokia E72, or by the linked instructions, which are all out of date. Instead, follow my instructions below!
8. Pick out Exchange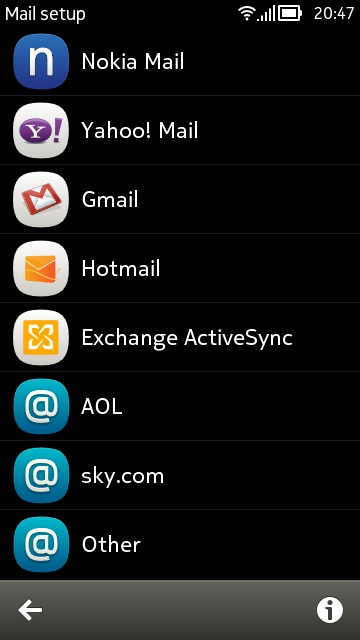 With a SIM card in your phone and fully connected up, go into Mail and tap on 'New mailbox', picking out 'Exchange ActiveSync'.
9. Set up the Exchange account with your Nuevasync details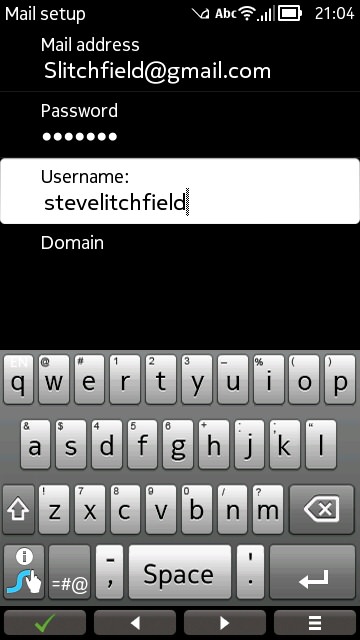 Remember that these are your Nuevasync account details/password, not those for Google (though the email address quoted is obviously the same).
10. Certificate oddity part 1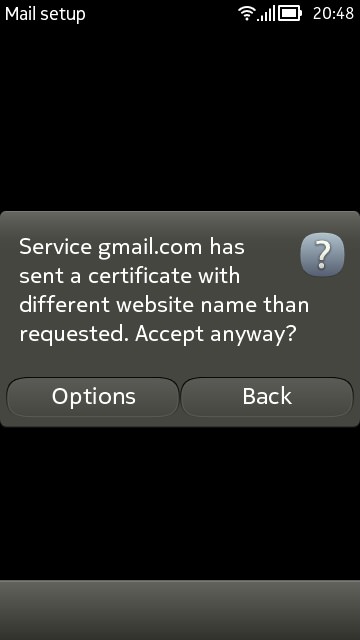 Somewhat oddly, this pops up as part of the authentication process - just tap on 'Options' for now. At this stage in Symbian's life, we're used to seeing things break!!
11. Certificate oddity part 2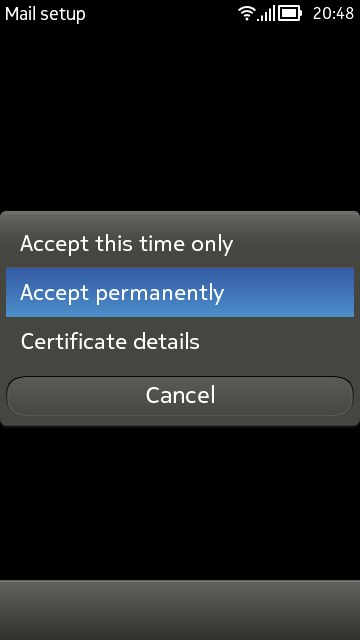 Just 'accept permanently' - the risks of Google having been hacked are small!
12. Exchange server name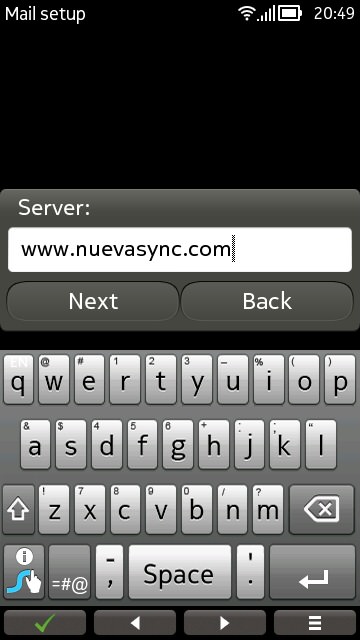 This is the Exchange server name that you'll need to type in. Don't worry, by the way, that throughout this process everything's referred to as 'Mail'. It means 'Mail for Exchange' and this includes Contacts and Calendar.
13. Choose what to sync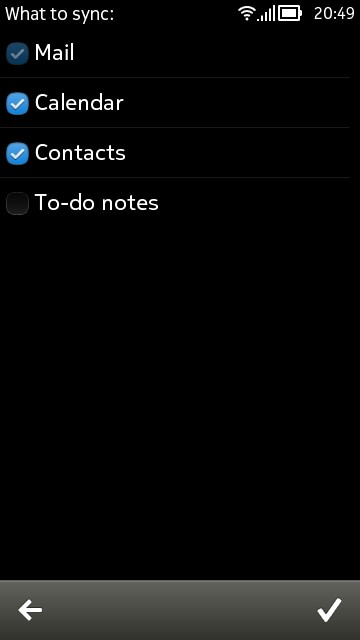 Make sure the two main ones are ticked - anyone know what 'To do notes' might sync to through the Exchange conduit into Google?
Tap the tick when done and you're off and running - in theory!!
14. The sync starts...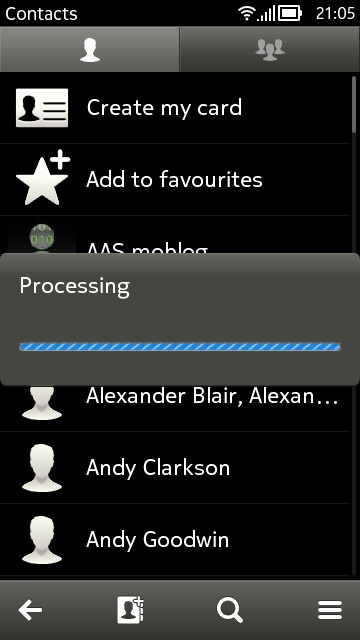 In theory, you're off and running now, but you can check by waiting a minute or two and then looking in Contacts (which gets synced first) - things should be happening, as seen here. Be patient, at least on the phone side. Leave it alone for this first big sync, as usual - it may take five ot ten minutes.
15. Look at Nuevasync.com again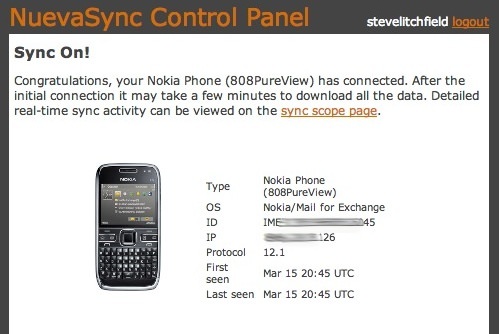 Back on your desktop/laptop, the new connection should have been detected and there should be IMEI and IP information available. Note the 'sync scope page' - click on it if you want...
16. The sync scope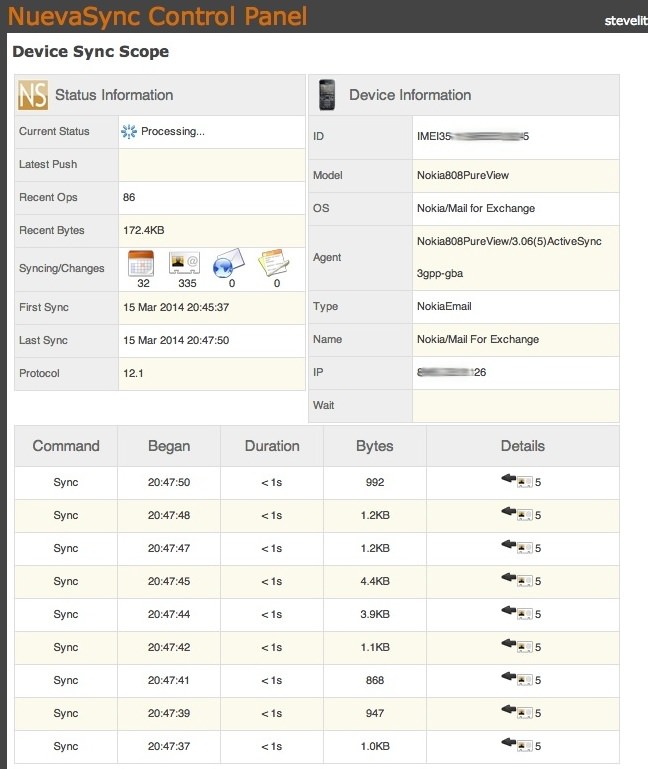 Here you can watch the sync take place in real time, with batches of five contacts at a time being sent through the system...
17. Testing it all out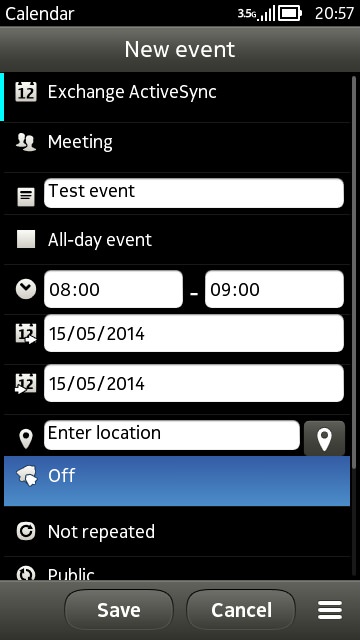 Once all the syncing has finished, your Symbian device's contacts and calendar should be fully synced with Google. You'll want to check it out, of course, perhaps (as here) by entering a new appointment and then waiting and watching for it to propagate via Nuevasync to Google Calendar. The syncing here seems periodic (i.e. not instant) though will also get instigated when email is transferred. Only Nuevasync doubtless know the full algorithm and conditions. Still, it works.
18. Your control panel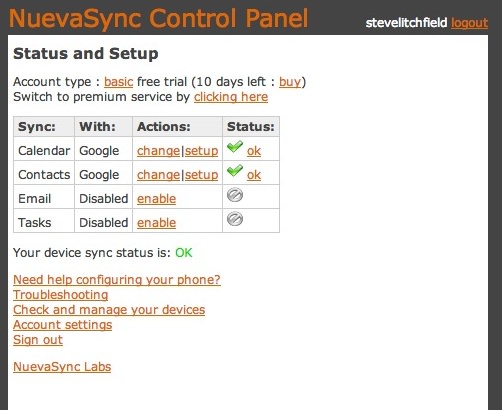 Here's the current summary then, showing that Calendar and Contacts are fine. You can stop here if this is what you wanted from Nuevasync or if you wanted to limit your expense to $15 a year. Job done.
Of course, if you wanted push email too, i.e. delivered immediately (as opposed to every 15 minutes minumum) then you might like to press on and click that tempting 'Enable' link beside 'Email'.
19. Email too?

As you can see, Gmail is accessed through IMAP, in exactly the same way as you'd get it from your Symbian smartphone, but the difference is that Nuevasync's IMAP connection to Gmail is 'always on', whereas most IMAP connections to Symbian end up needing periodic syncs. So, in theory, Nuevasync gets the email straight away and then pushes it down by the other 'always on' connection, using Exchange down to your handset.
20. Just GMail?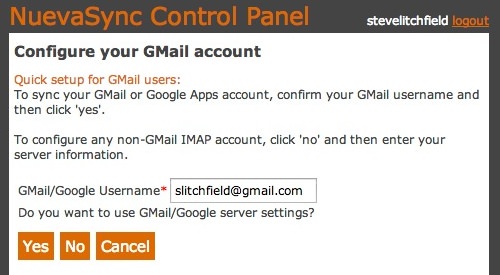 In fact, you can substitute any other IMAP account if you want, other than GMail, but press on for now since it's Google we're after.
21. Permission again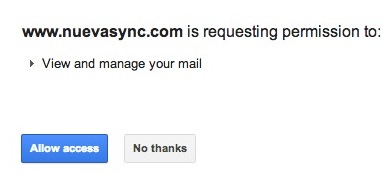 Again, there's permission needed to access your Google service, in this case Gmail....
22. Email OK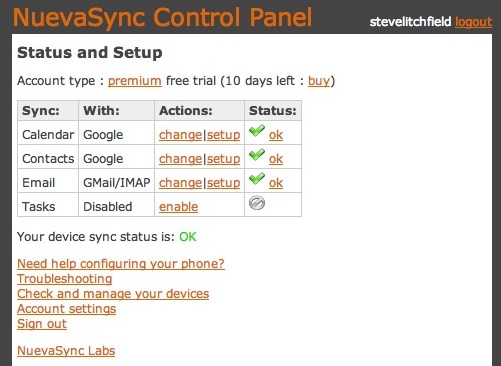 Everything you need may already be in place on the phone, since you already have Nuevasync set up as your Mail for Exchange host, etc.
23. Toggling email on
If email doesn't sync at first, you may need to nudge it, to let the servers know of a change in mission, as it were... Go into Mail/Settings and tap on the mailbox and 'What to sync':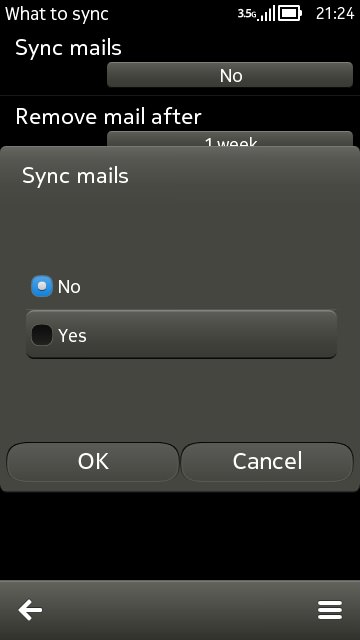 Simply toggling this to 'Yes', or 'No', waiting a bit and then back to 'Yes', kicked things off in my case.
24. Push email?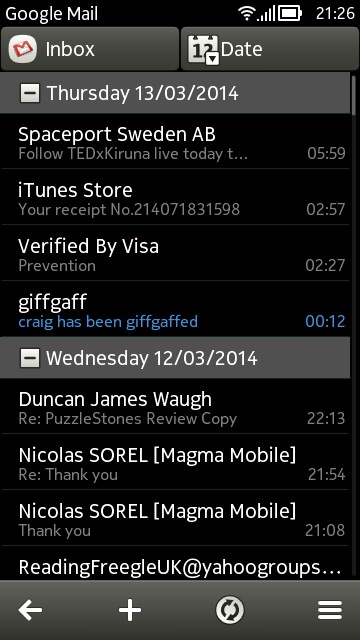 And there we go, up to date Gmail as well. Whether the 'push' is as fast as you like may depend on your expectations and needs. Sometimes emails came through within a minute or being sent, sometimes they took multiple minutes - depending, presumably, on how busy the Nuevasync servers are (both talking to Google and to your phone).
25. A joy to be in sync with Google PIM again!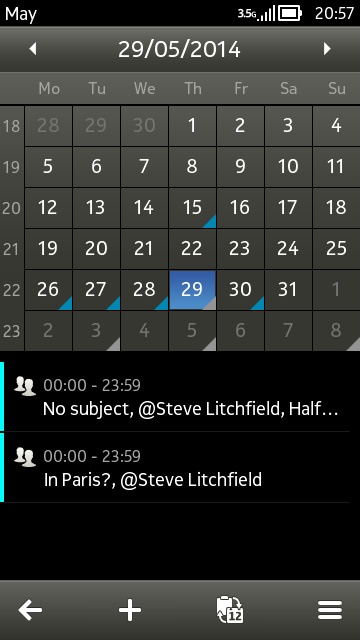 Proof that the PIM sync works - note the way calendars have their names appending entry text. This is a little ugly, but there's the benefit of handling multiple calendars without breaking something at Symbian's end.
My recommendation?
The big thing here is that PIM sync with Google works - most of us can live with a few minutes delay on contacts and calendar changes. So I'd certainly recommend that you start here and get yourself set up - £10 a year to bring Google back to Symbian is excellent value.
Push email is more of an option, really. The 'push' is rarely instant, though you do save time over the default Symbian IMAP polling interval of 15 minutes. It's really up to you as to whether it's worth adding another $30 (£20) to turn this on as well. You might like to start with the PIM sync and then enable email at a later date once you've built up some trust in Nuevasync as a company?
Comments welcome, as always, whether you're a Nuevasync virgin or whether you've been using it for years!