Editor's note:

In this "taste test" series we've supplied a number of Symbian device users with a Nokia Lumia 710 and asked them to tell us, in their own words, about their experience with the device and what it was like to switch from one platform to another.

Ultimately, the question we're looking to answer is 'can I replace my Symbian device with a Windows Phone device and what are the advantages and disadvantages of doing so?' We've already talked about this in our Lumia 800 review and in various companion pieces, but the answer, of course, depends on your perspective, which is why we wanted to get a broader range of opinions.

It's an important question for Nokia because it needs to transfer as many of its existing smartphone customer as possible to the Windows Phone platform in order to build sales momentum and rebuild its market share in smartphones.
Profile:
Paul Sargeant is a loyal Symbian user, residing in Kingston Upon Hull. For the last few years, he has been an ardent Nokia N8 user. As a Symbian power user, he's ready willing and able to tinker and explore with his devices, which made him a perfect choice to navigate the potentially choppy waters of transferring from Symbian to Windows Phone 7.
Paul's experience:
First impressions
When I opened the box when this phone arrived, I fell in love with it. It was not the cheep feel I have seen mentioned. It feels good in the hand and is well made. With a gel case on it, it is ready for war. What it does, it does well (when you have a data connection). It has been described as 'Entry level', a term I really hate. People who have money and can afford the best of the best usually use it. It has been on sale unlocked at Carphone Warehouse for £99 + a £10 top up. This to me is an absolute bargain. You are getting a great phone that once sold for over £200.
It does most of what my present phone (Nokia N8) does but it's more fluid and easy to find what you are looking for.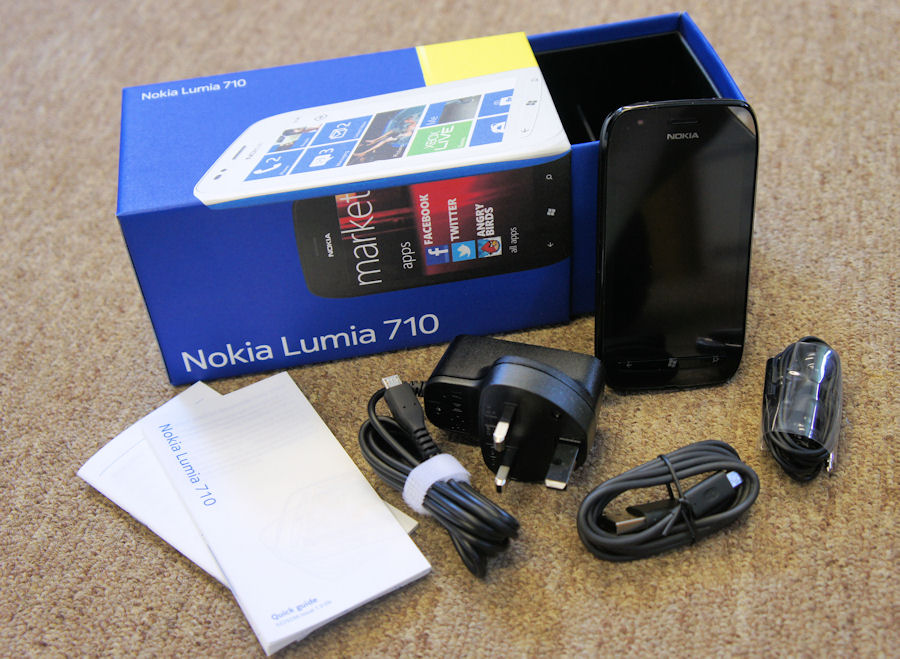 Setting up
Setting up the Nokia Lumia 710 was easy. When it was first plugged into the PC it asked for the Zune software to be downloaded while it was installing the drivers. Transferring contacts was done using the 'contacts transfer tool' over Bluetooth. I have 84 contacts and it was completed in a few seconds. It was a shame this useful built in app will now lie dormant and unused.
Calendar entries had to be transferred manually as I do not have them backed up to any cloud service and couldn't find a way to do it on the Lumia 710.
Setting up email was simple to do. Both Gmail and my local ISP (Karoo) email was simple to set up. As with my N8 on Vodafone, my local email account will only send emails over WiFi and not over mobile Internet.
Micro sim
Having more than one phone, I like to swap around now and again. The Lumia 710 uses a micro sim, and you can't use a micro sim adapter on an N8. This means I can swap phones but I then have a different phone number. Not a problem for me but anyone wanting to call me would have to be informed of which number I would be on. I like to have a backup phone in case my main phone develops a fault. Again, I would have to use the phone with its own sim and different number.
There was an issue with the Giffgaff card supplied as the APN setting had to be put in manually before it would connect the mobile web. I had to Google this problem to get the answer.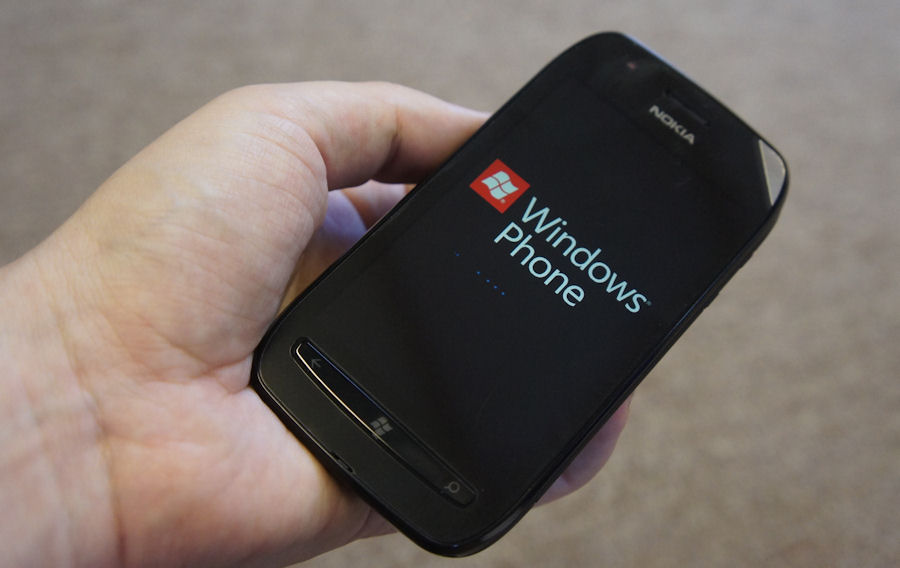 The People hub
Back in 1994, I left the Army after 20 years service. Behind me I left many friends and colleagues. For years I never saw any of them and I didn't expect to ever again.

Then came email. I bumped into an ex-army friend at a truck stop near Carlisle and exchanged a few email and telephone contacts. From then on began a gradual re-acquaintance with all these people I knew, through sites like Forces Reunited, word of mouth email addresses and eventually Facebook. On Facebook, which has now become the main contact hub for my 200 or so friends, we arrange events like reunions and share old photos and memories from our interesting life we had together.

I am not a person who continuously updates my status on any site. I do it only if I am doing something interesting or I know may be of interest to someone else. I also keep my personal details to a minimum. I check Facebook about two or three times a week for updates. I am not really interested in other people's horoscopes or whether they need a chicken for their farm yard or inviting me to play poker.
Twitter on the other hand is where I keep up with news of what interests me. I am relatively new to Twitter. I have been on it for about a year or so.

With Symbian I have something of a social mess, with Contacts, Nokia Social, Gravity and Opera all playing a part. With the People hub on Windows Phone. all of the parts mentioned above are all together in one place. I have the 'Contacts' part filtered to just Windows Live for now. I have a 2 groups set up. One for family and one for work colleagues. I have my wife's tile pinned to the start screen as she is the one I am most likely to phone.
I have both Twitter and Facebook accounts added. At the moment I am not quite sure about keeping the Facebook account on as it is too much clutter, again with game requests etc. I have deleted it and brought it back on a few times! I still use the separate Twitter and Facebook apps which both work very well, without any of the issues experienced with the equivalent on Symbian.

Maps
Nokia Maps on the Lumia works great and is nice to look at. Unfortunately it depends on a data connection. If a data connection is not present or I have a bad signal, Nokia Maps is dead. Nokia Maps doesn't link to Nokia Drive as it does on its Symbian equivalent.
Drive appears not to be data dependent and a GPS fix was not as fast as on the Nokia N8. I have run Drive alongside the Nokia N8 version, it kept up but there were no street names on the voice guidance. Not an essential part of the navigation software but it does help. I couldn't find a favourites menu, just a previous destinations menu. Searching for a destination offline didn't work at all. One of the characteristics of Drive on Symbian is that you can just touch the screen where you want to go and it will take you there. Why this version doesn't do this is something I think is strange. This part of the device was quite a letdown.
Internet
Browsing the Internet is a pleasure on the Lumia 710. The slightly larger screen area helps. It is quicker to connect and stabilise on WiFi than the N8. It is about the same time to connect on mobile Internet for both phones on my test. It is smooth to navigate around web pages and there is no stutter as on the N8. The Bing search using the search button is fast and outstanding. The voice search uses Microsoft Tell Me and is very accurate at recognising my voice (providing I have my teeth in!) It is fast and easy. I have been using the Internet more on this device due to it being easy and smooth. I would be worried about the amount of data it is consuming as it is updating quite often. Fortunately, the Giffgaff sim card fitted has unlimited data.
Multitasking
The lack of full multitasking hasn't caused me much of a problem. I am very battery power conscious and usually have most apps closed down. I can be listening to a podcasts/music and surfing the net at the same time. This it does ok. I have had an Ebay app open in the background, which just needed refreshing when brought to the front. The fast app switching works ok for me (so far).
Tiles
I hated the Windows Phone tile system when I first saw it. Now, after using it, I think it is great. Nice big finger targets.
My tile list:
Phone, people, messaging, linked inbox settings, Drive, Twitter, Nokia Maps, IE, Music + Videos, Calendar, Pictures, Office, Marketplace, Wife, settings, Me, SkyDrive, Google app, Shopping list, Facebook, Ebay and Notepad. If the phone was mine to keep, I would have Handy Safe on it also.
Kicked out: App Highlights, Alarms, Games and Sports Tracker.
Memory
The non-expandability of the memory surprisingly, hasn't been much of an issue (so far). (On the N8, I mainly used the SD card for phone backup, contacts backup and sis files that I need after doing a reset.) I use Zune for transferring music and videos across. It was at first a pain, but it became easy to use. I still miss and prefer the drag and drop (to and from the Desktop) as used on the N8. Why this isn't done on Windows Phone I don't know. It is handy for transferring files from work to home. Yes, you can use SkyDrive but with the N8 I can plug into anyone's PC or Memory stick (USB on the go) and pull files off. This was one of the main attractions for me when getting my first smartphone.
Apps
The first app I looked for and it was important: Handy Safe. I need this app or the phone is a no goer. I have lots of passwords, door combination numbers for work and home and need them with me. It was there and at a cheap price. It was compatible with the Desktop App and syncs with the info I have on my N8. Notes was another app I use and found.
Something I really need is a missed call and missed sms app. The ringtones are not loud enough and if you have turned the volume down, it stays down - WHY?!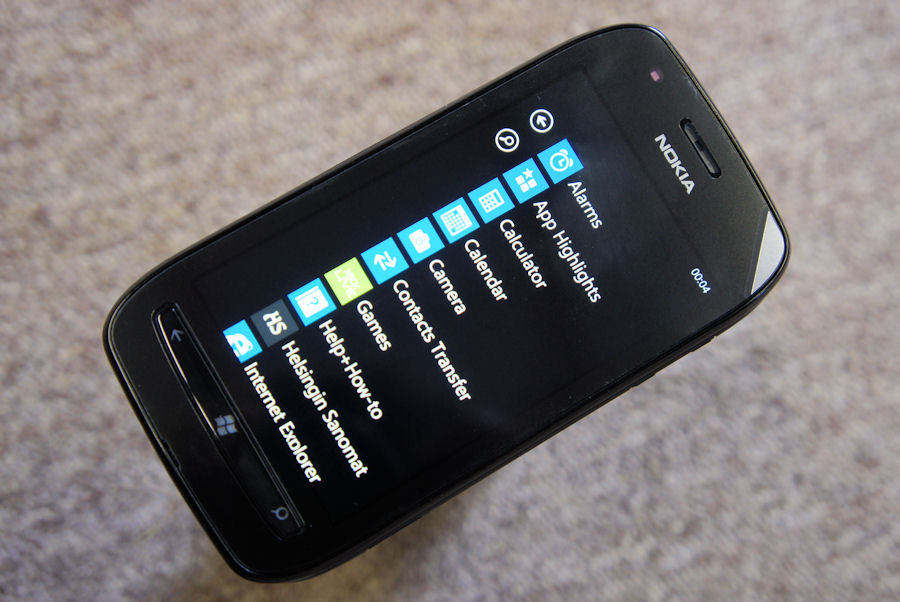 Bluetooth
Bluetooth, does it have it? Yes - 'just'. It will connect to your car and transfer your contacts over and that's about it. I spent quite a lot of time trying to get it to receive a ringtone. I Googled the problem - no file transfer! WHY NOT! Is it all a plot to get you to use SkyDrive? So it has about one use for me. It did connect with the Bluetooth in my car with no problems.
Battery
The battery at first needed charging about twice a day. That was down to me playing with it and a new battery. After settling down with it for a week or so, the battery lasted all day, with 89% at lunchtime and 75% remaining when I got home ay 5pm, which is about what I get on the N8. This was with a few visits to Ebay, Twitter, Emails set to every hour, a look at the news now and again and a general play around with it.
The phone has an annoying way of charging. The phone turns itself on when it is plugged in and stays on when it is fully charged. I always turn my N8 off at night. And put it on charge. This means in the morning I am starting the day with a battery on 100%. With this Lumia 710, it is on 89% by the morning. I have been plugging it into a TeckNet iEP387 7000mAh external battery pack to boost it to 100% before I leave for work. I think the answer is to charge it before going to bed. But then again I like to listen to podcasts before going to sleep.
The battery is lasting longer and longer as the days go by. It is doing well. As I mentioned earlier, I am very battery/power conscious. And I explore ways of saving battery so I keep things to the minimum, as you never know what emergency might crop up during the day. Only USB charging is supported. This requires either plugging it into a PC or using its USB charger. It can't use any of the many 2mm Nokia chargers we have at work.
I keep my phones for years and the ability to renew the battery when it is nearing the end of its life is a big plus. It can be sold as working. I would not buy a phone with a built in battery, full stop! The N8's battery can be changed, if absolutely needed. I have passed on old phones to my father in the past and they are still going. Having a spare battery can be very handy.
Physical keys
On the bottom of the phone are 3 physical keys. I like physical keys, they are positive and don't freeze like the on screen ones can. If you have dirty fingers they can be pressed easier than on screen keys.
Camera
I do not expect the Camera to be as good as the N8's. But for a 5 megapixel camera it had good results. And it has auto focus! I like the ability of being able to touch the screen on the part you want to focus on. It then takes a photo. The resulting photos are good enough for most people. I did notice a bias to green when taking photos in my garden on a sunny day. When viewed on a PC they looked ok. This may be the screen. It is like looking at photos through sunglasses when viewed on the phone. If you look at the Youtube video by LE55ONS on how to change the digitiser, when the screen comes off it looks greenish when you see through it.
Music player
The music player is good. The supplied ear buds don't look impressive but work very well. Nice bass. This side of a mobile phone to me is very important as I gave up with separate mp3 players and use my phone as my main music player. I could probably get all my music on this phone. Just.
What I feel should be included is an FM transmitter. This I use a lot (on my N8) in my car and at home for playing on the stereo. Mix radio… WOW! And it's stereo!
Zune v Nokia Suite
Zune works fine but there is one thing really missing - Messaging. If I want send a lengthy or complicated text, I plug my N8 into the PC and use the keyboard. It comes in useful when sending instructions to my drivers at work. This I really miss.
Conclusion
I like the Lumia 710 very much. It is the right size for my pocket. It is well made and is fluid at what it does. It does most of what I want. If I had to, I could swap over very easily. I would miss Symbian. Symbian to me is like a manual camera. You have complete control over it and it does what you want it to do. The Lumia 710 feels more automatic and easy.
What it does well depends on a data connection. If you haven't got that then it is almost useless.
On this phone, give me a bit more memory, sort out the volume issue and put an N8 camera in it, it would then be…"a worthy companion indeed". I would buy one.
Paul Sargeant