Review:
Samsung INNOV8 - Hands-on Preview
Rafe Blandford and Steve Litchfield get some serious hands-on time with the Samsung INNOV8, currently the hottest ticket in town.
Introduction
The Samsung Innov8 (i8510), a top of the range S60 handset in a slider form factor, was announced in late July. With an 8 megapixel camera (which gives the phone its name), 16GB of onboard flash memory, 2.8 inch screen, integrated GPS, accelerometer, optical senor and comprehensive software package it is, arguably, the new super-phone - the best specified device currently announced. Nokia's high end Nseries devices will finally be facing some serious competition; the INNOV8, positioned at the top end of the market with an estimated launch price upwards of £500, will be facing off against Nokia high-end Nseries devices such as the N95 8GB and N96.
The INNOV8 which we spent time with at one of Samsung's offices was a pre-production model. While major hardware changes are unlikely, there will be software revisions before the retail release. You should bear this in mind when reading this preview.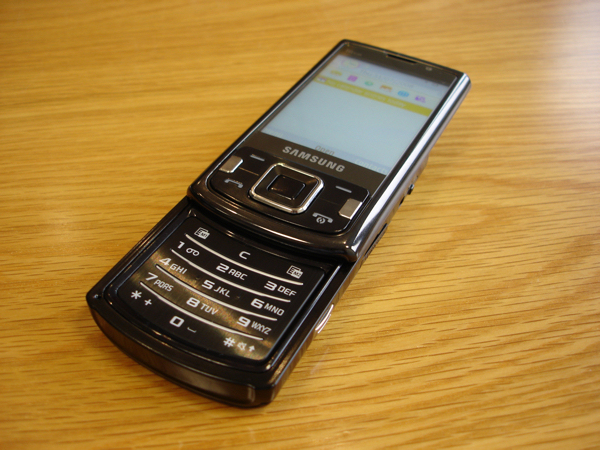 General Design and Hardware
At 106.5 x 53.9 x 17.2mm, the INNOV8 is obviously a large phone. Cameras are often the limiting factor in phone size so it's no surprise that the INNOV8 is at the top end of the size range. Despite this, it does compare quite favourably with the Nokia N96 (103 x 55 x 20mm) and the Nokia N95 8GB (99 x 53 x 21mm), particularly in the all important thickness department. However, with the slide open, the INNOV8 is longer than the N95 and N96, which means that moving between the numeric keypad and control cluster can be awkward, especially for those with smaller hands. On the flip side this does mean there is more space for the numeric keypad, which feels less cramped than those found on the N95 and N96.
Click to download or enlarge the comparisons below:
In style terms, the INNOV8 follows a similar path to some of Samsung's other bestsellers. The INNOV8 is made up of a mixture of metallic and plastic materials with an emphasis on black with silver highlights. Those looking to move over from Nokia devices will find a very different design language. In essence, I would say that Nokia has recently focussed on more simplistic, organic designs, whereas Samsung looks more engineered and feels more mechanical. Design is clearly a very subjective area and everyone will have their own preference, but the overall design and style of the INNOV8 is quite effective; the photos don't really do it justice. Particularly welcome was the excellent build quality of the phone; the assisted slider felt very solid and there was little or no wobble in either the open or closed positions. Some of the buttons and controls on the side of the device were a little weak, but then we were looking at a prototype handset, after all.
The front of the device is dominated by the large 2.8 inch screen which sits just beneath the front camera and light sensor (used to adjust screen brightness). The screen is crisp and bright, it has support for 16 million colours, which brings the best out in photographs displayed on screen. The QVGA resolution will disappoint some, but is not a surprise given that this is the standard for current S60 phones. If you look carefully, it is possible, as with other large QVGA screens, to pick out individuals pixels, but this is largely offset by the excellent screen brightness. Visibility in bright light was similar to that of the Nokia N95 8GB, i.e. not bad.
Below the screen is the main control cluster. The silver flanking keys are the S60 and Gallery shortcut keys respectively. The large D-pad includes an interesting innovation - an optical sensor. This is the equivalent of a track pad on a laptop. In the UI and in most applications, this is used as an equivalent to the surrounding direction keys - moving a finger left or right across the sensor is the same as pressing left or right on the D-pad. This does take a little getting used to, and pressing the d-pad in can sometimes be confused with a direction movement. But the sensor is surprisingly accurate and there are sensitivity options in the phone's settings (or you can turn it off completely). However, the optical sensor really stands out in Web, where it is used as a 'mouse'. It makes it much easier to select links than using the D-pad and also allows you to move around the page (scroll) more quickly. It goes at least part of the way to evening the difference between touch and non-touch screen browsing experiences. The numeric keypad is a single piece of flat metallic material and each key is reasonably large and has good tactile feedback, so text entry speeds should be fairly decent. There are two customisable shortcut keys at the top of the keypad, which map to RealPlayer and Music player by default.
(As usual, click photos to enlarge or download:)
On the left hand side of the device, from top to bottom, there is a volume rocker switch, 3.5mm audio jack and microUSB port (no more proprietary connectors, as on earlier devices, thankfully). The positioning of the audio jack port, the same as on the N95, is not ideal, as it can lead to tangles, but its very presence is welcome. The microUSB port is also used as the power port. This means that the INNOV8, like other Samsung S60 devices, will charge while connected to a computer. On the right hand side of the device, from top to bottom, there is a three way camera mode slide key, the microSD card slot (theoretically supporting cards up to 16GB), and the camera capture key. The mode key switches between three possible options: camera (still images), video camera (videos) and review (album). Based on this switch, the Camera and Album applications will open or switch to the appropriate mode. This makes the INNOV8 feel more like an ordinary digital camera, although the switch may be a bit fiddly to operate one handed if you're in a hurry.
The back of the device is dominated by the 8 megapixel camera and its accompanying dual LED flash. A Xenon flash would have been better for still images, but that would have arguably added further to the cost. The camera is protected by a lens cover which automatically opens and closes with the Camera application. This is a very neat solution and is another obvious carry over from standalone digital cameras. Stereo speakers sit on either side of the camera housing; they put out a decent volume, but do face away from the user. A number of labels are found on the back of the device (WiFi, GPS, DLNA and DivX), which in my opinion are completely unnecessary and take something away from the sleek design.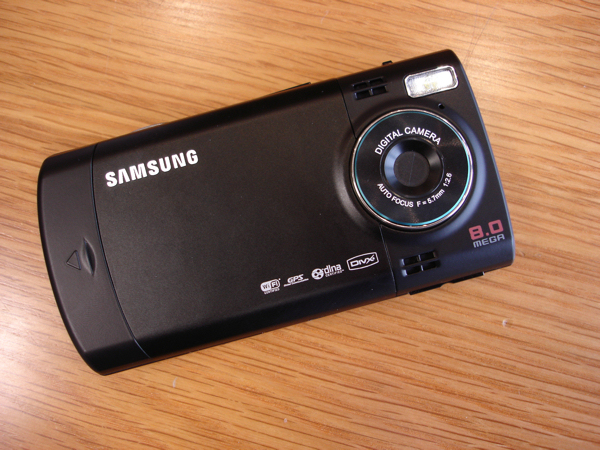 Inside, the INNOV8 has a generous 1200 mAh replaceable battery, which should get most users through a day of use. The INNOV8 has the full set of connectivity options: 3.5G (2100/900MHz), quad band GSM, WiFi, USB (2.0 Hi-speed) and Bluetooth (including A2DP and AVRCP profiles). Variants for other WCDMA bands have not been announced and would likely be dependent on an operator request. There's 128 MB of RAM on board, with at least 70MB free after boot; this should be sufficient for all operations. There is a small amount of internal memory (tens of Megabytes - sorry all, we didn't get an accurate reading here), but most data will be stored on the 16GB of internal flash (mass) memory (which looks like an extra memory card as far as the OS is concerned, just as on the Nokia N96).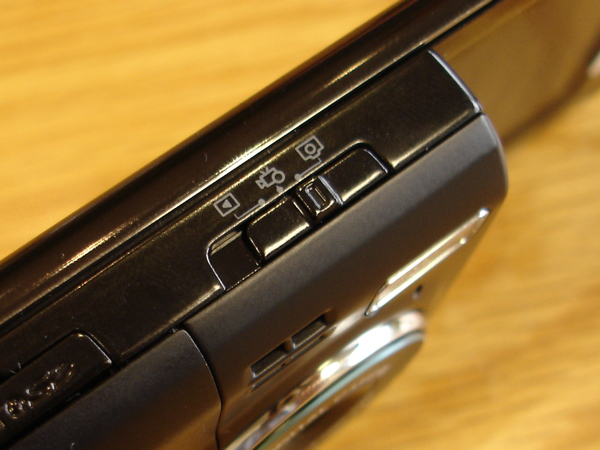 Camera
The headline feature of the INNOV8 is its 8 megapixel camera. However, it is not only the megapixel number that counts - it is the lens, sensor and software algorithms that largely dictate the performance of a camera phone. The INNOV8 makes use of Samsung's new 8 megapixel sensor (also used in Sony Ericsson's C905); this sensor is larger than that used in the current crop of 5 megapixel cameras. The resulting performance is very impressive; captured images have great detail, good colour accuracy and lower levels of noise than the current top-tier camera phones. Based on our initial impressions, the INNOV8 will be a serious contender for best cameraphone on the market and will out perform any of Nokia's current Nseries.
While a high megapixel count is often partly driven by marketing concerns, it does mean there's greater potential to down-size images to smaller resolutions. Down sizing does lose detail, but can also cut out artefacts and improve the overall perceived quality of the photo. 8 megapixels also means that you can crop images to show specific subjects and still retain high resolution for the cropped photos. This does give the INNOV8 something of an additional advantage over its 5 megapixels rivals. The INNOV8 had an impressively fast start up time, around 2 or 3 seconds, and shot time was good too. With that said, we're going to have to wait for the retail version of the INNOV8 and a much more in-depth comparison before drawing any final conclusions about real world camera performance.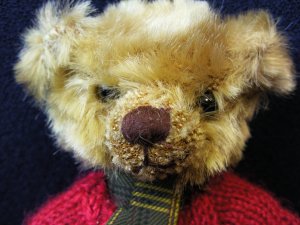 Sample (indoor) photo, taken on the INNOV8, click through to
download the original 8 megapixel image.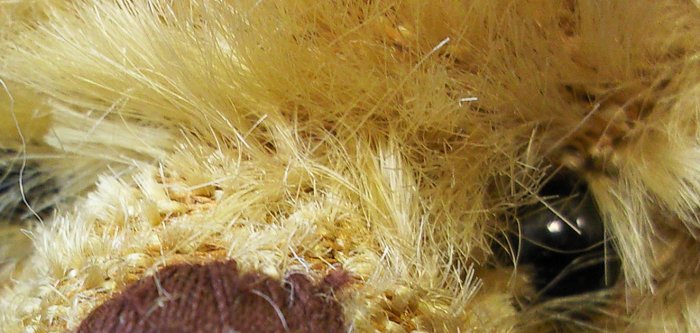 Viewing the above photo at nearly 1:1, this is the sort of detail that's captured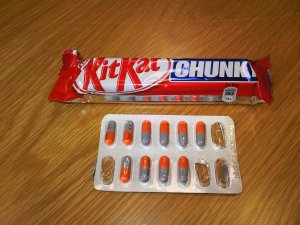 Another sample (indoor) photo, taken on the INNOV8, click through to
download the original 8 megapixel image.
Rather than follow the S60 UI, the camera application takes its own approach. It looks similar to that found in other Samsung phones and to that in Samsung's standalone digital camera range. This means that there will be a learning curve for some, but arguably gives a more camera-optimised experience. The INNOV8 camera application has two ways of controlling camera settings. The D-pad is used to access core functions such as macro-mode, self- timer and flash. The left soft key opens a menu which runs along the top of the screen and which gives access to the most commonly used settings. There are menu entries for shooting mode, scene mode (everything from landscape to beach scenes), capture resolution, white balance, effects and settings. 'Shooting modes' gives access to the usual single or multiple shot modes, but also has some extras including auto-panorama, mosaic shot and frame shot, but some of these can only be used in much lower resolution which rather decreases their value. More hidden away are the settings for contrast, sharpness, quality (JPEG encoding), ISO, geotagging, exposure centering and blink detection.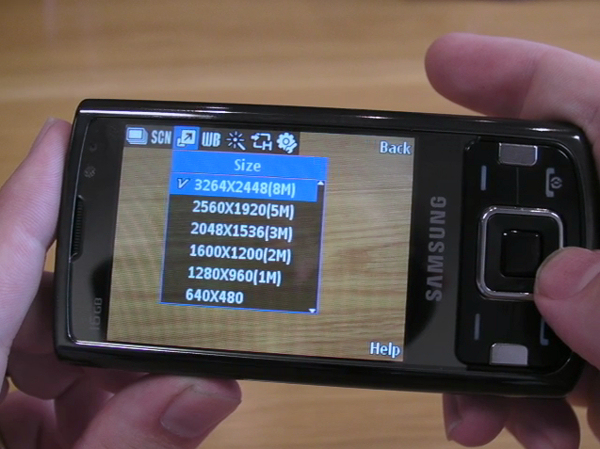 Moving the camera mode slider one place to the right activates video camera mode. It has a similar layout to the stills camera mode, albeit with fewer settings. The INNOV8 can shoot video at VGA resolution at 30 frames per second or at QVGA at 120 frames per second. This latter, 'slow motion' mode provides some extra fun, though of course this is all done in the software. Video capture quality was good and a particular highlight was the ability to set an initial focus before commencing video capture (which makes for sharper video).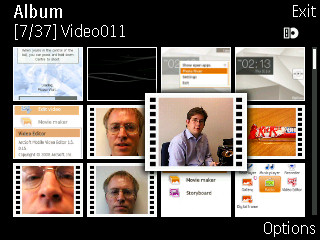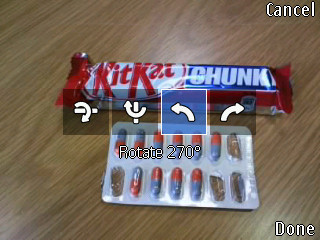 The last camera mode activates the Album, which lets you review and, in the case of images, edit media captured by the camera. Album mode arranges media in a grid of images, with a single click bringing the image up in full screen mode. It is not as fancy as the Nseries carousel and may seem cumbersome with many media items, but it is an improvement over the standard Gallery application which is also present on the INNOV8. Although not directly accessible from the Album mode, you'll find a licensed version of ArcSoft's excellent image and video editing suite. Shozu, the multimedia upload software, is also pre-installed on the INNOV8. Taken together, this gives the INNOV8 a very strong suite of software for capturing, creating and publishing multimedia content on the device.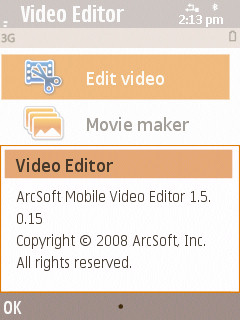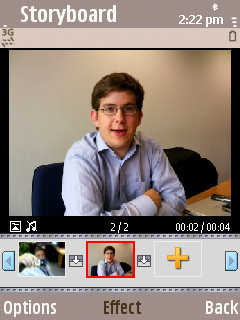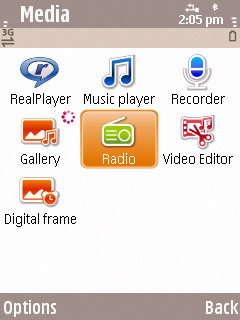 Video, Music and Audio
The INNOV8's Music player application is the same as that found on Nokia's S60 phones: the music library broken down by Album, Artists, Genres and Composers and the Now Playing screen with music controls mapped to the D-pad. There's also the usual on-device playlist editor, an adjustable equalizer and a number of visualisations. There are no dedicated music playback controls, as found on the upper slider on the N95 and N96, but remember that keypad shortcut key to Music Player, which helps to a degree for quick access. Outside of the music department, there is an FM radio with RDS support. Sound quality should be good; the INNOV8 has the same dedicated DSP chip as the i450 (amongst the best S60 devices for sound quality). Unfortunately, there is no Podcasting application because this is a custom Nokia application rather than being part of S60, a workaround is to use the Feeds feature of Web.
A first for a Samsung S60 device is support for DLNA (UPnP). This allows you to access UPnP media servers and download or play music over a WiFi network. In our time with the INNOV8, we weren't able to test this functionality, but it is a welcome addition and we'll cover its abilities in the full review.
Video playback is via RealPlayer. Supported formats include the usual suspects: H.263, H.264, MP4, 3GP, Real Video, but also WMV and DivX. We tested a WMV video and the frame rate was rather slow, but this is likely to be dramatically improved in the final version of the software. There's no equivalent to Video Centre on the INNOV8, so you'll either need to side-load content from a PC or download it directly from the Internet.
GPS and Mapping
The INNOV8 includes an integrated GPS with full support for assisted-GPS, which should give reasonably fast lock on times (although we were unable to directly test this in the prototype). There is a dedicated application, GPS+, for downloading the data needed for A-GPS, which is valid for 7 days. Previous S60 Samsung devices have had theoretical support for A-GPS, but didn't always seem to work well, so hopefully the presence of a dedicated application will improve matters.
In addition to the standard S60 applications, GPS Data and Landmarks, the INNOV8 will ship with a Samsung-branded version of the GPS navigation software Route 66. The exact version you get will depend on the market and circumstances in which you buy the device. Some version may include a license for a single country while for others it may be necessary to download map data and buy a license. Also pre-installed are Google Maps and GyPSii. The latter is a mixture of location services and social media in a single application; it can be used to share your location with friends and search for uploaded media and points of interest around your current location.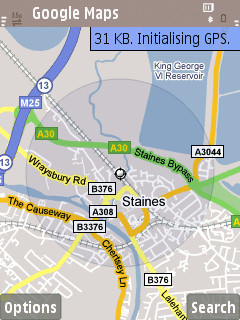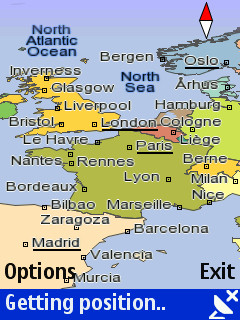 Taken together, the mapping and location software bundle provides a decent out of the box feature set for GPS functions on the INNOV8. Samsung have taken an interesting approach here, bundling in third party software to provide a similar feature set to Nokia Maps. This should provide parity in the short term, but it may not be maintained as the web components of Nokia Maps come online in the future. Equally, Samsung's strategy may evolve - it did announce its intention to develop its own service platform at MWC in Barcelona earlier this year.
Software
The INNOV8 is the second Samsung device, after the L870, to run S60 3rd Edition Feature Pack 2. This brings a number of advantages, with the most obvious being greater customisation (more comprehensive themes and enhanced active standby), improved usability in the UI (tweaked layout, better multi-tasking, central softkey label, large picture caller ID, transitions) and application tweaks (unified message editor in Messaging, progressive downloads in Web). Feature Pack 2 has many more minor changes and also improves overall performance and battery life.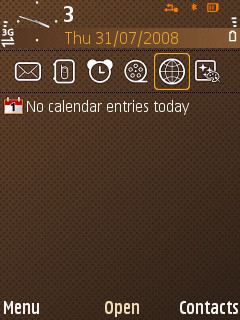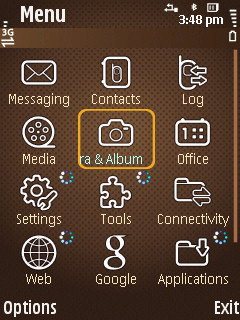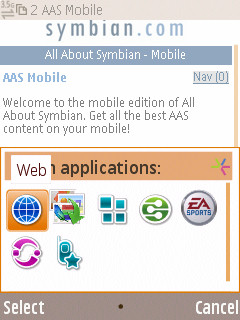 Contacts, Calendar and Messaging provide the core PIM functionality and are accompanied by the rest of the standard S60 software suite. Web has support for WRT, Flash Lite 3 and a Samsung enhancement to support the optical sensor.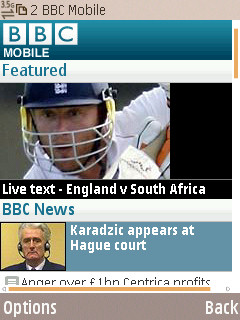 Samsung have also started to provide a number of exclusive Samsung applications on top of the basic S60 platform package. We've already mentioned the customised Camera and Album application, but additional examples can be found on the INNOV8. There is a dictionary application (Collins CoBuild) which will come with a variety of dictionaries depending on the market. Team Manager lets you create additional information (e.g. conference call numbers) around contact groups. Checkit is an impressive list/to-do management application which has a diverse range of uses, from simple to-do lists through shopping lists, to storing notes on travel schedules. 'Print OTG' enables printing of images, contacts, messages and calendar via Bluetooth, and 'Digital frame' shows off a slideshow of images captured with the device via an 'image river'.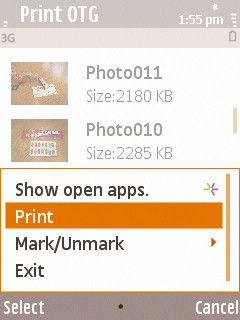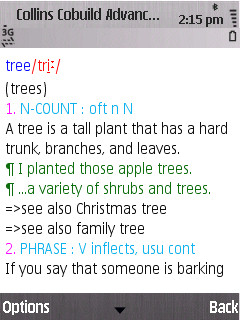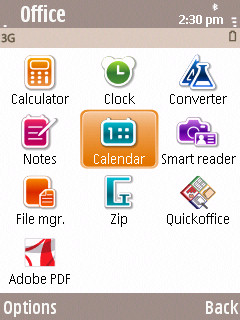 Samsung have also made the sensible decision to bundle a number of third party software titles with the INNOV8, providing significantly enhanced out of the box value. We've already mentioned Shozu, Video Editor, Samsung Mobile Navigator (Route 66), Google Maps and Gypsii. Others include S60 stalwarts Quickoffice (read only) and Adobe PDF reader, Google Mail and Google Search (in a dedicated Google folder with Google Maps), Zip manager, Smart reader (business card reader), Fring (instant messaging and VoIP), Asphalt3, Yahoo! Go, CNN, FIFA 08 and RoadSync. FIFA 08 and Asphault3 are full native Symbian applications, by the way - they look and play just like the same titles on Nokia's N-Gage platform, albeit with the absence of the N-Gage Arena features. Please do note that this list is from the prototype device and there may be changes in the retail release.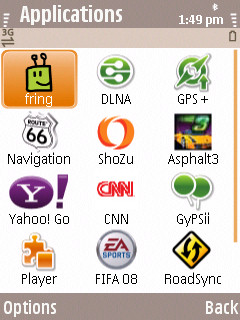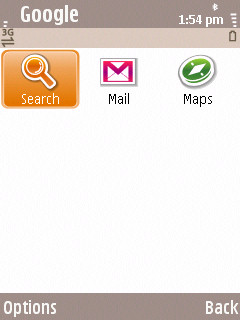 Conclusion
The INNOV8 may not seem as if it has any major innovations, but it is the first S60 device with an 8 megapixel camera and manages to pack in a host of other hardware and features - it is right at the top of the current generation of phone technology. Previous Samsung S60 devices like the i550 and G810 felt like they were catching up with Nseries devices already on the market. By contrast the INNOV8, which should ship before the N96, will be putting a nose in front. Assuming it gets operator uptake it should do well.
One of the things that struck me most about the INNOV8 is how quickly Samsung have evolved their S60 phones. The difference between the i520 and the INNOV8 is enormous. I suspect that, as we move into 2009, we're going to see a lot more competition between Nokia and Samsung in the S60 space - and that can only be good for consumers.
It is impossible to provide a full assessment of a high device like the INNOV8 after an afternoon of hands-on time, but hopefully we've been able to give you a taste of this very impressive device. It should be out in the market by September and we'll be revisiting the device before then in production hardware form, in a full multi-part review.
The INNOV8 looks set to become one of the most desirable phones for the second half of 2008 - apparently Steve's beloved N95 8GB is already quaking in its case...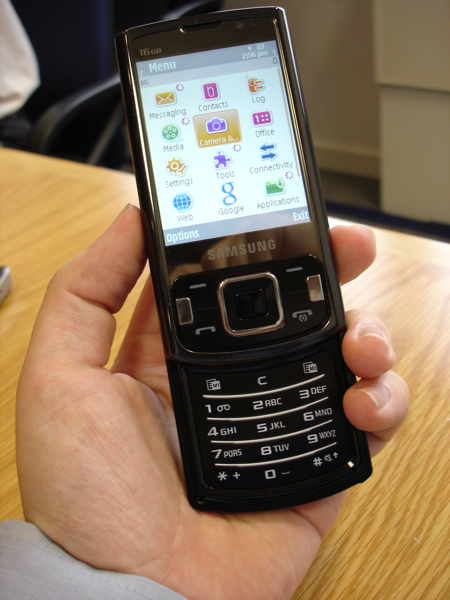 Rafe Blandford, All About Symbian, 3 August 2008
---
Finally, to really whet your appetite, here's a video preview in 'Smartphones Show' style from Steve:
For higher quality video, see the video in HQ mode on YouTube.
Rafe will be following up with his own 'close-up' video device preview in due course.

---

See Also
Bonus: Flickr set of comparison photos from N82 / INNOV8 (via textlad's Flickr stream).
Reviewed by Rafe Blandford, Steve Litchfield at