Review:
Quickoffice UIQ 3 Reboot!
Score:
85%
Version Reviewed: 4.0
A little bit of background
One of the most important functions that business people want in deciding their smartphone purchases is the ability to view, edit and manage office documents, which normally come in the MS Office DOC, XLS and PPT format. For Sony Ericsson UIQ 3 smartphones, this function is enabled by default with an application suite called Quickoffice. However, the application has not received any major update since it was first included in the first UIQ 3 smartphone, the P990. This resulted in some frustration when using Quickoffice in the real world. For example, embedded images in a DOC file are not displayed, only text is available for viewing. And to make matters worse, document integrity is something UIQ 3 users need to really worry about because most of the time, editing documents using Quickoffice UIQ is very risky and you will lose some formatting.
All of the current Sony Ericsson UIQ smartphones include Quickoffice v3.6, which is in fact very basic for today's standard. The code base is actually about 3 years old and advanced features couldn't be added. One of the challenges of working with OEMs and delivering software into their ROM/firmware is the huge leadtime involved. For ROM shipment, there is a massive amount of testing/QA and localization that goes on - and for this reason OEMs are reluctant to 'rock the boat'. Once something is stable and 'done', they stick with it..
However, it doesn't mean that the engineers behind Quickoffice aren't doing anything, they have been working hard on the product behind the scenes. Over the years, they have improved the S60 3rd Edition version enormously (read Steve's stellar review of Quickoffice Premier for S60 3rd Edition). They are now bringing the UIQ and S60 releases much closer together.
The effort taken by the Quickoffice team to bring advanced features to UIQ 3 users is very welcome. Realising the missing link for several years, they utilised their experience with the S60 3rd Edition as the basis to push the UIQ 3 version to the next level. The result? An all new singing and dancing office suite!
Now what are the most important changes in the suite? Lets have a look.
Finger friendly icons!
On the default Quickoffice v3 which comes preinstalled in Sony Ericsson's UIQ 3 smartphones, you need to use the stylus all the time for performing basic functions like opening or creating new documents. This is because the on-screen icons are tiny and require 100% precision.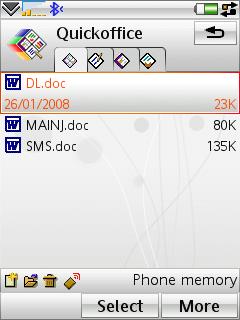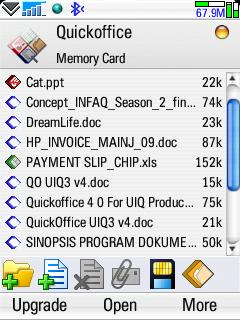 Old vs New. See the finger friendly icons on the right screenshot?
In Quickoffice UIQ 3 v4, the UI department has received a nice makeover, where there are now a row of BIG icons at the bottom of the screen to access the most common functions like creating new folder, creating new files, 'send file as', and so on, making Quickoffice one of the most finger-friendly UIQ 3 applications out there. These icons dynamically change according to the functions that you use. Very nice!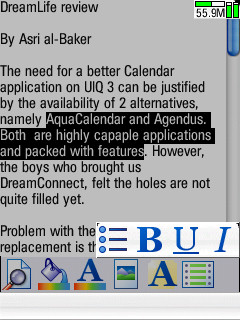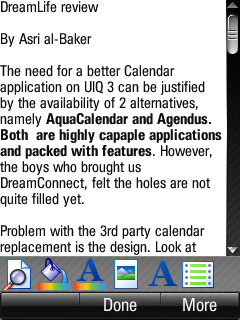 Editing documents made easy
For example, in Quickword (especially if you use mobile word processors a lot for viewing documents), I can assure you that this version makes the best of the screen real estate, with the icons at the bottom of the screen for quick access to your most used functions like text and font formatting and paragraph alignment. The big icons are also useful when you are editing files. For example, when you are editing a DOC file and want to bold certain text, just highlight it and touch the huge "A" icon at the bottom, and then select "B" icon. Simple.
Preserving data integrity
This is one of the most important functions for a mobile office application. Because you need to read accurate data to make decisions. Not some gibberish or wrongly formatted information. And that's before you even think about sending an edited version of a document back to your boss.

Take a look at Quickword, the word processor application which handles creating, editing, viewing and managing MS Office DOC files. This is IMHO, the most sought after part of a mobile suite because for mobile professionals, editing DOC files is now very common. It is not meant to be used to write a 1000 page novel but more for writing simple reports with images embedded, as well as tables and proper formatting - all of which it is now fully capable of doing.
To show its capability, here are some screenshots of some DOC files opened in Quickoffice without problem. You'll notice that the files are displayed properly with all important data intact and properly formatted.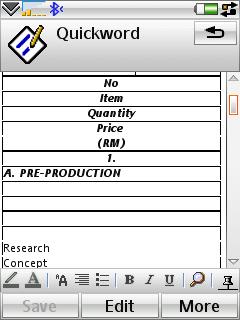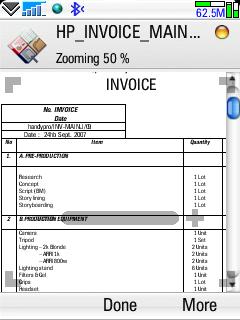 Tables in Quickword now are properly displayed compared to the old version
In my opinion, editing files is easier in the new version compared to the older one (the default Quickoffice) because there is no need to pull out the stylus for most functions (on modern keyboard and keypad-driven phones).

The same level of integrity is also present in the Quicksheet where, during my test period, I had no problem managing my XLS files which sometimes contained multiple workbooks/sheets. Although I don't use XLS with complex calculations, I can open large XLS file without problem. For example, one was a 1.5MB file.
I use Microsoft Office 2004 on my iBook G4 and I am impressed by Quickoffice's ability to handle files from this without fuss. Files created on my P1i using Quickoffice are also easily opened by MS Office 2004 (Mac). This reliabillity and trustworthy experience in a modern mobile office application is very important.
Advanced Editing
Another important function that made its way to this new version is advanced editing, where users are now able to have more control over text, tables, formats and graphics. Not only for viewing but also inserting and editing. Take the inserting of an image for example, Quickword is the first wordprocessor for UIQ 3 smartphones which is able to insert images in a DOC file. There is NO other UIQ 3 wordprocessor in the market that can do this.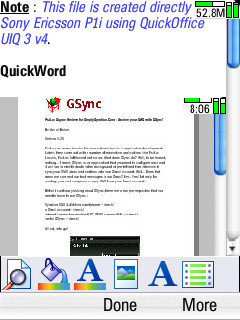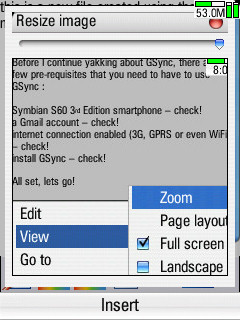 Advanced editing mode where formatting is intact
For instance, inserting an image is easy. Just place the cursor on the location where you want to put the image, touch the "image" icon at the bottom (3rd from left), select your image, you will be asked if you want to resize it or not, and voila! The image is embedded. Can't get easier than this.
Image insertion is even more crucial in a presentation application. In this case, Quickpoint. It is well 'cooked' and you can now write your own Powerpoint presentation in your UIQ 3 smartphones directly.
Zoom, Pan and Multiple View Selections
This is one of my favourite new functions. Up until now, it was almost impossible to view how a full page should look, a la MS Word's "Print Preview", where a page is overviewed as if it were printed on paper. Step in Quickoffice's Zoom: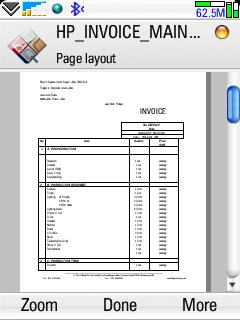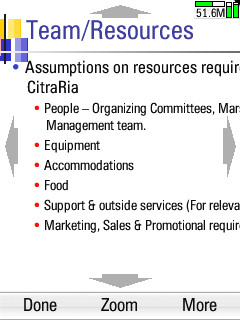 Page layout view and the pan function
This is not only very useful but also enhances user experience because, in dealing with complex documents nowadays, applications need to cleverly adapt to the documents, to ensure users' needs are fulfilled - one zoom level does not fit all!

On a landscape-screened device like the mighty E90, reading spreadsheets is a really rewarding experience because of the really huge (by mobile standards) 800 x 352 internal screen, where almost no right or left scrolling is needed. However, on UIQ 3 smartphones, the portrait screen orientation previously made the spreadsheet one of those things to be avoided.
Quickoffice now tries to bridge the gap by providing many ways for you to view a page. For example, you can change the screen orientation to landscape if you want to view a spreadsheet that way, to minimise the horizontal scrolling: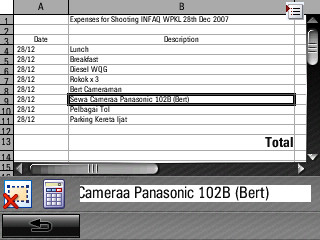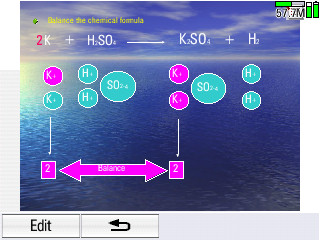 There's also the zoom utility, which is easy to use and provides additional value especially to viewing a page's formatting. And, coupled with a pan utility to scroll to the desired location on page, I must say that Quickoffice is one of the most flexible applications out there. Every layout has been designed carefully to maximise users' satisfaction when working with office documents.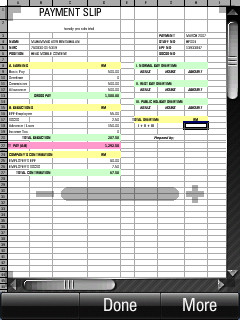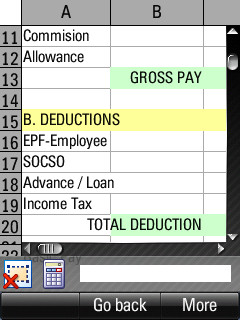 Smallest zoom vs largest zoom
Integration with the system
As with the previous version, the new Quickoffice is also integrated tightly with the operating system. Meaning that any office documents (DOC, XLS, PPT) you receive via email or via wires or wirelessly or which ended up in your device's file system, all will be opened by Quickoffice. Not only that, compatible files (including TXT) are also supported.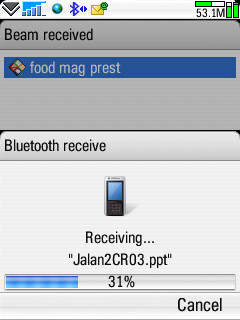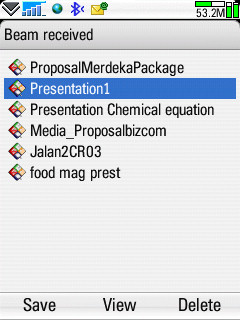 Conclusion
The new version 4.0 of Quickoffice for UIQ 3 is a complete redesign of the application, where everything from the codebase to the icons are refreshed. The basics are still there, where it enables creating, reading, editing and managing documents, but also many new functions are added. Particularly notable is the inclusion of Quickmanager, where UIQ 3 users can now enhance their experience in using Quickoffice further by downloading free templates and other bits and pieces. Quickmanager is not currently used in full because there are no other core applications offered, unlike Quickmanager for S60 3rd Edition, where there are a few extra Quickoffice addons to choose, e.g. Adobe Reader LE.
However, v4.0 is in no way perfect. Some small functions didn't find their way in, such as Word Count (very useful for a mobile warrior like me!); Office 2007 compatibility is also missing; and personally, I would like to see Quickffice support legacy file formats like RTF and CSV. I sometimes receive CSV files in my email (Google's Adsense Report, for example) and there is no way I can read them. Another feature which I found not included was the ability to read charts in an XLS file.
However, all in all, after using it for a couple of weeks (in order to give you guys a taste of what's inside), Quickoffice v4 delivers stunning performance and should be used by anyone who is serious about managing their Office documents on a UIQ 3-powered smartphone.
Asri al-Baker, All About Symbian, April 3rd 2008
Reviewed by Asri al-Baker at