Review:
Pdf+ versus Adobe Reader 2.5 versus Adobe Reader 1.5
Steve Litchfield pits the very latest build of Pdf+ against the built-in and upgrade versions of Adobe Reader LE
Last week saw my look at
whether of not you should upgrade from the built-in Adobe Reader LE 1.5 to the new v2.5 pay-for commercial version
, with the result being a qualified yes. But throw a cutting edge build of MBrain Software's Pdf+ into the ring as well and you've got yourself a real fight. I used five of my real world test documents, each stretching the applications in different ways.
| | | | |
| --- | --- | --- | --- |
| Application | Adobe Reader 2.5 | Adobe Reader 1.5 | Pdf+ 1.68 |
| Developer | Quickoffice | Adobe, built-in | MBrainSoftware |
| Price | $20 at introductory price, about £10 | Free, built-into all S60 devices | 27 Euros, about £18 |
| 'Outback' (graphics heavy, single page) | 8 seconds to load, 5 seconds for most scroll redraws at 150% | 4 seconds to load, 2 seconds for most scroll operations at 150% | 13 seconds to load, redraws almost instant when scrolling at 150%, some image display glitches |
| 'Python manual' (longish, lots of illustrations) | Most pages whited out | Most pages whited out | Loaded perfectly, all text readable |
| 'Flash Lite Visual Guide' (also longish, lots of diagrams) | 2 seconds to search | 7 seconds to search | 4 seconds to search |
| 'E90 service guide' (some very graphics heavy pages) | 2 seconds to redraw at 150% level on largest graphic | Failed with memory error despite lots of RAM free | 7 seconds to redraw at 150% level on largest graphic |
| 'Purchase Order' (single page graphic) | 5 second redraw times at 100% level | 1 second redraw times at 100% level | 9 seconds to load but then instant redraws while scrolling |
| Notes | Dynamic zooming, Reflow mode, Portrait/landscape switching handled ok | Some (marginal) rendering missing | Neat keypad (and keyboard) shortcuts on all menus, aspect switching handled ok, plus manual display rotation, font substitution |
For casual and occasional use, I still maintain that the free, built-in Adobe Reader 1.5 suffices for most people and, for the 95% of documents that it can render, it's pretty fast for scrolling around.
But if PDF documents are part of your daily life, perhaps as a developer or salesman or anyone else that needs electronic documents to hand all the time, the much slicker and more robust interfaces of the two commercial applications are the ones to consider:
---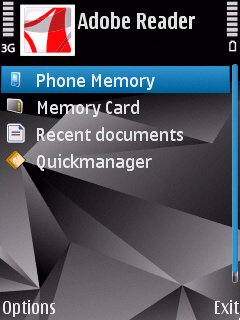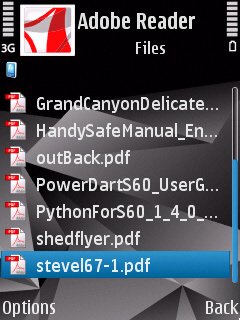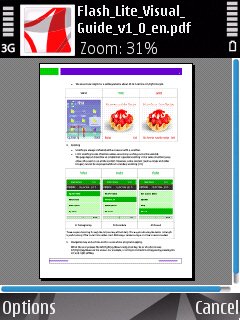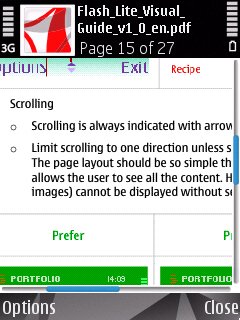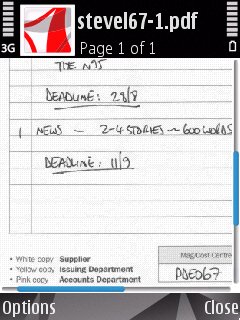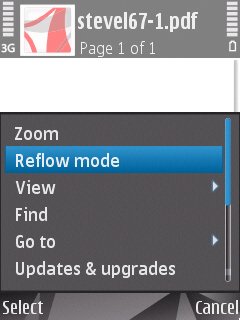 Adobe Reader LE 2.5
---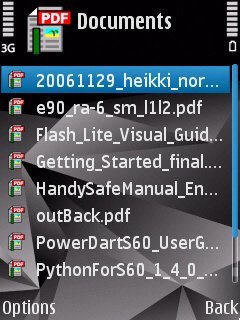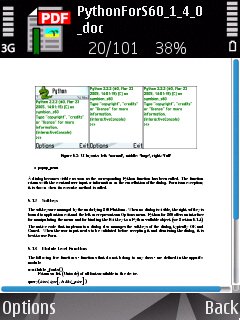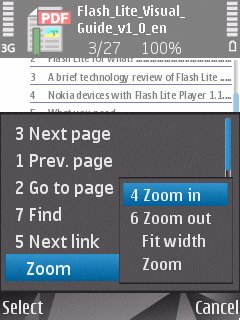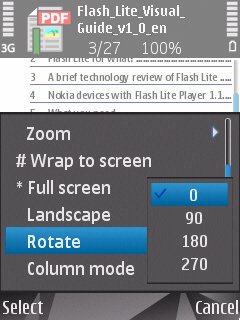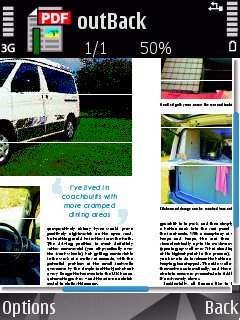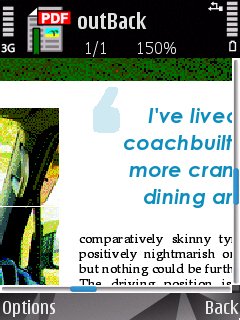 Pdf+
---
In terms of faithful rendering of document content, it's tempting to give the edge to the Quickoffice-produced Adobe Reader, if only because it includes the official Adobe PDF code, but then Pdf+ brings things back to a draw by being able to cope with PDF documents (such as my Nokia-produced Python manual) that Adobe swear are 'malformed'.
So what about speed? Another draw, I'm afraid. Adobe Reader 2.5 loads pages quicker but then takes its time to redraw content as you scroll around, while Pdf+ takes around twice as long to load each page but then allows instant scrolling, with no extra waits.
What about the interface and general ease of use for each application? Adobe Reader 2.5 is certainly very slick, with its dynamic zooming function, in which you simply cycle through the zoom levels until you get to one you like, and its reflow mode, in which content is stripped out of the page and presented linearly, with no need for horizontal scrolling. But then Pdf+ has proper, documented (on-screen, in the menus themselves) keypad shortcuts that make scrolling through a document and adjusting the zoom level equally as easy, plus 'Wrap to screen', doing effectively the same job as 'Reflow'.
And both Adobe Reader 2.5 and Pdf+ handle the N95's switching between portrait and landscape perfectly. It's tempting to say that Pdf+'s superb keypad shortcuts make it the winner but then I dig deeper and find that numeric shortcuts are also supported in Quickoffice's version, they're just not documented. And then there's the price difference, with Adobe Reader still being discounted to $20.
As they say in TV talent contests, this one really is a tough decision to call. By the narrowest of margins I'm going to plump for Pdf+ partly because I love what they've done in making documents trivial to navigate on phones by using obvious, on-screen shortcuts and partly because there's a demo version, so you can at least check that your PDFs open fine before you open your wallet. But that's just me. Adobe Reader 2.5 does have the official Adobe stamp of approval and for people needing 100% bulletproof document compatibility with other official PDF workflow software, with no glitches or unexpected surprises, then this also makes a very good choice.
Scores and Links
Adobe Reader LE 2.5 - 84% - Buy page
Adobe Reader LE 1.5 - 75%
Pdf+ - 85% - Buy/trial page
Steve Litchfield, 28 Sept 2007
---
Reviewed by Steve Litchfield at