Review:
Mippin
Score:
75%
Application, service, web site - the lines start to get blurred once you're into Mippin territory...
Buy Link | Download / Information Link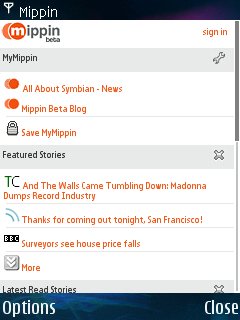 Following up on our podcast interview with Prashant Agarwal, I've been taking a closer look at Mippin this morning. The obvious question – do we need another portal – is a tricky one to answer. Certainly the majority of the readership of AAS are going to be happy with the full web experience that both S60 and UIQ offer, but Mippin offers a much cleaner interface, and a much more regulated view – every site would have the information in the same place. Something that I'm sure the general public will appreciate.
Being web based, all you need to do is point your mobile browser at mippin.com and the server will present you a suitable page for your browser (if you fancy a look from a desktop, just hit up http://www.mippin.com/mip/m/index.jsp). While there is a login option (and it's a simple email, password, username to setup, so can be done from the browser), it is not required to use Mippin – if you do go for it you get a short history of links in a MyMippin section. Depending on your mobile browser, you might get a MyMippin section if you navigate back to the site, even if you haven't signed in, thanks to good use of cookies. It's ease of use points like this which makes me think Mippin could be a good site for the public.
'Featured Stories' come up next, and this is powered by all of the users of the Mippin service. Think of it as a 'most popular' over the whole network, with a screen-easy three headlines (and yes, like everything, this can be expanded). Under this is 'Latest Read Stories' and, quite frankly, this is a bit of pot luck. It shows the last three stories served by Mippin – I've had some jems come up here, but some right stinkers as well.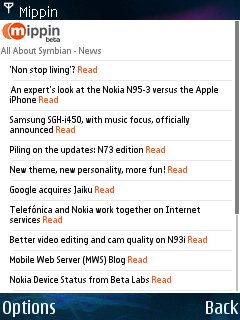 We then come to familiar portal stand-by topics, which you can drill down through in order to get to a site in a number of topic areas. Mippin is currently geared to a lot of Web 2.0 early adopters, so expect a lot of sites about tech news and gossip (and Valleywag, which nicely combines the two). Once you've navigated to a site to start reading it, it will be noted in the MyMippin section. The plan over the next few months is to expand this directory to over 25,000 sites.
The final option is a search box, which you can use to browse the directory, or head out onto the internet by entering a site URL – I'm pretty sure that Mippin will be taking a note of popular sites that are not in the directory and will start adding those in. Using the users to power a relevant directory is a good move for the limited human resources Mippin have.
All this is a pretty standard portal play, and to be honest that's how Mippin are pitching it, but every service has to have its unique selling point(s). The team behind Mippin are hoping that the clean design and layout are going to be winners, and that the low visibility of social networking elements (MyMipp, the ability to forward stories via Twitter, email and SMS from within the browser, to name but two) will make it popular, while remaining easy to use.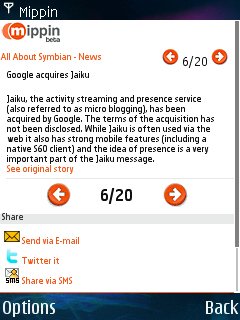 One way that Mippin has achieved this slick presentation is, unlike similar services such as Mowser, by focussing not on squishing and re-rendering full web pages, but to take the information that is presented in the RSS feeds from the sites, and using this machine readable version of a content owner's web site to put together both a clean looking index and clear pages of sites you visit. This does leave a number of sites out in the cold (those that don't publish in RSS format), but the goal is not to replicate the internet, but to let people get to relevant information quickly. An obvious limitation is that where sites deliberately only put the first para or two of an article in their RSS feed, that's all you'll see.
Mippin is easy to use, but even in the few days I've been looking at it here, it is proving to be quite sticky – some may say it's nothing more than a simplified RSS reader, but I suspect that is the point. It not only simplifies reading on the move, but for the most part RSS is never mentioned, the user doesn't need to be aware that this drives the site. They click the BBC, they get the BBC, everyone is happy.
Oh and why Mippin? Mobile Internet PublishIng Network.
Ewan Spence, 11 Oct 2007
Reviewed by Ewan Spence at