Review:
Happy Lines
Score:
82%
Ewan goes a-puzzling one more time, with a novel twist on the Lines genre...
Version Reviewed: 1.01
Buy Link | Download / Information Link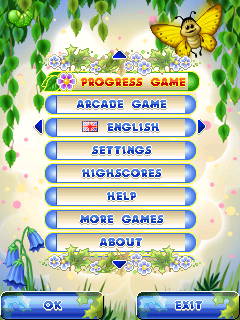 There's no doubt that one of the greatest puzzle games ever has been Tetris, and since then everyone has been looking around for the next really great game. Many have tried, and it's doubtful that anyone has really succeeded. And, for a short time, the game 'Lines' threatened to be that game – there seemed to be an implementation on every platform.
I'm not quite sure why it hasn't got a huge amount of recognition, but it's a great principle – you have a playing grid, and coloured marbles are scattered three at a time. You're allowed to move one ball on the grid per three scattered – and if you get five in a straight line… they disappear and you get a free move. And that's it. It's a bit more strategic than Tetris, and there's a little bit more randomness in the game – you can lose just because of the random elements, no matter what you do.
But my Lines addiction is still a pleasure I take in many a guise, and the latest, Happy Lines, from Herocraft not only manages to preserve the basic gameplay, but also add a few twists that don't over-rule the basic principle of the game.
First off, it looks wonderful. Herocraft's titles all manage to add in clear graphics, with just the right sort of design air for the game. With Happy Lines, the coloured balls have become faces, and you make them happy when you make your line – or, in some of the later levels, boxes of squares. Yes, levels, because they've addressed the problem of the grid in Lines always filling up in a relatively short space of time.
You have 40 stages, each with the goal of beating the clock, and different rules on making lines and boxes for each stage. On top of that, the grid shape changes for each level as well, so your environment is fighting against you as well – it's possible to block off certain areas of the grid as you play, so there's a certain strategy to the placement, over and above just making lines as fast as possible.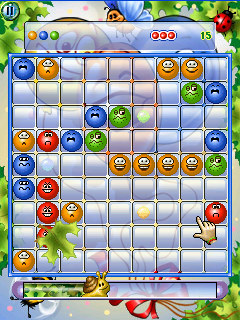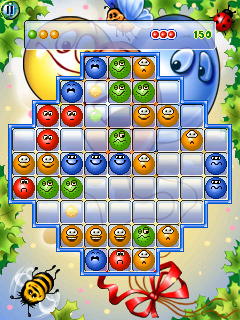 Negating possible boredom problems with the 'plain' game would (for me) be reason enough to pick up Happy Lines, but when you add in some crisp graphics and well thought out menu screens then it's a well rounded game that deserves purchase. The ability to exit the game (or just shove it into the background) and come back at the same place – so you can spend a good few days dipping in and out, as you progress through the levels, shows a good clear focus on the game attributes a mobile platform requires.
Ewan Spence, June 2007
[PS. From your editor: See also ZingMagic's Magi-Lines, here in the AAS shop and reviewed here.]
---
Reviewed by Ewan Spence at