Review:
Magi-Lines
Score:
84%
Steve Litchfield looks at one of ZingMagic's latest classic puzzle conversions...
Version Reviewed: 2.00
Buy Link | Download / Information Link
Spare a thought for the poor AllAboutSymbian reviewer. It's so, so hard to score reviews of ZingMagic's games. On the one hand, they're immaculately programmed - and that's Immaculately with a capital 'i', on the other the gameplay is often fairly familiar and thus won't suit those after something new and exciting. Still, by sticking to known classic open-ended puzzles and strategy games, ZingMagic do a good job of ensuring that you can keep a variety of genuinely mind-stretching titles with you at all times.
Here I'm looking at Magi-Lines for S60 3rd Edition (specifically, on the E61, to show off the larger and clearer screen), but there are versions for all other smartphones and PDAs, with nigh-on identical gameplay. 3rd Edition has its own challenges for developers, of course, not least the Symbian Signing issue and the variety of screen resolutions and orientations, but ZingMagic have handled both issues with aplomb and are impossible to fault.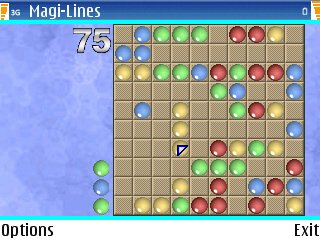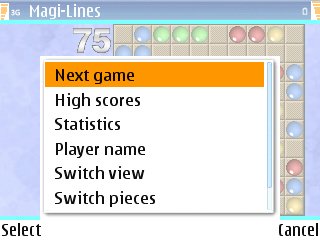 One look at the screenshot above and you'll immediately grasp the basics of Magi-Lines. On each turn you get to slide an existing piece around and after each turn three more pieces are randomly scattered on the board. You get to remove them by lining up rows, columns or diagonals of five or more.
All of which sounds simple enough, but the effectively infinite number of variations in where pieces are and where they get scattered, combined with the tricky elements of strategy and probability theory needed in order to do well, mean that there are potentially hundreds of frustrating (in a good way) hours ahead of you if you decide to take on the pre-loaded high score table.
Piece selection is intuitive and animation is smooth, as you'd expect from developers of ZingMagic's experience. Three difficulty levels, plus three board and four piece colour schemes mean that you can keep Magi-Lines' fresh, giving it an even longer lease of life on your smartphone.
Despite the lack of a trial version, at $8 Magi-Lines is a bit of a steal and a highly recommended purchase - even if you're not into puzzle games there will come a time when you're stranded at an airport or train station and this may be the distraction you need...
---
Buy/Download links for each version:
S60
,
S60 3rd Edition
,
UIQ
,
UIQ version 3
---
Steve Litchfield, for
AAS
and
3-Lib
Reviewed by Steve Litchfield at