Review:
Blaving
Score:
45%
Blaving is an "audio social network", and according to the developer's website it's the "leading audio social network". Whether that's true or not, it is the only competitor to Audioboo that I've heard of; plus they have comprehensive support for smartphone platforms, including Symbian. Let's put Blaving through its paces and see if deserves a place on your Symbian handset.
Version Reviewed: 1.05(4)
According to the Urban Dictionary, to "Blave" is defined as:
To bluff, to lie, to blave. Not to be confused with 'True Love'

[You're] blaving

[I] am not! [I] am telling the truth!
Not the most auspicious adjective for a social network, so let's assume they're redefining the word!
We've described Audioboo as the "audio version of Twitter", and exactly the same can be said of Blaving. Users can follow others, reply, 'reblave', and post their own updates. There are even timelines of popular posts to promote content.
I'm sceptical of the claim that Blaving is the largest audio social network. Once signed up, you can connect to your social networks, and check for friends who are also using the service. Of the (approx.) three hundred and fifty people that I'm connected to across Facebook and Twitter, none of them were registered. However, the claim may be true in other parts of the world – while exploring Blaving I found a definite bias to posts from Brazil – which explains why Orkut is one of the supported social networks.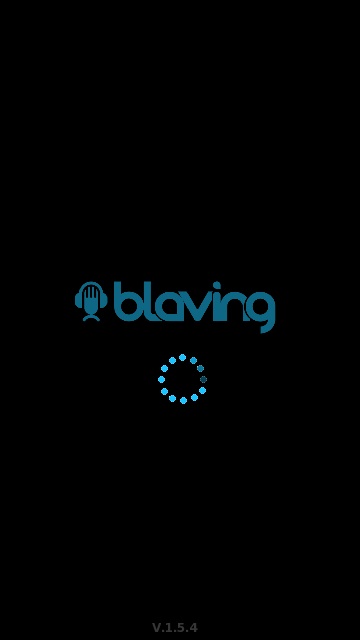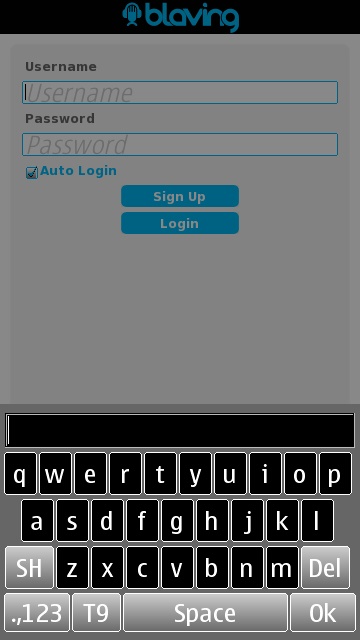 Launching and logging into Blaving
When you sign up, there is an impressive array of third party services with which you can authenticate. However, once you sign up Blaving asks for your email address and sends you a password. This does rather seem to defeat the object of third party authentication. However, it's just as well because the Symbian app only supports native logins.
The Symbian application for Blaving manages to pack in the full feature set of the desktop website, which is impressive. There's just one problem – it's not really a Symbian application – it's a J2ME (mobile Java) application, which has several consequences for its usability.
Menu bar items and pop-up buttons are extremely small, but worst of all is the application's responsivity. Everything that happens is extremely slow, not so slow that you worry it has crashed, but just enough to make you feel like you're working in slow motion.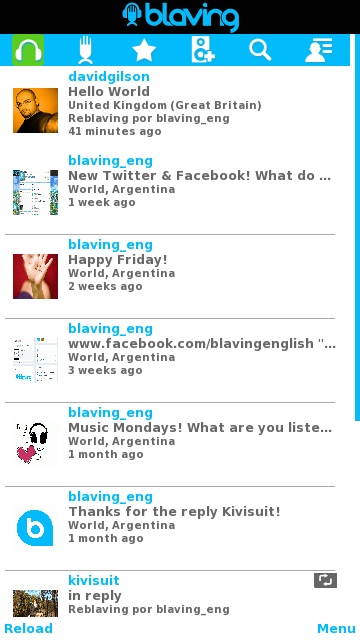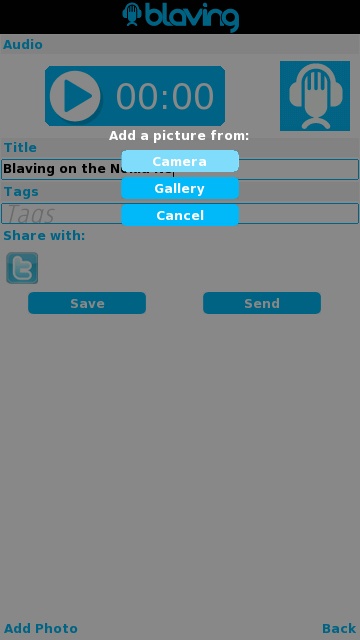 Tiny user interface elements
Also, the application has to use its own keyboard – presumably it cannot access the native Symbian one. This too suffers from poor responsivity, however, given its strikingly small size, it does work surprisingly well. (See above.)
What isn't immediately obvious from the application's layout is how to switch between different timelines – I eventually found that this was achieved through the "Timelines" option in the menu. (Yes, that sounds obvious in retrospect, but given the graphical toolbar at the top, the user is somewhat diverted from looking to the main menu.)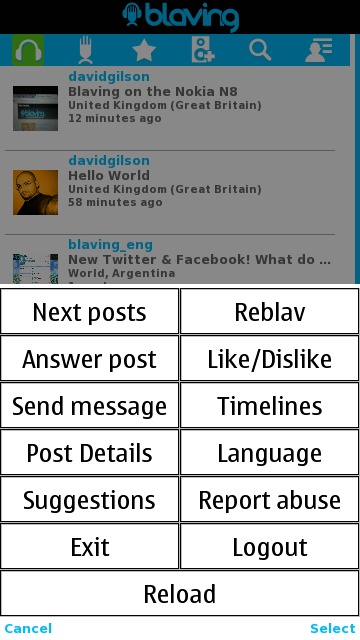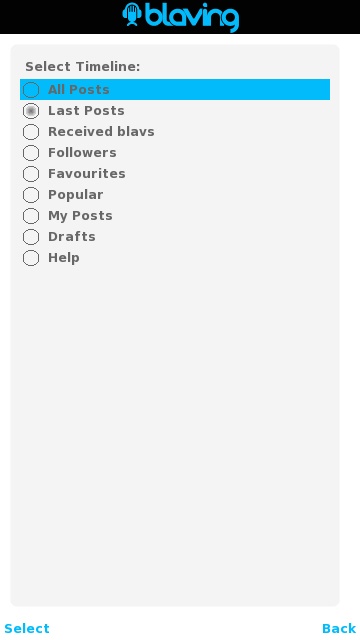 Using the main menu and finding the various timelines.
If it wasn't for the necessity to play and record audio, this application would probably work much better as a mobile website. However, since audio is a fundamental part of the service let's look at that aspect. 'Blaves' in your timeline are played back at good quality by just tapping them. If you want to do anything else with them like 'reblaving' or replying, you still have to tap them, and then select the desired action from the menu, which implicitly acts on the last item played. This is also confusing design, because it would be just as valid to select the action, and then the corresponding 'blave'.
Recording works fine, two large virtual buttons are presented for either recording in-situ or uploading a file stored on your device. Once you've recorded, you can then add a title and tags (there isn't a description field on Blaving). Surprisingly, you can also add a photo. Again, you can select a local file or you can use its built-in camera UI – which consists of a white page with a small image area and a tick icon to capture – which looks very bare bones ­– like an early alpha.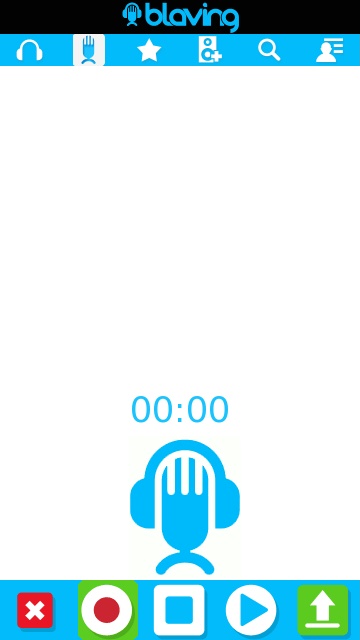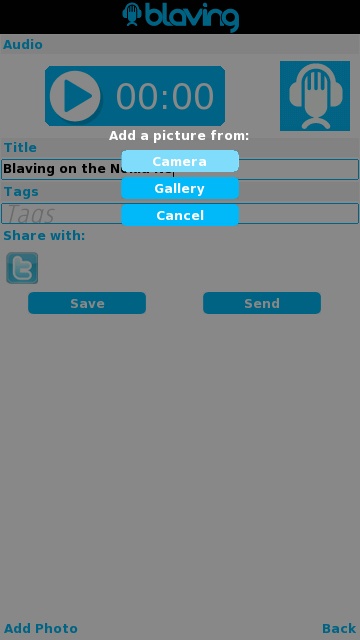 Recording a 'blave' and adding an image.
While I was disappointed with the responsiveness of this application, I have to applaud its developers on creating such full-featured mobile client. Since you can do everything on this app that you can on the desktop website, it's a shame that it's not always obvious how to. Even when you do know exactly what you're doing, it's never going to be quick to use.
If you're a regular Blaving user, then you have to use this application. However, I remain to be convinced that this (especially) is as popular as it's made out to be, and audio blogging (in general) is a niche that has yet to take off too. Therefore, there are very few people who I could recommend this to – not that I would be happy recommending it in the first place, given that the company didn't commission a native client that would have performed much better.
David Gilson, 6th May 2012.
Reviewed by David Gilson at