Review:
The Guardian
Score:
85%
Traditional newspapers and new media are still trying to work out their differences, but The Guardian in the UK has been forward looking. It has resisted the temptation to create a paywall and seeks to engage the smartphone market by creating an app for every platform, including Symbian (reviewed here, below) and Windows Phone 7. This well designed application not only delivers the latest news, but also provides Guardian podcasts, photo galleries and offline reading.
Version Reviewed: 0.9 (185) - 4.6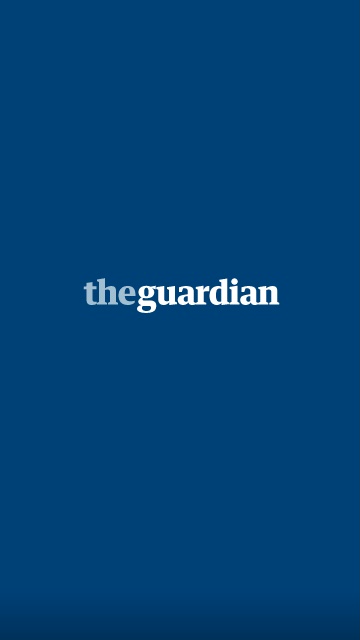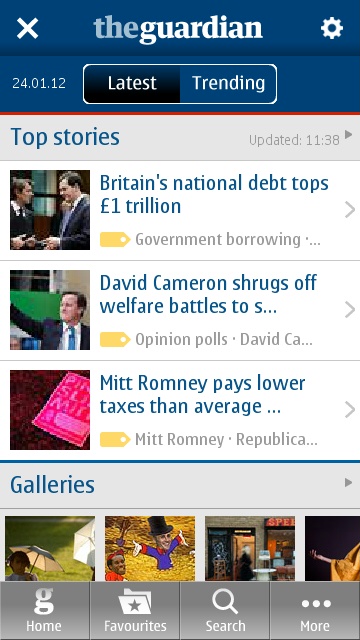 The Guardian.
The Guardian application opens on its homescreen with preset sections of news, including top stories and recent photo galleries. Fortunately, these sections can all be changed, enabling you to fine tune the initial content to your liking, via six customisable slots. For example, you could either set only one section with the maximum number of stories, or all six with only one or two stories on show. Unfortunately, it is impossible to change the order of slots. Instead, you have to alter every slot individually. Nor can categories be selected twice, so rearranging these front page stories can become quite a puzzle if you're particularly concerned with the layout.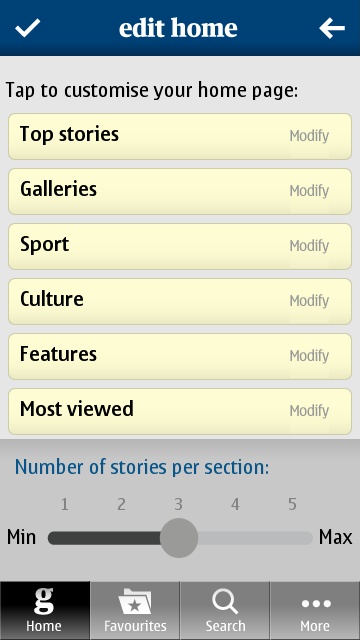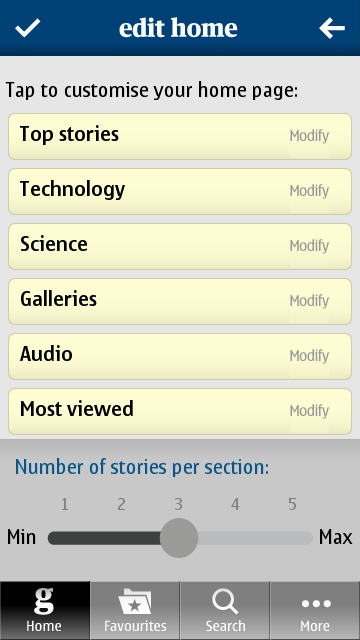 Changing the front page content to better suit my interests!
If you scroll down to the bottom of the homescreen, you'll find a link for offline reading. This is a handy feature if you want to take the news with you for reading while in a poor signal area. You are a presented with a checklist of all the top-level news categories – simply tick the ones you want and tap the download button. The offline option does not count as a subscription, so whichever categories you download will be a snapshot of the news in that moment – it does not appear to (or imply that it will) update itself when you are back in range of a data signal.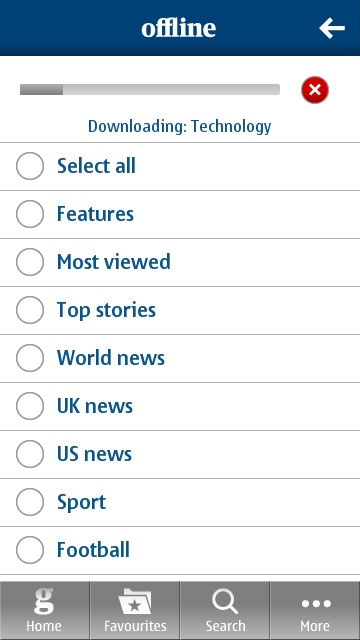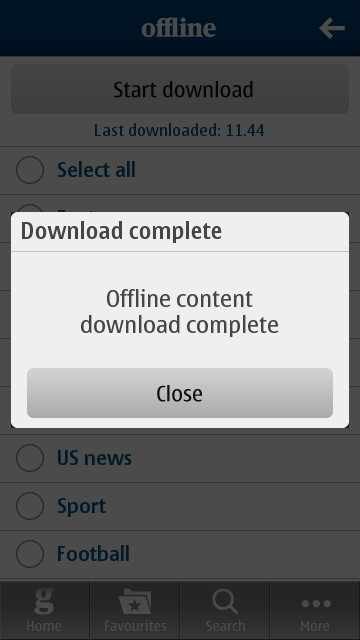 Downloading content for offline reading.
There is a constant toolbar at the bottom of the screen with four buttons, and their functions change depending on context. The user interface does not follow the Nokia Belle style guide, the toolbar is much deeper and the Back button is found at the top of the screen. From the homescreen, the fourth option is the "More…" button which leads to the full list of news sections.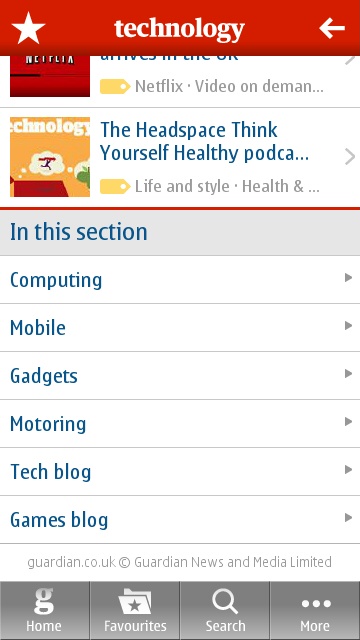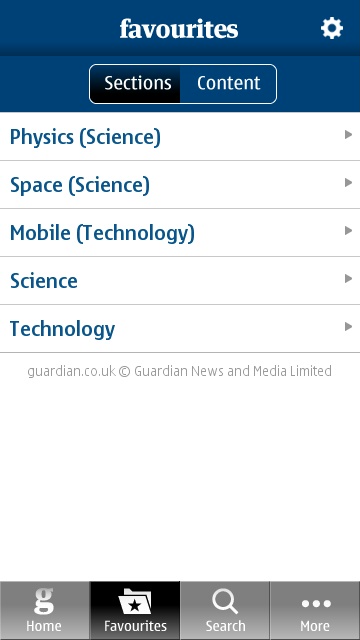 A section page and the favourites list.
Top-level categories are typically split into Editors' picks, Galleries, Features, Popular, and Audio (i.e. Guardian podcasts). At the end of each section you can usually find a list of sub-categories – helpful for focussing on specific areas of interest. Categories of all levels can be added to your Favourites section by tapping the star in the top-left corner of the screen.
Speaking of favourite content, both categories and articles can be starred, and are thus respectively added to the "sections" and "content" tabs of the Favourites screen. For articles, this function is best used as a bookmark. For sections, it's a good way to quickly access frequently read sub-sections.
While viewing an article, there are buttons for changing the font size. Thankfully, there is a wide range of sizes, rather than the usual three or four that we see in many text-based content applications. Each article also has a share button, which allows you to email a link via the built-in Mail application, or post to Facebook. I would have expected Twitter and SMS to be options, but alas they were not. Those who use services like Read It Later or Instapaper can use the email option to save articles.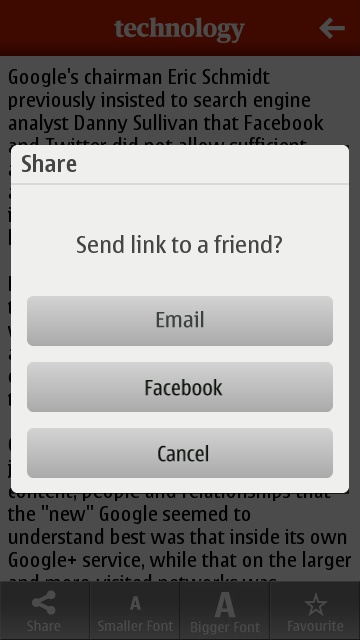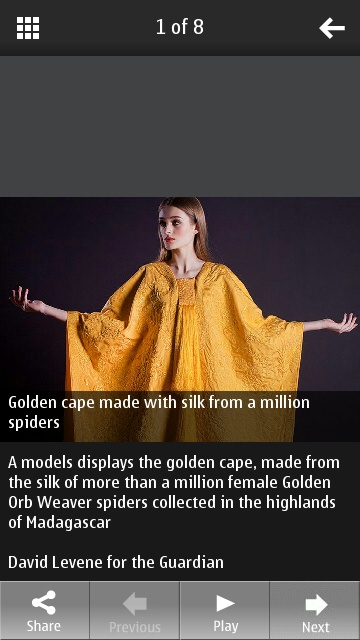 Sharing articles and viewing gallery stories.
The gallery stories in The Guardian provide a pleasant change of pace from the usual text-heavy stories. Each one allows you to view all photos at once or swipe your way through one by one. Photos are accompanied by short descriptions.
The Guardian produces a surprising amount of audio content in the form of podcasts. However, listening to them via the application isn't as straightforward as it could be. First, you tap the "Play" button, launching Symbian Web, which downloads the MP3 file. Once the download is complete, the built-in audio player begins to play. The process feels a tad clumsy, but does allow you to continue reading while the podcast plays in the background. If you want to regularly listen to episodes, you will probably be better off subscribing with a podcasting client such as Podcatcher.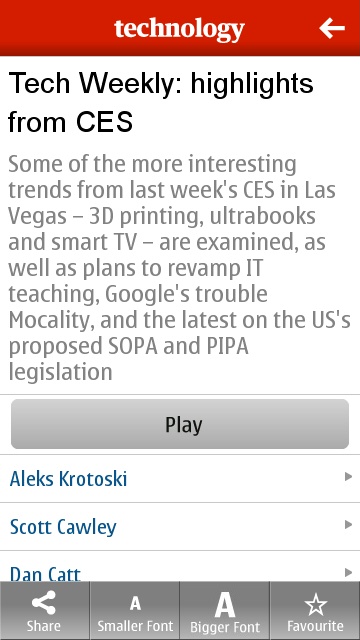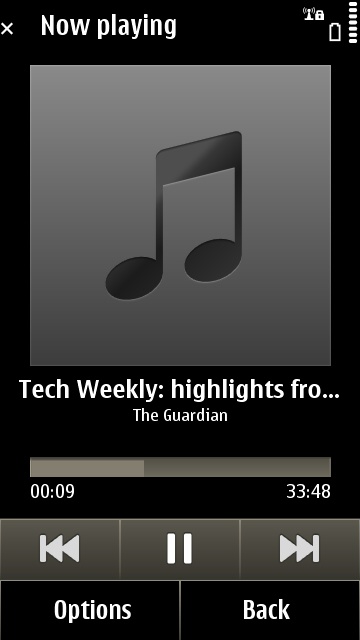 Finding and listening to Guardian podcasts.
The Guardian application does the job it was designed for perfectly – free of charge, and with added features like audio content and offline reading. I only wish that more publications would follow its example.
Recommended.
David Gilson for All About Symbian, 25th January 2012.
Reviewed by David Gilson at