Review:
SoundHound
Score:
53%
If there's a song in your mind, then SoundHound might be what you're looking for. Offering a very similar service to Shazam, SoundHound has the ability to recognise either recorded music or a melody sung or hummed by you. This makes it handy if you have a tune stuck in your head, and shows how well you can hold a tune, or not. Does this make it better than Shazam? Read on to find out.
Version Reviewed: 3.1.5b
Buy Link | Download / Information Link
As mentioned above, SoundHound offers the same kind of service as Shazam, and so comparisons will be inevitable throughout this review. On first impressions, you interact with both applications in the same way. Tapping a large icon starts the recording of a short audio sample, which is then sent for identification. Both appear to be written in Qt as well, which means the user interfaces don't feel quite as slick as native applications. In a further similarity to Shazam, there is an ad-supported free version of SoundHound, and "SoundHound Infinity" which is ad-free and costs £4.00 on the Ovi Store.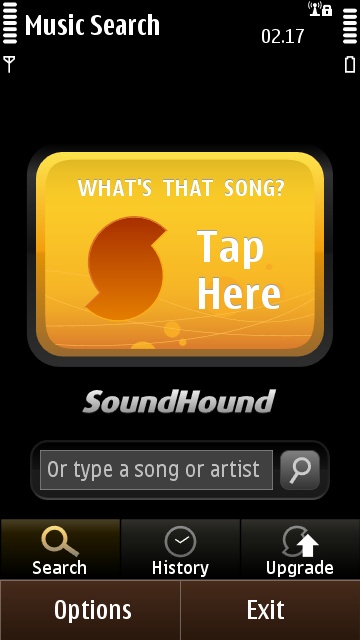 SoundHound's main button
SoundHound is essentially a mobile client to the social music service, Midomi. This service utilises the 'Query by humming' (QbH) retrieval system, which it uses as a social music identification system. On Midomi, people submit their own renditions of known tracks. This presumably helps Midomi get smarter at how to identify music based on samples of humming and singing from the great off-key masses.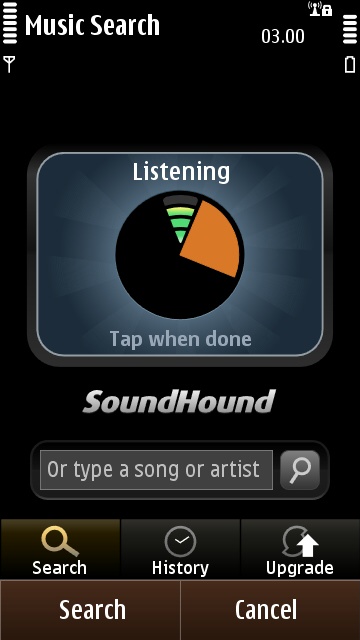 SoundHound's ten second sample timer
Once you have submitted an audio query to SoundHound, it may return a single search result, just like Shazam. However, if the query results have a relatively low confidence, a list of possible matches are returned. The possible matches are usually a mixture of published music and user-submitted renditions. All have a play button allowing you to listen to the entry, to see if it matches what you were searching for. The samples of published music are just 30 seconds long, and of a very low quality.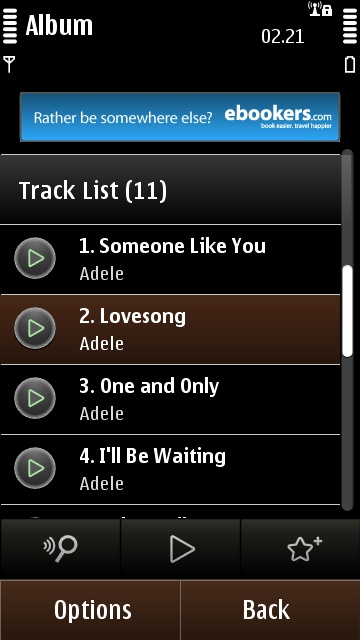 Search results with play buttons
The user-submitted audio samples seem to indicate that Midomi must be big in east Asia, judging by the accents of enthusiastic contributors. However, this has the unfortunate side-effect that the titles of the corresponding submissions are unreadable because western Symbian phones don't appear to have the correct character set, and so a row of box-like characters is shown instead. Not that I can read Japanese, but a row of boxes for a title does make the application look rather unfinished.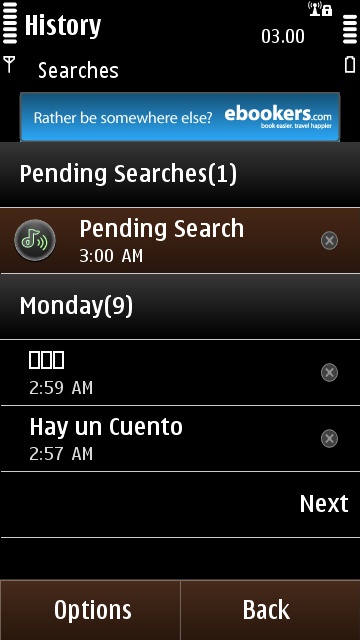 An example of unreadable search results
Unlike Shazam, text queries can also be made with SoundHound, allowing you to browse for samples of, and information about, a particular band. It would seem a natural feature of SoundHound to allow you to sign in to Midomi and submit your own rendition of a particular track. However, there's no sign in facility at all, and so no way to make a mobile submission.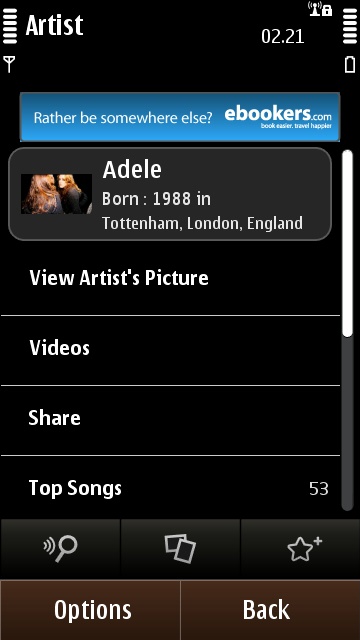 Artist information in SoundHound
Pages for individual tracks have a list of options, allowing you to find: lyrics, YouTube videos, artist and album information. There is also a 'Share' option, but when tapped, all that happens is a cryptic error appears, stating that you haven't set up a 'mailbox'. However, there is no menu option with which to do this. Therefore, the ability to e-mail, SMS, Tweet or Facebook identified tracks is effectively broken. (Yes, I did just use 'Facebook' as a verb!)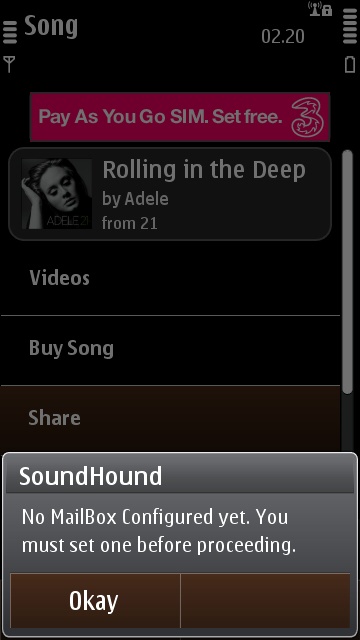 The error message, indicating that social media sharing is broken
Yet another disappointing feature of SoundHound is the option to buy a track. With Shazam, once a track has been identified, the user can tap on a shopping cart icon, which triggers the Ovi Music Store to search for the track. Instead, SoundHound launches Web with the corresponding Amazon Mobile page for the MP3 track. This would be fine, except that Amazon doesn't support purchasing MP3's via its mobile site; the best you can do is add the track to your wish list. Also note that other people cannot currently purchase MP3 music from your Amazon wish list for you.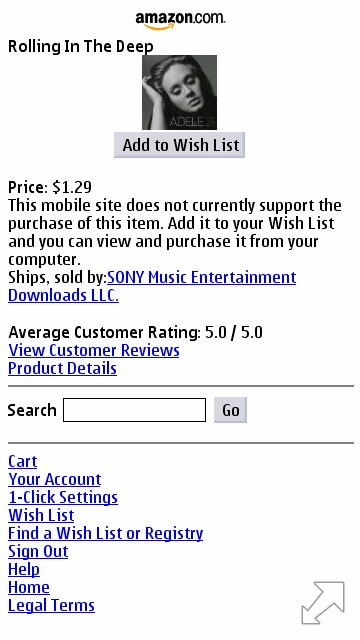 The Amazon page that SoundHound's buy link sends you to, ruling out direct purchasing
In the continual comparison between SoundHound and Shazam, SoundHound has the potential to be more entertaining. Thanks to identifying music by singing or humming, a gaming aspect is introduced. Such as – can you reproduce a melody well enough for SoundHound to identify it? Indeed, I found during this review that, taking turns with a friend or family member, singing down the phone to SoundHound is actually good fun.
The disappointment comes in the post-identification phase. Being able to share, and/or buy, music are the obvious next steps after finding a track. Sadly, both of these features are either broken or not properly implemented in SoundHound. This is so crucial to the social and commercial use-cases of such an application that there is no way to justify the £4.00 price tag of the ad-free version. Also, Midomi users will be disappointed that there is no integration with their account; e.g. making submissions while away from their computer.
SoundHound is a promising application, so much so that it has the potential to be a more engaging music identification service than Shazam. So far, though, it is too incomplete, in terms of bugs and features, for me to recommend at this time.
David Gilson for All About Symbian, 26th April 2011.
Reviewed by David Gilson at