Review:
IDW Comics
Score:
59%
While we may not yet have mainstream eBook support on Symbian, a little known set of gems in the Ovi Store are awaiting any Symbian toting comic book lovers. Dozens of titles from IDW Publishing are available for your viewing pleasure. Based around a generic application, there are many well known, and not so well known, titles available. Ranging from Transformers and Star Trek, to Danger Girl and Astro Boy, there may just be something to catch your eye. Read on to see what I make of the seemingly underground comic book market on Symbian.
Buy Link | Download / Information Link
Rather than just reviewing an individual comic book or series of comics, this review is going to look at the generic comic book application from IDW Publishing. If you want to see an exhaustive list of IDW's comics in the Ovi Store, then click on this Ovi Store search I prepared earlier!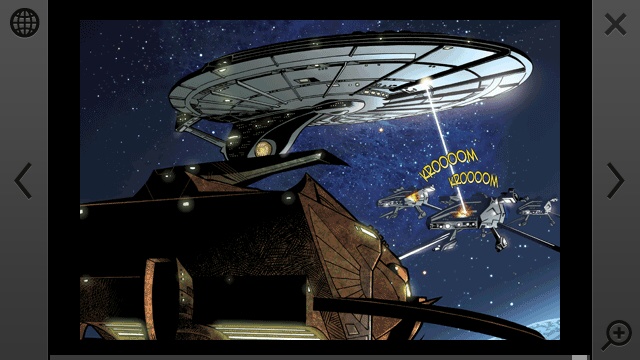 For the Trekkers, almost all eras of the Star Trek universe are catered for.
First of all, because of a lack of a proper category for comic books in the Ovi Store, it's very tricky to browse for comic titles in the Ovi Store app. Fortunately, the Ovi Store website makes it somewhat easier to search and browse. During research for this review, I found that the selection of titles seems to vary between different regions. For instance, G.I. Joe comic books are available in the U.S. Ovi Store, but not in the UK store. IDW's website also shows comics based on popular TV series like Doctor Who and True Blood, although these are apparently unavailable for Symbian.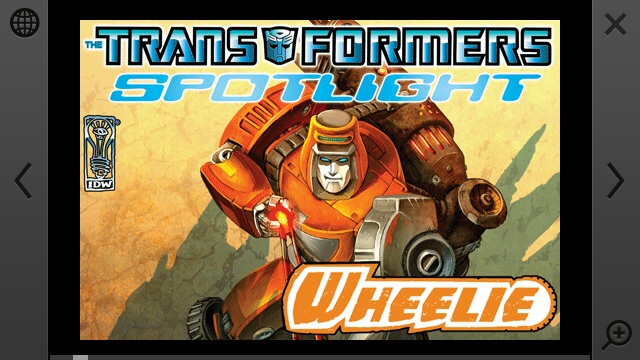 The title page of one of the many Transformers series from IDW.
Each title (e.g. Tranformers, Star Trek, etc.), has a number of series available. I've seen a number of pricing models too; some series give away the first part for free, while charging for the rest of the series. Some comics have recently been offered as a "Demo" which gives you around a quarter of the comic for free, requiring you to pay for a full download - and yes this means you end up with two applications for the same comic, requiring you to uninstall the demo version. It would have been better if the demo version was automatically uninstalled or if payment unlocked content within the same download. There are also some series that have no free content at all.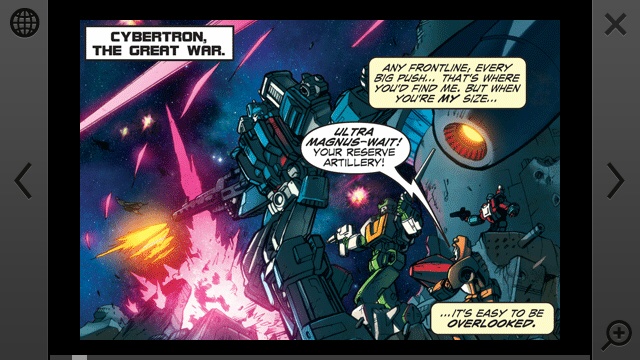 Impressive artwork and vibrant colours.
Most comic book applications are priced at £1.50 (with some at just £1.00). Each series typically has four to eight parts, meaning an entire series could cost twelve pounds. This seems quite expensive, but probably gives you an similar amount of content of a graphic novel, as each part can have up to 100 screens/pages. On one hand, having multiple icons for each part of the story seems cumbersome in terms of organising them in your phone. However, there is the benefit that if you are not enjoying the story you wouldn't need to pay for the whole series. This is one specialised instanced where Symbian's ability to organise applications into folders and sub-folders comes in very handy.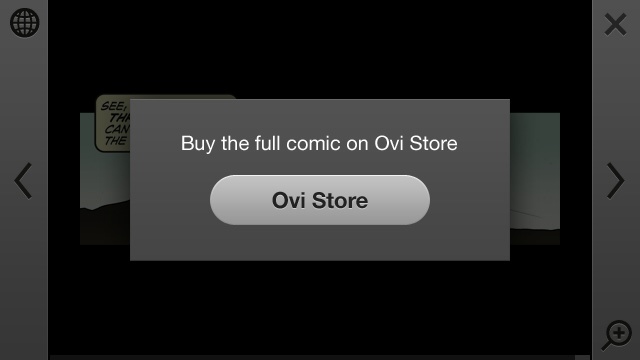 Linking directly to the Ovi Store at the end of a "demo" comic.
The comic book reader application has a pretty simple and clean design. The user interface (UI) is locked to landscape mode, and has two grey bars at either side. Tapping the arrow on each will turn the page back or foward, as will swiping across the screen. The UI also contains a link to the IDW website on the left-hand bar. The right-hand bar contains a control for closing the application, and a magnifying glass icon to zoom into the page. There is also a progress bar at the bottom where you can drag forward and backward through the comic. Mind you, it's so thin that you could easily miss it, and isn't that accurate, skipping several pages with even the slightest finger movement.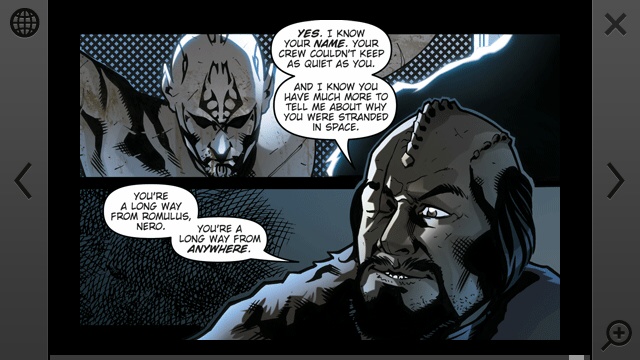 When zoomed in, the page can be dragged in all directions. However, aliasing of the image is clear to see. This means the image is being scaled up beyond its original size with no smoothing algorithms being applied, which means a certain amount of pixelation is visible. However, the zoom facility is needed for being able to read some of the captions, depending on the age of your eyes!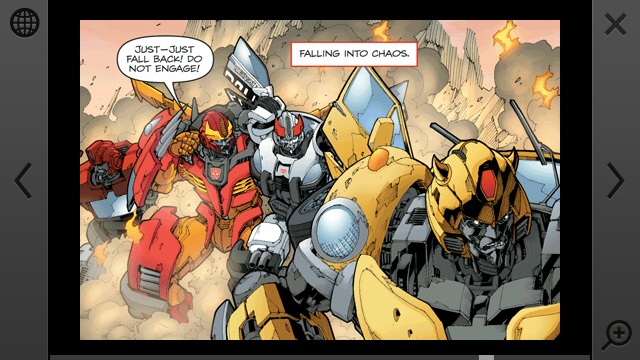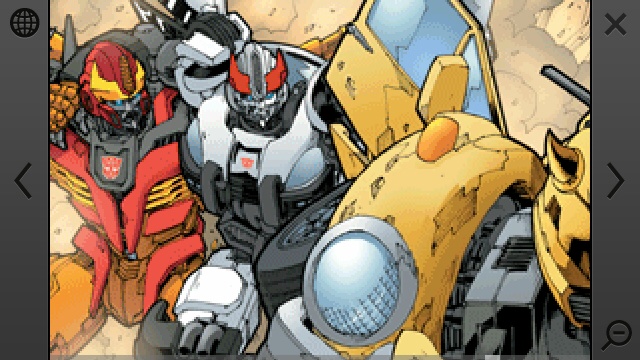 An example of pixelation. The second screen shot here is a zoomed view of the page in the first screen shot.
Selling comics through the app store is an interesting way to go. From a marketing point of view, it gets maximum eyes on the content, even though they aren't technically applications. Although, I'm afraid that it goes against all my sensibilities of how to sell content. Buying these comic book applications locks you into a single platform, and litters your phone with stacks of application icons which do not need to be there. Instead, I'd have been much happier to see something mirroring the Amazon Kindle model, where there is a single cross-platform reading application, and comic purchases apply to a central account, readable anywhere.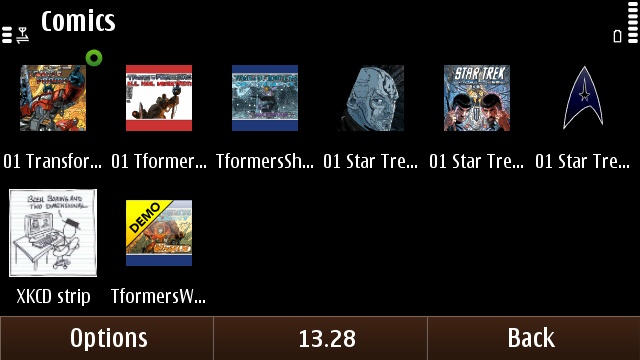 A small example of how your app grid can become littered with comic book icons!
As it is though, these comic book apps are fun little distractions if you have the cash to spare.
David Gilson for All About Symbian, 19th January 2011.
Reviewed by David Gilson at