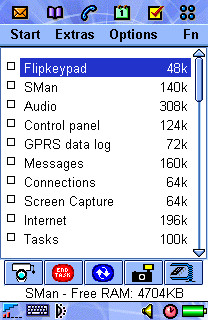 Following on from our popular Series 60 Freeware articles, it's time to turn our attention to UIQ. These phones are a bit more techy, but there's still a huge amount of free software out there. It's not as easy to find as their commercial counterparts (well, not yet, but that's a surprise for next week), but they're just as good (and in some cases more useful) than the full priced choice.
---
SMan
Steve Litchfield summed it up nicely in his review. SMan should be the first thing installed on any new UIQ device. As soon as a new interface is developed for a computer, the manufacturer rips out the useful things. Like the ability to close applications when you want. A decent Task Switcher. A file Manager that shows everything. As well as those functions, there's also a Today view, a secure data storage area and a few other features that are nice, but not as vital as the first ones listed here. An essential download.
ReadM
ReadM is a eBook Reader. Its has numerous options and features including slectable fonts, screen orientation and auto scroll. It is a highly configurable reader for electronic books, which could be scaled down to a barebone plain text viewer, but, if necessary, it could be enhanced with quite sophisticated bookmarks system (including highlights and text corrections) and with support for a variety of most popular text and audio formats (including Aportis DOC, TCR, and MP3.) Plain text files inside GZIP and BZIP2 (not ZIP) archives are also supported. You can download books via infrared, Bluetooth, or Internet connection (there are several popular Internet portals with free eBooks in supported formats, e.g., www.memoware.com.) The books you download could also be shared with other mobile devices and beamed through infrared or Bluetooth, or send with e-mail or MMS. ReadM can be used as an embedded viewer for compatible formats in e-mail attachments, MMS, or WAP pages. You can also playback any MP3 music files with ReadM (MPEG Audio Layer 3 versions 1, 2 and 2.5 are supported.)
Quirc
Quirc is an IRC Client, and it has to have one of the most basic homepages in the world (just a link to the zip or source, and then the readme text file), but that hides one of the most useful communication tools around. IRC has been around for a long time, and it consists of a huge number of IRC servers which you can log onto with any IRC client. Once on a server, you can go into public or private rooms (all named) or start individual conversations. The AAS team hang out on irc.freenode.net in the #mobitopia room. Maybe we'll see you there!
Shut The Box
Prolific OPL author Steve Litchfield is behind this one. Shut The Box is a simple counting game with two dice. It's very gentle, and while the mental arithmetic angle is great for helping children, there's enough strategy and tactics for hose looking for a quick and easy game on the early train to work on a Monday morning. Steve's also made the source code available so prgrammers can see what's going on and how certain things are accomplished.
Solun
This Pocket Planetarium has been around on various platfroms for a long time. Dave Rushall has continued to support the new Symbian OS devices, and the UIQ version (running under Personal Java) is choc full of features. There are multiple views from the 'simple' sky charts and views of directly above (zenith) and looking out to the horizon, through a world map display, the phases of the Moon, depictions of Jupiter and Saturn, and information on the Sun, Moon,Planets and stars. Think of it as the Route Planner to the sky and you're half way there.
Ogg Vorbis Player
Yes the world is full of MP3 players, but there is more audio than MP3. The Ogg Vorbis standard promised better compression with better sound than the MP3 standard, and it succeeded technically, but never really got the recognition that it would need. But being able to compress more music onto your storage card is a big bonus. Of course you'll need something to play these files, and Ogg Play is the player of choice. It looks good, makes intelligent use of all the controls, and it works in flip closed mode as well.
Agile Messenger
Agile Messenger allows you to connect to various IM accounts and send an recieve messages from your phone. You can connect simultaneously to Yahoo IM, MSN IM, ICQ IM and AOL IM. This means you should be able to contact anyone with an IM account. It will download your contacts (if your using one an IM that stores those things centrally). Instant Messaging can be very useful on a mobile. It's a lot cheaper than SMS chatting (as well as being quicker). Perfect for organising a meet down the pub. You can connect to the servers through a GPRS data connection. Alternatively its possible to use your desktop PC's internet connection via bluetooth. Some people use this second method to stay connected all day and use their phone as a personal IM tool.
Gridlock
There are any number of level based logic games, and you could write an article just on them along (hmm, there's an idea) but Gridlock is one of the earliest, and one of the best. You get a gameplay grid where blocks can go forwards and backwards on their long edges. You need to slide these around to free your grey smiley block so it can escape the grid and slide free. A simple concept which can be played in a long session or short bursts. Perfect mobile gameplay.
Yahtzee
Just making this page, having been recently released, James Trotman's version of the classic dice game adds no bells and whistles to the rules. It's a clear and simple interface, that allows you to play the game and see everything that's going on. It's well designed, and the simple addition of a high score table means you keep coming back for more, especially when your best friend pops in his name at the top of the table, forcing you to play it every waking minute just to knock him off.
OPL Programming Language
Not exactly a lightweight application, but OPL has contributed to more applications on Psion handhelds than any other langugae. It's now an Open Source project on Sourceforge, and allows anyone to write applications in an easy to understand language. Shut The Box on this page is an OPL application, as is my own Vexed tile puzzle game.
---
Related Links:
The All About Symbian Guide to Series 60 Freeware.