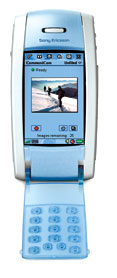 Symbian intro: The P800, is an advanced, open, pen-based smartphone that is positioned as the ultimate mobile multimedia experience. It uses the feature rich Symbian OS v7.0.
The P800 imaging and messaging capabilities makes it ideal to capture, show and send images. It features a large color screen: 208 x 320 pixels flip open (and 208 x 144 pixels flip closed) in 4096 colors, a fully integrated camera and storage space. Once captured images can be sent via all the standard protocols supported by Symbian OS such as MMS, email and Bluetooth. With support for GSM 900, 1800 and 1900, GPRS and HSCSD, the P800 works across the five continents. Sony Ericsson has adopted the pen-based UIQ user interface for the P800, and this phone fits into the UIQ category of Symbian phones, the first phone to do so.
---

The P800 weighs in at 148g without flip 158g with flip, and it's dimenisons are 117 x 59 x 27 mm. With the P800 you can take and store pictures, create and send MMS picture messages, and even view movies: mobile imaging in living color. The P800 has a dedicated CommuniCam button. Click once to switch on the viewfinder, click again to take pictures with the built-in camera (see imaging page for more details).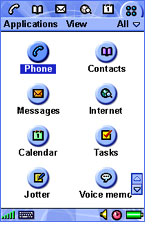 The P800 features an integrated browser capable of browsing WAP and Web content, as well as the ability to connect wirelessly to local devices using infra-red or Bluetooth. Bluetooth is a key technology for the P800, providing instant, wireless connections that work without line of sight: Share your data with other devices within range of your P800, let other devices use your P800 as a modem to connect to the internet. The P800 comes with a 16MB Memory Stick DUO which more than doubles the storage capacity and allows you to transfer files from your phone to your PC and vice versa. The P800 is fully equipped to deal with today's information environment, capable of securely browsing content using: WAP WWW cHTML.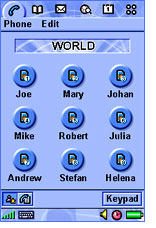 The P800 has a built-in multi-format digital audio player. You can download, save and play your favourite songs and always have them with you. Save them in the phone or on the 16MB Memory Stick® DUO included in the kit. Audio formats supported by the P800 audio player are MP3, WAV, AMR, AU. The P800's movie clip viewer makes good use of the P800's advanced screen design and allows you to view movies in full color at 176x144 pixels. Games included in the device are Men in Black II, Stunt Car Extreme, and SMS Chess (and more on the accompanying CD). Customisation is easy; Wallpaper - make your own background pictures or download from the web, screensavers are available too! Attach pictures to contacts so you can see who's calling and use polyphonic ring tones and make your own with the on-board ringtone composer.
SyncML capability means you can synchronize your data (E-Mail, calendars, task lists, contact information) with other devices and applications, for consistent, accessible and up to date information The P800 uses SyncML for both local synchronization (for example, with a PC using Bluetooth™ or a cable connection) and remote synchronization over HTTP.
Applications included with the device include a Phone, Contacts, Messages, Internet, Calendar, Tasks, Jotter, Voice memo, Imaging, ComuniCam, Profiles, and mnay more. The Contacts is fully integrated between the phone, messaging clients and the contacts program. There is seamless integration of all communication aspects of the phone with each program. Contacts has vCard support and you can send vCard as MMS, SMS, email or fax, or beam them over infrared or Bluetooth. Agenda supports the vCalendar format and you can send vCalendar as MMS, SMS, email or fax, or beam over infrared or Bluetooth. In Messaging you can send and receive MMS, SMS, email and fax. The shared UI with Contacts means easy access to e-mail, fax and phone number data. There is support got POP3, IMAP4 and SMTP. Viewing messages is enhanced by support fot MIME, MHTML and Smart Messaging. You can have scheduled email poll too from multiple accounts.
There is great support for further development; write applications in both C++ and Java (kjava and pjava). Supported Java environments include PersonalJava and J2ME CLDC/MIDP and the integrated browser supports Java applets.