Nokia 9210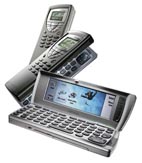 The first Symbian OS 6 device. This phone has a clamshell design opening upto to reveal a large colour screen (640x240) and a full keyboard. This is a dual band GSM phone. Expansion via MMC card and clip on modules.

Nokia 9290
The US version of the Nokia 9210(i). It is identical to the Nokia 9210i except it is designed for GSM networks in the US.

Nokia 9210i
An upgraded version of the 9210. Upgrades include improved memory and software. New software included Flash Player, Opera Browser and more.
Nokia 9500
Powered by Symbian OS 7.0, and bringing the 9000 Series up to date with the modern smartphones, the Nokia 9500 has Wifi, GPRS and Bluetooth built, has more than 80 MB of memory and is slightly smaller than its predecessor.
Nokia 9300
Smaller than the 9500, but still running Series 80 and Symbian OS 7.0, the 9300 is aimed squarely at the consumer market, taking on devices like the XDA and the Palm Treo's.