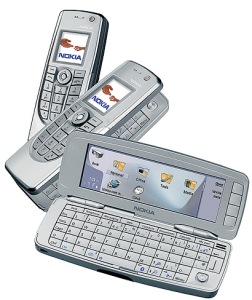 Nokia 9300
The Nokia 9300 device combines popular voice communication features with important productivity applications in one well-appointed device. Now the tools you need to stay in touch and on top of schedules, email, news, and messages are conveniently at your fingertips.
Design
The modern design of the Nokia 9300 device is the first indicator of the sophisticated features which lie within. Sleek and compact, the device opens to reveal a full keyboard and wide 65,536 color screen.
Organizer
Stay organized throughout the day using the Nokia 9300 device. You can use the built-in calendar to set reminders for important events, access the tasks list to write a memo or shopping list, and browse the Internet to look up directions, find a business address or recommend a good place to meet for dinner. It is easy to synchronize data on the Nokia 9300 device with applications on your PC using Nokia PC Suite software, so that the most up-to-date information is stored on each device.
Key Features
Advanced voice features: handsfree speakerphone, conference calling
Full keyboard and two 65,536 color displays
Messaging options: Email with attachments, SMS, MMS
Office applications: document, spreadsheet, presentations
Organizer: Calendar, Contacts, Tasks with PC synchronization via Nokia PC Suite software
Large memory storage: 80MB built-in memory plus MultiMediaCard (MMC)
High speed data connectivity with EGPRS (EDGE)
Mobile Internet connectivity
Symbian 7.0S OS (series 80 platform), Java MIDP 2.0 and Personal profile
Wireless connectivity via Bluetooth and Infrared to exchange information with other devices
Pop-Port™ interface for mobile enhancement connectivity
Tri-band (EGSM 900/1800/1900) operation for use in five continents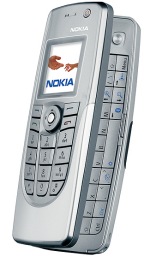 Tri-Band Operation
EGSM 900, GSM 1800, and GSM 1900 networks in Europe, Africa, Asia-Pacific, North America, and South America where these networks are supported
Automatic switching between bands
AMR Voice codec for 1900 frequency band
Size
Weight: 167 g
Dimensions: 132mm x 51mm x 21mm, 126 cc
Phone features
Timed profiles
Customizable profiles
Alarm clock
Music player with MP3, MPEG-4 (AAC), real audio and midi
Wallpaper: Full-screen color image
Changeable color schemes
Calculator
Screen saver: Digital clock in cover
Memory Functions
80 MB built-in memory for saving contacts, messages, files, images, sounds and applications
Memory card (MMC) slot with hotswap functionality for additional memory
Display and User Interface

Communicator Display
Resolution 640 x 200 pixels
Active transflective color display
Supports up to 65,536 colors
Adjustable display brightness control
Cover Display
Resolution 128 x 128 pixels
Supports up to 65,536 colors
Active TFT color display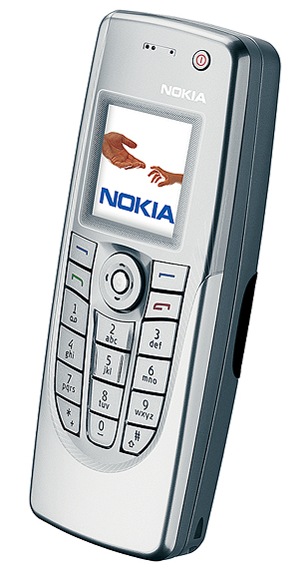 User Interface and Navigation

Cover
One user configurable soft key
List menu
5-way navigation key
Communicator
Full QWERTY keyboard with 8 application shortcut keys
One application shortcut key user configurable
9-way joystick
Symbian operating system version 7.0s
Series 80 platform
Messaging and imaging

Multimedia Messaging (MMS)
Multimedia messaging (MMS) with compatible devices: Send and receive messages with text, a sound clip, and an image or a video clip to other compatible devices
Multi-slide presentations as MMS with compatible devices
Delivery reports
Multiple recipients
Scaling
Email
Access your own and privat email accounts
Java midlet
Support protocols: IMAP4, POP3, APOP, SMTP, MIME, IMAP4-SSL/TLS, POP3-SSL/TLS, SMTP-SSL/TLS, SyncML1.1.1.
Fax
Send and receive fax through your GSM number
Text messaging (SMS)
SMS distribution list
Message register
Picture messaging: Send pictures with text to other compatible phones
Imaging
Possibility to attach Portrait images to Contacts
Video player: RealVideo, MPEG4, and H.263 formats supported
Connectivity and data transfer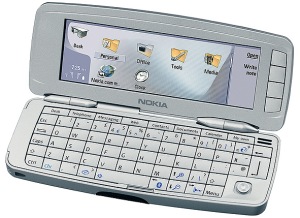 Connectivity
Pop-Port™ interface
USB 2.0 connectivity (Nokia Connectivity Cable DKU-2)
Connect wirelessly to a compatible phone or a compatible PC
Infrared
Bluetooth wireless technology
Install applications with Nokia PC Suite for the Nokia 9300 communicator
Internet browser: HTML 4.01/xHTML
Support for wml 1.3 content
OMA DRM Forward Lock for content protection
OMA Device management 1.1.2
SyncML 1.1.2
Data Transfer
EGPRS* Multislot class 10
Data transfer up to 236.8 kbit/s in EDGE networks
GPRS (General Packet Radio Service) Multislot Class 10
Data transfer up to 53.6 kbit/s in GPRS networks
Circuit-Switched Data
HSCSD (High-Speed Circuit-Switched Data)*
Fax Transmission
Call Management
Speed dialing in cover
Last-number redial from dialed calls list (Dial key brings out the dialed calls list)
Automatic and manual network selection
Closed User Group
Voice recording
Integrated handsfree speaker
Conference call (up to 6 participants)
Log viewer for communication: email, calls, MMS, SMS
Java™ Applications
Downloadable games and applications via Java™ technology (MIDP 2.0)
Personal profile Java 1.0
Ringing Tones
Fixed ringing tones: 40 polyphonic ringing and alert tones
Voice clips can be used as ringing tones
Applications
Word processor (Documents), spreadsheet viewer and editor (Sheet), presentation viewer and editor (Presentations)
Compatibility with MS Office programs (MS Office 97 onwards)
Other applications: Calculator, File Manager, Voice Recorder, Music Player
Software