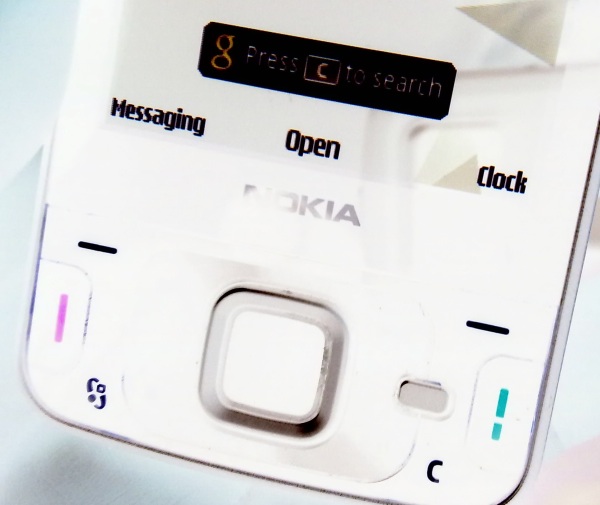 Letting Google Mobile App take the strain
The beauty of Google's voice-recognition-based Mobile App is that it partly frees you from physical restrictions on your smartphone. For the operations described below, you don't necessarily need a big screen or a qwerty keyboard - the smallest S60 phone with numeric keypad will do just fine.
Having all this built into a single utility, itself tightly integrated into the biggest search engine and knowledge-base in the world, also means that you may not need to go hunting for 3rd party applications very urgently - some of the things listed below are available as third party 'Apps' on other smartphone platforms. Yet here you get access to the same information on any device, for free, and without typing a single character.
To get started though, install the latest version of Google Mobile App, from m.google.com - at the time of writing this is v2.3.9.
Once installed on a S60 3rd Edition phone, pressing the 'C' key on the phone's homescreen launches (or, more usually, switches to) the Google Mobile App. From here, if you don't fancy typing, you can try any of the following types of simple query by pressing and holding the 'Call' (green) key and simply speaking what you want:
Searching the Web. Somewhat obvious, but you can simply dictate what you'd like to search Google for. This can actually be a good time saver, especially for longer queries. E.g. (here) "Caesarean Section" - which you probably couldn't spell and wouldn't want to type out but can certainly speak very briskly and get the search query transcribed.



Movie showtimes. Curiously, this function doesn't seem to recognise your detected location properly - at least, it doesn't for me. But speaking 'Showtimes xxxxxx', where xxxxxx is your town name should list all the movies that are showing locally, with ratings and times. Very handy.



Weather forecast. Simply saying "Weather" is enough to pop-up a five day forecast for your current location. It's minimalist, to be sure, but it's probably what you were after.... Also very useful is that you can append any city name to get the weather for that location, e.g. "Weather San Francisco".



Units conversion. State a number and its unit, then add "in" and the unit you want it converted to. So, for example, "58 Centigrade in Fahrenheit" will not only auto-change the 'centigrade' to the more American 'celsius' but will pop up the answer you need straight away.



Quick maps. Say "Map of xxxxxx", where xxxxx is a town or area or country and a small image will be shown. It's not a patch on Ovi Maps or the main Google Maps and it can't be zoomed or interrogated, but if you just need a lightning quick pictorial then it's just the ticket.



Finding a taxi. Say "Taxi" and you'll be shown a list of local taxi firms, click any number to call one.



Hotels and Restaurants too. The same applies to hotels and restaurants and any other service industry - just say what you're looking for and you'll be shown the local matches, with phone numbers. And, as with the 'Weather' item, just append any town or city name to get matched results. For example, say "Hotel in Marseilles" and you're off and running...



Railway stations as well. And, as with the previous item, you can click the link proferred for each match and be taken to a thumbnail, zoomable map, more details and the choice of detailed driving directions. All in a couple of extra clicks.


Getting an accurate time. Perhaps you're afraid your phone time has wandered slightly. Say "What is the time?" and you get the current time to the nearest minute for your local time zone.



Advanced calculator. Almost anything will work. For example, say "Cube root 5.52". And up pops the answer. Sooooo cool.



Currency conversion. Say (for example) "3 dollars in pounds" and up pops the answer at current exchange rates. This works for most currencies and in any direction, too.



Language translation. This one's fiddlier to get working, seemingly, but you can say "Translate 'Car' to Spanish", for example, and up pops the official Google translation. You mileage may vary and comments welcome here!



Instant images. You need a picture in a hurry? Down the pub and someone mentions a person or thing and you need a few photos pronto? Say "Image of xxxxxxx" and you're given the top matches from Google's image searching database. Very handy. Even obscure items ("Image of 19th century dresser") are found and pictures displayed - hugely impressive.



Flight status. Heading for a plane later? Going to pick someone up? Just say the flight name, e.g. "British Airways 782" and its departure and arrival points are shown, along with airport codes, current status and departure/arrival times. Amazing.



Dictionary. Need to spell a hard word or work out exactly what it means? Just say "Define" followed by the word. E.g. say "Define tuberculosis" and you get the correct (albeit American?) spelling and the word's meaning.





---
What's the catch? There isn't one. But there are a few caveats!
Trying to use voice recognition in a noisy environment will, as expected, produce erratic results - great for use at home or in a hotel room or in a taxi though.
Google Mobile App uses your data connection, naturally, though actual bandwidth used is only of the order of a few tens of kilobytes per query.
The utility doesn't currently integrate as well on S60 5th Edition phones. The 'C' prompt on the homescreen is ugly and on non-qwerty devices you'll have to initiate the utility using a standard Applications screen or homescreen icon/shortcut.
Though obviously not a full replacement for standalone, specialist applications, it's very handy to not only have all the above 'built-in' but also be able to potentially save time by speaking what you want rather than spelling it out laboriously.
Happy Googling!
Steve Litchfield, All About Symbian, 14 Dec 2009