At The Heart Of ExCeL
Our Expo previews have mentioned lots of things that you might be interested in when you visit the Symbian Expo. But one stand is head and shoulders above all the other stands. Who would you put in the stand that's at the very heart of the Expo floor? Who else but All About Symbian!
It's your chance to meet the team, discuss what we do, find out more about "behind the scenes" on the internets most popular Symbian Community. What can we offer the Symbian OS ecosystem, how can you use All About Symbian to help your company, and is it true what they say about Scotsmen and their kilts?
If you want to get in touch and arrange a meeting time with us, please email expo@allaboutsymbian.com and we'll get back in touch with you as soon as possible. A mobile number might help! Please come and talk to us and introduce yourselves. We want to hear from everyone, from big companies to developers to end users. The best thing about Expo is meeting people - so that's what our number one aim is.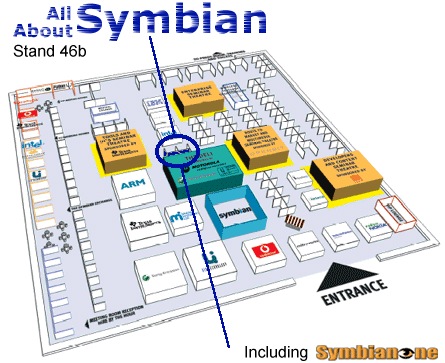 ---
Who's Going To Be At The Symbian Expo From AAS?
Quite a lot of us actually! Here's a quick print out and keep guide so you know who you'll be talking to. It's not an exhaustive list, so be prepared for a surprise or two, but the major players are here.

Rafe Blandford
A long time ago, one person put up one page on what he knew about the Nokia 9210. That person was Rafe, and the page grew to be All About Symbian. Rafe's the one that keeps everything going, does a whole lot of behind the scenes stuff, and is our CEO and Owner.

Ewan Spence
Ewan is the number two at All About Symbian (or Managing Editor, or Director (Content), or something). He's responsible for content management on the All About Symbian sites, doing our interviews and reports, putting on special events and having 27 mad ideas shot down by Rafe to leave the two practical ones. He's been in and around the Symbian community since 1992, when it was really the Psion community. Ewan is also one of the foremost proponents of OPL on which he'll be giving a tutorial at the Expo. Ewan is a bit hard to miss, but listen for the loud noise of enthusiasm, or look for the swishing kilt and, you'll be sure to find him.

Steve Litchfield
Steve has been full time programming for, and writing about Psion and Symbian handhelds since 1993, although this will be his first Symbian Expo since they started calling them the Symbain Expo's. You can recognise him by his complete lack of fashion sense, and hip mounted ("quick on the draw, did you know it can do this...) smartphone.
Jim Hughes
Jim spends his days developing trading systems so that chaps who still wear braces can wager vast sums of money on the seemingly random fluctuations of the financial exotica. He is also a long term technology fanatic, and has owned numerous Psions and Smartphones. He spends far too much time tinkering with, and writing about mobile phones here, on Mobitopia and on his blog, and not enough time developing for them. He also makes wonderful ginger beer and likes Formula 1.
Jordan Holt
Jordan Holt (J2theIZZO on the Forums) was part of the first "Gang of Four" that ran All About Symbian. This will be my second year attending the Symbian Expo, I plan to get as many interviews as possible during the short two days of the Exposium - to make up for the ones I lost last year. Note to self, never fill a P800 dictaphone up so it has no free memory. Not even the SE tech head can fix it! Hopefully this year there will be lots interesting articles for All About Symbian's readers in the weeks after the Expo. Assuming I can find my way home and am not waylaid by a mural...
Herbert Dijkman
Hi there. I'm Herbert Dijkman, but you probably all know me as Delta737. I'm from Holland, but will fly over to London to attend the AAS Pub Meet and the first day of the Symbian Expo. I hope to meet a lot of you guys in person there! At the Expo I hope to take a look the latest Symbian phones and speak to people of the major Symbian brands. I also hope to speak to some developers, since I started making reviews of UIQ software for AAS!

Paul Gibson

Paul, better know to many as Gadget17, is a long time All About Symbian supporter and staff member. He'll be a roving reporter and helping out on the AAS stand. Paul will be concentrating on Series 60 coverage. Paul is a Civil Servant who resides in London and loves gadgets and is definitely an "End User". Regular of the AAS Pub Meets but 2004 will be his First Symbian Expo. He loves Free Software partly due to finances, so will be on the hunt for Bargins! He will also be taking his Ham Radio although won't be on all the time, if at all! (Call-Sign M3TZO). Expect Lots of photos from Paul in our gallery.

---