http://wap.allaboutsymbian.com/

The All About Symbian WAP site
Introduction
The All About Symbian WAP Site allows you to all of the content (except the Developers tutorials and references) on AAS via your Symbian device (or via any other WAP browser). The WAP site is optimised for display on small mobile devices. We know that you can use a Symbian device to surf the web, but the wap ite is much friendlier for a small screen than the WWW site and is a lot quicker too!
On this page we lead you through some of the features and pages available via the WAP site.
What's available?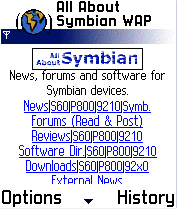 The AAS WAP page is to be found at http://wap.allaboutsymbian.com/, you can type this address into the wap browser on your phone and you will be taken to the front page of AAS's WAP site.
From this page you can access the various sections of the WAP site.
News - access to the news headlines and stories. You can choose the main link to display stories from all categories or choose the other links to display stories from a certain category (Series 60 [7650, 3650 users], P800, 92x0 and Symbian and General).


Forum - you can access the forums to read posts and topics using our new forum engine.

All forums are now available vai the WAP site.
Read topics in their entirety - optimised for display on small devices.
Post replies and start new topics.
Log-in using your username and password so people know it's you posting.
New topics - log-in and see new topics since your last visit.



Reviews - enables you to access the AAS reviews. You can access the reviews page (which gives you various options) or listings of reviews by device (see more below).


Software Directory - this accesses the AAS software directory, once again you can choose to go straight to device specific pages.


Downloads - gives you access to downloads for your device.


External News - view the headlines (and summary of stories) from other news sites related to smartphones and Symbian.


Links - links to other WAP sites divided into Symbian related sites and general WAP sites we think you might ind useful.
Screenshots
The Forum
You can now access the forum for both reading and posting via the WAP site. You can see how browsing the forum works by following the screenshots below.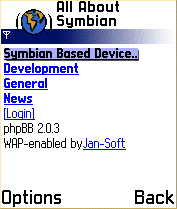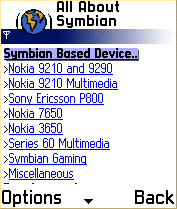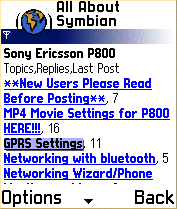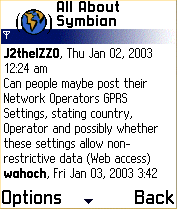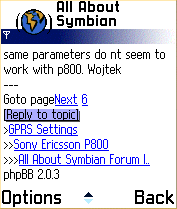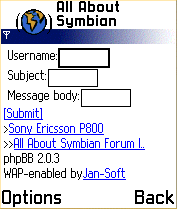 Reviews
The reviews section shows reviews in real time from the rest of the site using Befar technology (Really? - Ewan). Notice that the review index page has several extra options over and above specific device reviews lists.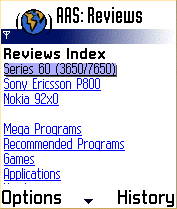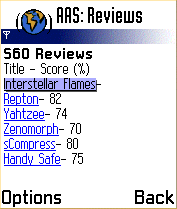 Software Directory
Enables you to view entries in the software directory.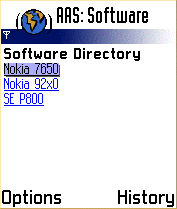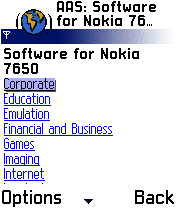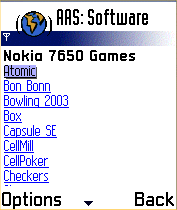 Downloads and more
Here are a few more sceenshots, this time displaying downloads and external news section. Note that links on the front page in downloads will take you straight into the appropriate category for that device. However there are some categories (such as polyphonic ringtones), that are suitable for more than one device, and these are found on the top level of downloads.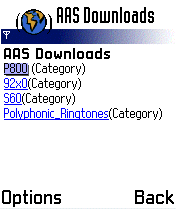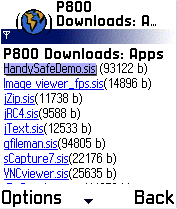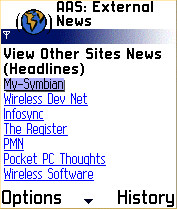 Feedback please
Tell us what you think, is there anything you would like to see added to the WAP site. How can we improve it? Please e-mail wap@allaboutsymbian.com with any comments or suggestions that you may have.
Some screenshots from the P800 - thanks to Raven for providing these!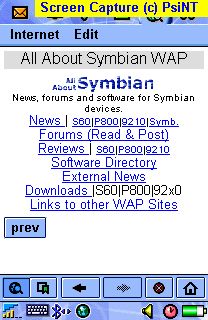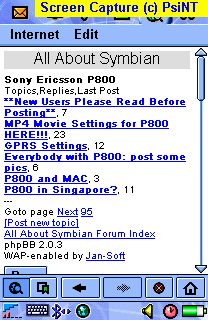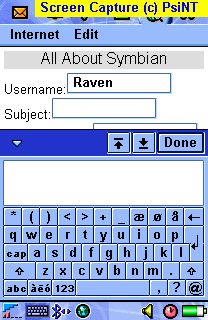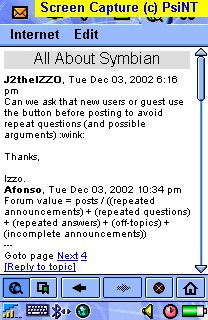 Thanks to...
Thanks from Rafe to Ewan, Raven, Dazler, J2theIzzo and Jan for helping make this possible.