As a general point, I have changed the default (system) font to "Prototype" which gives the slightly dated Symbian UI a fresh, up to date look and improves readability in most of the apps that I use.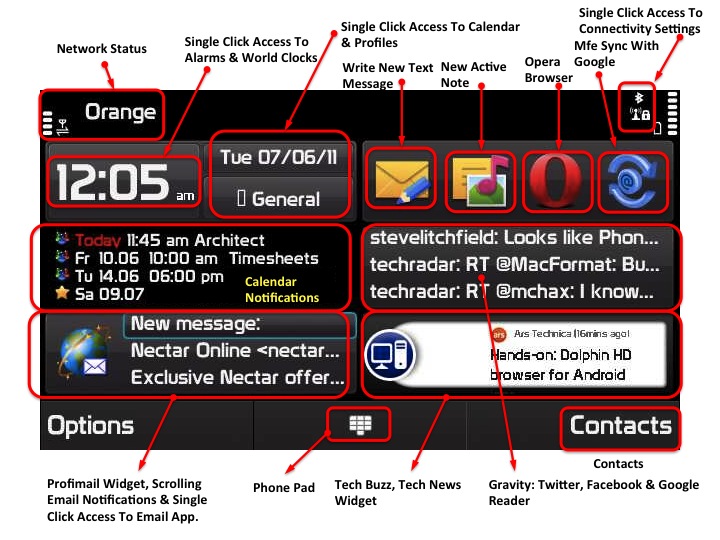 When "designing" my homescreen my basic philosophy is:
Who, What and Where?
WHO: Who is trying to communicate with me through Email, Text, Twitter etc?
WHAT: What is happening in the world that I need to know about or is of interest to me?
WHERE: Where do I need to be and at what time?
With this in mind I use the following widgets:
WIDGET 1: SHORTCUT WIDGET
New Text Message shortcut, a single click takes you straight to a new Text Message, perfect for firing off quick texts.
Active Notes shortcut, I use Active Notes a fair bit to take down notes on the move, from dimensions to ideas.
Opera Browser shortcut, Opera is my preferred browser, the shortcut takes me to Opera Mini but I also have Opera Mobile installed as well.
Mfe, Mail For Exchange shortcut. I have recently started to use Mfe to sync my Contacts and Calendar across all my devices. I got fed up trying to use a USB cable with my N97 (keeps disconnecting etc), now I can do the whole lot wirelessly from any location and don't have to worry about 3rd party software compatibility every time I change to a new device.
WIDGET 2: CALENDER WIDGET
The Calendar widget is actually one of the Widgets from the Coming Next WRT widgets (V 1.24). I find it perfect for displaying my Calendar information in a clear and concise fashion.
WIDGET 3: GRAVITY WIDGET
Gravity and the Gravity widget are a "must have" for Symbian in my opinion, it is a great way to access your Twitter, Facebook and Google Reader data. It is like 3 widgets/apps in 1, with a nice interface to boot.
WIDGET 4: PROFIMAIL WIDGET
Profimail is my favorite and the only email client that I use. Again, it serves a dual purpose, handling my IMAP email accounts with ease with multiple server folders but it also has a built in File Manager which is very useful, and even provides a thumbnail of images etc. Another "must have" Symbian App, in my opinion.
WIDGET 5: MIPPIN TECH BUZZ WIDGET
I used to use the last widget slot for RSS feed data but I now use it for the MIPPIN Tech Buzz Widget. The reason for this is that the Gravity widget keeps me up to date with my Twitter data, which in turn mainly consists of news related data - and AAS, of course!! But I can also access Google Reader through the Gravity widget, so the MIPPIN Tech Buzz Widget is an alternative that provides interesting articles from sites/information sources that I would normally miss.
Nick Anstee, for All About Symbian, 8 June 2011