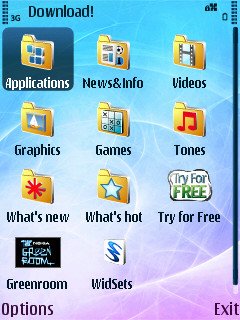 Download! has been on every Nokia S60 phone for a couple of years, of course. It was always a bit half hearted and under-resourced, but we all forgave it because we, the geeks, knew other places to get the applications we wanted.
Along comes Apple and, quite rightly, announces a similar system, but 'done right'. By which they meant a comprehensive catalog of applications, both free and commercial. Not only that, but the AppStore itself keeps track of who's grabbed what and automatically notifies users that an update is now available for an app that they've previously downloaded. All of which is seriously cool and well implemented (I've tried it here on my own iPod Touch).
So, given that Nokia had several months following Apple's AppStore announcement, in which to revisit Download! and, at the very least, increase the number of titles offered up from the current meagre and uninspiring selection, why on earth didn't they, to use a colloquialism, pull their finger out?
Technically, Nokia Download! is very similar to Apple's AppStore. An online backend database provides an up to date catalog of applications to any S60 device. And Nokia had a huge, huge advantage, in already having 100 million Download!-enabled phones in use around the world.
I'd have thought it was a comparatively easy task to assign a team to researching useful applications and adding them into the appropriate device Download! catalogs. Quite apart from the usual (and very welcome) Nokia freebies like Sports Tracker - which does seem to have made it into the system - and Internet Radio, what about terrific freeware staples like Screenshot, Calcium, Y-Browser, S-Tris, Google Maps, Google Mail, Mobitubia and Opera Mini? Not to mention trial versions of a couple of dozen of the best commercial S60 applications.
Instead we get a very idiosyncratic selection, heavily biased towards online services and Java games. Even worse, Download! is slow to update and slow to redraw its catalogs and, on the N95 8GB at least, has had corruptions in its main 'Applications' catalog for the last month, giving 'Error while browsing'.
I really, really expected Nokia to leap in, a week or so before Apple's AppStore went live, to say 'Hey, we've had this for years and look, it's been given a new look and new content' - but was disappointed by the continuing silence.
Browsing through the current Download! catalogs is a joke, in terms of what's counted as 'New' or 'Hot'. And don't get me started on how much poorer the catalog is on 'branded'/network-locked devices - some of these are virtually empty.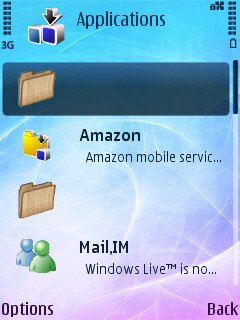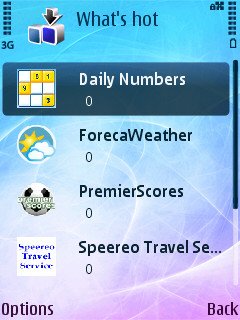 Apple deserve all the credit for their hard work and their current success with AppStore. Nokia, you blew this one. It would have only taken a tiny bit of effort and would have had a huge impact - instead you're letting Apple run off with an idea you came up with.
Download! could have been bigger than AppStore. Maybe it still can be in the future, but I somehow doubt it. This is one part of the 'vision' that Nokia, seemingly, just doesn't get.
Steve Litchfield, All About Symbian, 15 July 2008