Review:
sCompress
Score:
80%
Version Reviewed: 1.1
Buy Link | Download / Information Link
The Application we have been waiting for?

Ever since I first discovered this site and found out about all sorts of wonderfull things my phone can do, i've wanted more memory to pack as many things as I can on to it.
One of the biggest problems with the 7650 is the lack of user space available and now with the size of some applications (Not mentioning any names) we are all struggling to fit everything on to our phone. Symbianware have come up with this very clever little program that lets you compress applications you are not using to save on precious space, does it work?....Well that's what your here to find out.
First Impressions

When I first heard about the program, It had already been disussed in the forums (as had just about every other conceiveable way of making the memory on the 7650 larger and/or go further). This seemed the most viable option so it was only a matter of time before we saw this or something simlar.
When I first got my hands on the program, I have to say I was a little dissapointed with the compression ratio, but soon learned that it differs greatly between programs/size of programs, and at the time I was doing Beta testing of a 600kb program that only saved me about 50kb when compressed.
Long term

I have now been using sCompress for over month, and I have to say it is one of my most used applications, there is only one basic feature of sCompress.....Compressing (Duh!) It basicly means that you can fit a few extra programs on your phone that you wouldn't have been able to before, which if your anything like me, you'll find great as I hate having to install and un-install programs all the time.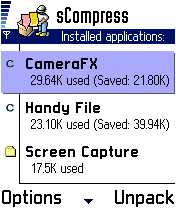 Main Screen
Problems?

On first release of the application there were a few problems with the memory when it was being de-compressed, as it was over filling the phone, but this was restricted to firmware version 3.12, since then Symbianware have fixed this bug and I now find it a very stable application indeed with no problems at all in the time I have been using it.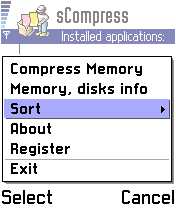 Menu Screen
Overall

My overall impression for the application was and still is very good, it is extremely handy for those times when you run out of memory when your trying to take some extra photos or receive an email.
I found it very simple to use and have had no problems with it, I would reccomend this application to all users. A must have application, it certainly acheives it's intended purpose well.
Score and Information

Overall Score: 80%
Price: 10 Euro (9.5 US) Size: 84kb
Reviewed by Rafe Blandford at