Review:
Zyb
Score:
59%
Zyb allows your mobile phone to sync to a web site that also doubles as a social network. Is it worth it? Ewan investigates...
Version Reviewed: web
Buy Link | Download / Information Link
One of the things that I find amazing is the amount of people (myself included) that rely on their mobile phone to hold their information, especially in terms of their calendar and contacts data. For those of us who remember PDAs powered by dodgy AA batteries that would loose charge and have their RAM storage flushed in the blink of a gnat's eyelid, we're used to backing up the data in lots of places, but the modern smartphone is pretty robust.
So unless you're in an office situation, it's unlikely you'll be doing a lot of synchronising of your smartphone to your computer – once a week or so could well be more than enough. In any case, why not let your synchronised data do some work for you? This is where Zyb comes in. Using the built in SyncML support on your smartphone, including true over the air sync, your data is uploaded to the Zyb web site – which doubles not only as a place to view and edit your data, but as a social network as well.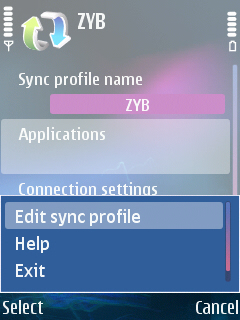 But I'll come to that in a moment. The first thing that is impressive is the setup on your device (in my case the N95). You register on the web site to start with (www.zyb.com) and it walks you through, graphically, a list (with pictures) to identify your handset, and then sends a configuration SMS to your handset. Very painless, no need to muscle through screens of 'is this UIQ?' 'S60?' 'Windows Mobile?' etc. – an important consideration for those users who aren't phone ninjas like myself.
And if it stopped there I'd be mildly impressed. But it doesn't. Because the Zyb web site takes you through, step by step, what you should be seeing on your screen, prompting you what to press, when, and how to confirm that you've done the right thing. The whole process finishes off with your first sync from handset to Zyb. That's seriously impressive when you consider the number of smartphones out there. Congratulations to Zyb for a well thought out and implemented set-up operation.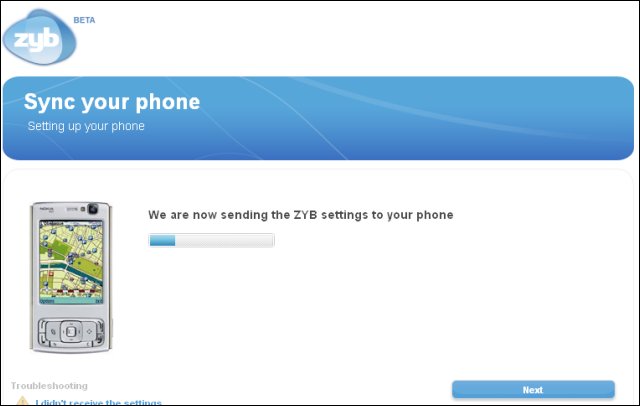 Right, so I'm synced up with the online web site, I can see my synced data through a web browser, it's easily edited and navigated to from the top navigation bar on the very white, very rounded corners (web 2.0 style) site. Show me what lifts Zyb above numerous other 'sync to a web site' companies. Yes, it's the social network.
By putting you in touch with contacts that are already members of Zyb, you can build up your database of contacts, and their network of friends, and message them directly from the Zyb web site. While this might seem a very basic idea, it's this root ideal that drives sites such as LinkedIn and Facebook, to name but two social networks that have proved worthwhile in a business sense.
What's notable is the extra value on top of the basic social pairings those networks offer – LinkedIn is geared towards making business contacts via friends, or when looking for or advertising positions for hire. Facebook is very much a place to let friends know what you're doing and has become the biggest site in popular culture for 2007.
Whether Zyb's 'sync to your mobile' component will be enough remains to be seen – if they want to seriously push this as their special feature, then one option might be to involve the handset to a much greater extent. One thing that is missing on the handset is a specific Zyb icon. There's no dedicated application to run to allow you to access the social network and data from the handset. The Sync icon runs the whole show - by relying on SyncML as the transport mechanism, something manufacturers generally have built in, Zyb loses a lot by not allowing you good access to the stored data and the social network online.
And is it wrong of me to think that at the very least a mobile version of the Zyb web site should be available?
So Zyb has many things going for it, but most of these things are only slightly above what you would expect. You have solid sync, but that option is available from many companies, e.g. Mobical or GooSync. You have a no-frills social network competing with similar networks with much greater complexity.
But, most importantly, you have a mobile focussed product with very little mobile component to it. I'd love to come back in six months, see what's happening on the handset and recommend Zyb then, because right now I don't think "that's cute and looks nice" is enough to give it more than a qualified nod of the head.
Ewan Spence, 14 Jan 2008
Reviewed by Ewan Spence at