Review:
Zenomorph
Score:
70%
Version Reviewed: 1.1
Buy Link | Download / Information Link
Introduction

ZenoMorph is a photo manipulation program that lets you "morph" your pictures whilst they are still on your phone.
There seems to be more and more photo/photo editing programs coming out for the Nokia 7650, so what makes this one any different from the rest? ~In Zenobyte's words~ "ZenoMorph is a fun program which allows you to distort and play around with your photos or other images. Amuse friends, colleagues or family by sending an image of a funny face a mutual acquaintance perhaps. Works well with pets, too. Turn your cat or dog into an alien!"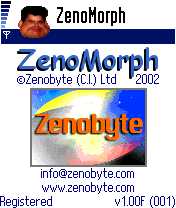 Introduction
Review

If like me, after the initial installation of a program you don't want to read the instructions and want to just use the program, you may find it annoying that you really do need to read the instructions before starting or you probably won't have a clue what to do. Luckily the instructions are very easy to follow and are kept within the program or downloadable in PDF format from Zenobyte's website.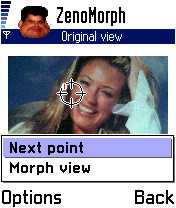 Adding your points to the lovely lady ;)
Once in the program the layout is very straightforward, you open the picture you want to manipulate and set between 1-9 points on the photo/picture. After setting the points you want to use it's a simple case of selecting and "dragging" with your joystick the part of the picture you want to move.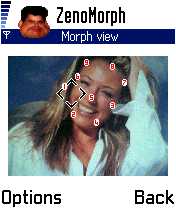 Cat:"Morph me, Morph me!"
It's initially hard to point out any bad points about the program. I'm yet to get an error message or "App Closed". The only thing I have to complain about is the ease of which the cursor can suddenly fly off the screen when trying to distort the image, but you soon get used to this. I suppose it's hard to compare it to something like Camera FX, but for me Zenomorph is a much more interesting program. It only has the one feature but it's such a good one. Plus it doesn't ruin the already not so good picture quality but kind of gives a cartoon clay affect to it, which I really like. It would have been nice to have a few little extras like little icons that you can also add to the picture just so I could finish the picture of Cat Deeley with some sunglasses and a hat. ;)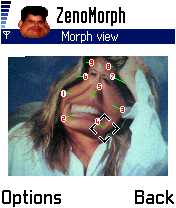 Do you think i've used too much makeup?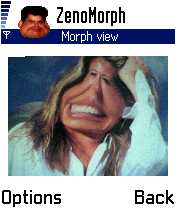 Hehehe....
Conclusion

With a program like this you either love it or hate it (It's a bit like Marmite). Personally I loved it and I'm sure it will stay on my phone for quite a while yet.With very few faults in the program it certainly does what it was designed for and it does a good job of it too. Altough it would have been nice to have had those few extra features.
Tech Spec

Size: 103kb
Size when packed with sCompress: 44.88k
Reviewed by Rafe Blandford at