Review:
Widsets
Score:
70%
Rafe reviews Widsets, a combined application and service that enables widgets on a wide variety of mobile phones.
Version Reviewed: Beta
Buy Link | Download / Information Link
Widsets is a combined application and service that enables 'widgets' on a wide variety of mobile phones. Widgets are micro-applications intended to perform a single function and have been popularised by their inclusion in Apple OS X and Yahoo's Widget services. Widgets generally rely on some kind of web service to provide information to the user. Example widgets include currency converters, news headlines retrievers and weather forecast information.
Widgets are set to arrive on mobile platforms in a big way - Widsets is the first offering to arrive, but various operators, Opera and others are known to be working on mobile widget solutions. In some ways, widgets are ideally suited to the mobile phone. They are tiny applications that are limited in scope and often match closely the tasks users may want to carry out on their phone. The problem with widgets on mobile phone is one of distribution and user experience.
Widsets consists of two parts - the client application and the web site service (www.widsets.com). The latter is used to set up a user's Widgets and the client application displays the widgets on the phone. After signing up for an account you will be sent an SMS that allows you to download the client application to your phone. Within the client application, the main screen consists of a virtual desktop where widgets are displayed. To access a widget you just highlight it and click.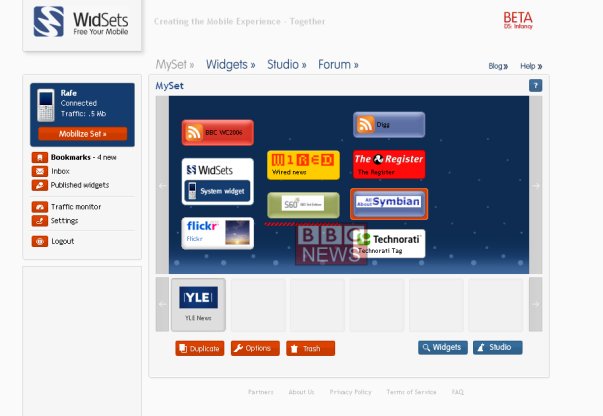 On the web site you pick and choose which widgets you would like to use on your phone. There is a directory that lists the available widgets. These include news headlines widgets for many popular news sites, a Flickr image widget, a Technorati keyword search widget, and more. A variety of popular web services have widgets available and some of these have been listed on the Widsets blog. The web site also includes a 'Studio' section which lets you create your own widgets from pre-existing templates. If you wish, you can publish these self-created widgets to be shared by the wider community. You will find several All About Symbian widgets that I created using the Studio list in the widget directory. Once you have picked which widgets you would like on your phone you can position the widgets on a virtual desktop using a drag and drop interface. In effect this is a virtual desktop in a virtual phone screen, which is then used to specify which widgets are displayed on the phone and in which position.
When the client application is started it asks to connect to the Internet and will then sync with the Widsets service. Information about which widgets you want and their position is sent to the phone, where they are then displayed. Further Internet connections may then be made to retrieve information for each individual widget (e.g. news headlines, latest images). On the phone, widgets are marked, if applicable, as containing new information.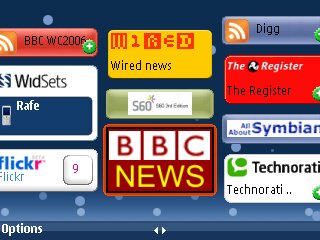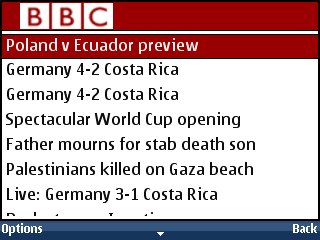 Widsets currently has a relatively limited number and type of widgets. These are primarily based around RSS feeds to retrieve news headlines. However, the developers plan expanding this range over time and will be releasing a development SDK to allow people to develop, publish and promote their own widgets on the Widsets platform. So at the moment Widsets functions rather like an RSS feed reader. However, it is more user friendly in set up and is likely to attract a different audience to those that might use traditional RSS feed readers. Hopefully the benefits of Widsets and widgets will be more apparent when a wider variety of widgets and widget creation tools are available.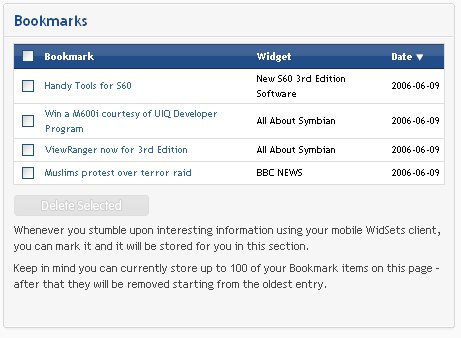 On the phone, the virtual desktop acts as the entry point to all widgets. The Flickr widgets displays recently uploaded images categorised under a specified tag. Within RSS based widgets you see a list of news headlines, and clicking any one of these takes you through to the full RSS item where both the headline and the description (news story) are shown. Although you cannot load RSS links in the phone's browser you can 'Bookmark' them. These Bookmarks are stored on the Widsets server and they can be later accessed using a PC. The idea behind this is that you use the phone to browse a set of RSS feeds encapsulated as widgets and mark those that interest you for later perusal on a PC. While this is an easy to use option, it is also a little long winded, and I think forcing a dual device solution (mobile + PC) is not as useful as a single device solution (mobile only). At the very least, it would be nice to be able to access Bookmarks via the phone's browser, perhaps via a mobile friendly version of the Widsets site.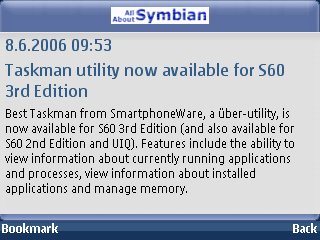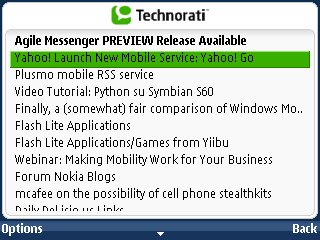 In the case of Widsets on an S60 phone, the menu and general UI have a standard feel, something that is not always true of J2ME applications. The downside of being a J2ME application is that it does use a large amount of system resources to run, although on newer phones this should not be a problem.
More of an issue is the limiting of the feature set which is necessary in order to run on as many devices as possible. The main problem is that the Widsets application is isolated within the phone - it is unable to access other applications or functionality on the phone, with the exception of the data connection. The most obvious example of this is the inability to load web links from RSS feeds in the phone's browser. This severely limits the utility of the application, especially for partial RSS feeds (such as those for the BBC which provide only a few lines of a news story). For phones without a reasonable browser it is an acceptable omission, but for S60 phones it is a real disappointment. However Widsets is still in beta and the development team have promised to look at the issue.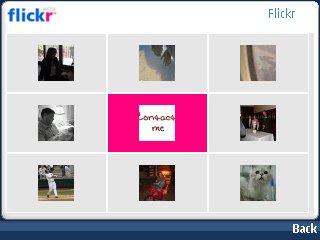 The Widsets philosophy is clearly to use the phone only as a display mechanism. The set up and placing of widgets is entirely PC-based and, while this does have its advantages, it also means this isn't a true mobile widget implementation. You have to be able to access a PC to set up Widsets. While this isn't really a problem for most people, it does mean that the addition of widgets is not as dynamic as it could be. There is, for example, no scope for adding widgets on an impulse from the phone. Despite this, Widsets should be praised for implementing the first mobile widget platform that is both user friendly and works across a great number of phones.
Widsets is a business within the Nokia business incubator - Nokia Ventures. The brief of Nokia Ventures is to innovate outside the core business areas of Nokia. Products successfully developed within Nokia Ventures may later be rolled into standard Nokia product offerings later in their product life cycle. Widsets is still very much in development, but in the future it could potentially ship with a variety of Nokia phone products.
For feature phone users, Widsets is well worth checking out, but for smartphone users Widsets is a less compelling, but still interesting offering. With the addition of some widgets outside the RSS news category and better integration with high end phones it could be a very useful application. Until then it is useful simply as a user friendly way to access a limited number of web services on your phone.

Reviewed by Rafe Blandford at