Review:
Twim
Score:
79%
Version Reviewed: 1.6
Buy Link | Download / Information Link
Twitter is all the rage – a web service that allows you to post short messages under 140 characters – add in some names and it still fits in a text message – you can browse everyone's messages or, more likely, just the messages to and from your friends.
Twitter was originally set up to be a web site, and while they do have a competent web site (and a rather nice mobile version that you can access on your handset's browser) they have another trick up their sleeve.
Computer programs can talk to Twitter directly (via an API) that means people can write programs that will interact with Twitter and handle the incoming and outgoing messages in a specific environment, without having to go near a web browser. While many of these run on the desktop, it also means a version tailored for mobile access is relatively easy to develop.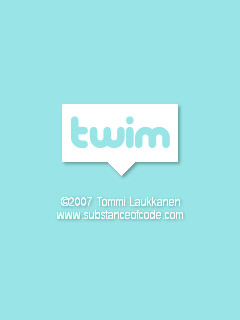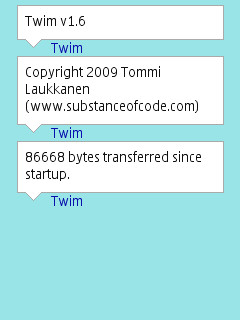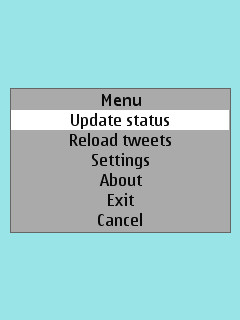 Twim, released by Tommi Laukkanen, is a freeware Java client for Twitter that uses the API to create a simple looking but powerful view into your Twitter account. On first opening the client, you are asked for your login details, and the option for the app to remember them. While there are only a few circumstances where I would not want to store repetitive details on a personal device, it's always nice to see a prompt for such decisions.
From there, the main screen has a tabbed view, and hitting left and right lets you choose which sort of message you'd like to see. The public timeline is one option, but this is so busy, you'll be glad the default screen is the Recent timeline, showing messages that your friends have made to Twitter.
The other main streams of messages are people who are replying to a Twitter message you have posted (signified by writing @<yourname> at the start of a message, and two timelines which give your private messages and inbox (direct messages received) and outbox (the direct messages you have sent).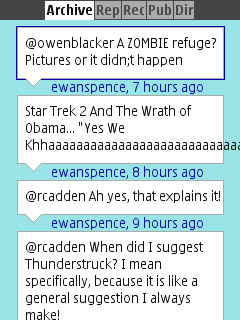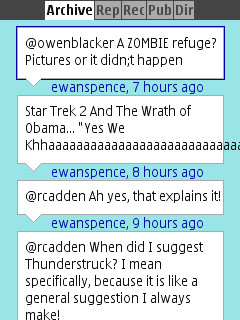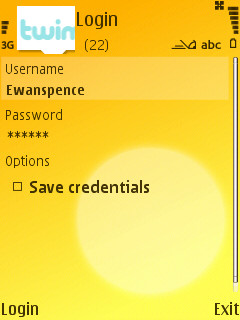 All of these will be familiar to Twitter users, as this is how the main web site (and most third party applications) is laid out. Twim is to be congratulated for not adding any bells or whistles, this is a Twitter application that does what it sets out to do simply and clearly.
In a nod to keeping down bandwidth costs and not using up too much screen real estate, the picture that is available for each Twitter user is not shown – just their name. As Twim shows a lot of blank space around messages – it puts them in cartoon like speech balloons – this is a good decision.
At every point when designing Twim, I can only assume that Laukkanen has decided to keep it simple at every step, and that has made it a rather basic application with the tabbed views on left and right keypresses, up and down to scroll through a list, and clicking in your cursor button gives you the option to reply to a user, send a direct message, or post a Twitter message yourself.
Short and sweet, Twim works. There's very little extra added to enhance Twitter, such as the frippery many desktop applications for Twitter add, but Twim is clearly designed to be used when mobile.
It's free, data usage (from what I can see) is low, and if you do use Twitter then this is a massive step up from relying on either the mobile browser or sending in (possibly expensive) text messages. It's staying on my phone after this review.
-- Ewan Spence, Jan 2009.
Reviewed by Ewan Spence at