Review:
Twibble
Score:
70%
Version Reviewed: 0.42
Buy Link | Download / Information Link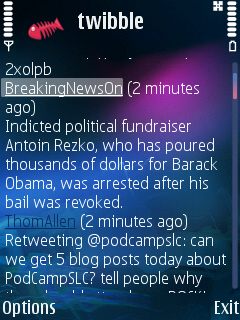 Twitter is one of those Web 2.0 properties you either get and use extensively, or look at and go 'huh?' It allows you to post short messages (140 characters) and be part of an ongoing conversation with your friends. You can see an example at www.twitter.com/ewanspence ... that's me. Or how about the latest All About Symbian headlines at www.twitter.com/aas?
Twitter also has a strong mobile component, with the messages all being set to be write/readable by SMS, and you can also thus post via text from your phone. Being Web 2.0, it also has 'programming hooks' that allow developers to access the service directly from computer code, so that applications and service can be built using Twitter as one of the blocks.
Twibble is a standalone (though Java-based) S60 client for Twitter. From it, you can keep track of what your friends on the service are posting, as well as make your own posts from the handset itself – all over whatever data connection you have, be it GPRS, 3G or Wifi.
Twibble checks the Twitter server on a regular basis, but tries to keep the data cost down. I have it set to 5 minutes, as a good balance between keeping bandwidth used low and staying up to date with the stream of messages. If you feel the need, you can force an update at any point in time very easily.
Posting a twitter is simple, although you have to be aware of the terminology (e.g. 'tweets'). Call up the menu and choose 'Twibble!' to post your message on the service. You'll get the option to add your location, which is something that Twibble adds on top of Twitter. You can set textual destinations, or if your phone has access to a GPS (either over Bluetooth, or built-in on some Nokia handsets) then you can automatically attach your latitude and longitude co-ordinates.
I like this touch, and it's matched on the reading-messages side by letting you see someone's location on a map. If they don't use Twibble, then their textual 'default' location is served up on the map. Okay, so knowing that someone is 'somewhere in San Francisco' isn't that accurate, but still nice. But Twibble's added feature may begin to be used by many, which will build up another layer of information Twitter can deliver.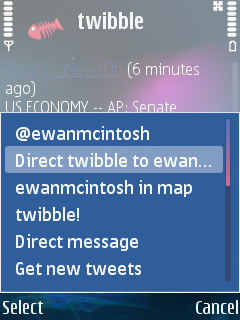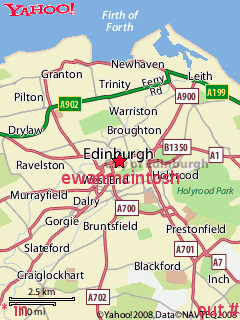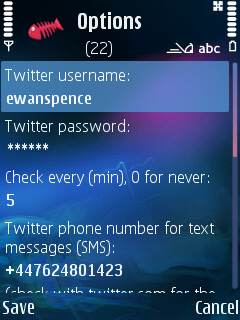 Twibble has to be compared to the two other methods I have on my smartphone to interact with Twitter. The first is the Twitter tab that is part of Wireless IRC, and the second is the mobile web site version of the service (http://m.twitter.com/). In both cases, Twibble doesn't quite match up in terms of slick graphics or stylish looks, but its functionality offers more than the mobile site, and is on a par with the Wireless IRC client.
Twibble may look rough and ready, but the beauty is under the surface in this application. If you're a Twitter user and you can run this Java application, then I see no reason to not be using this, over and above any mobile interface. [And Twibble seems to be regularly updated/improved - Ed]
-- Ewan Spence
Reviewed by Ewan Spence at