Review:
Tweets60
Score:
72%
Guest author David Gilson provides a brief look at a freeware alternative to the well known commercial Gravity.
This application doesn't have quite as many features as the most well known S60 Twitter application, Gravity, although one big plus here is that is is free! Don't get me wrong, I don't object to paying for software. Mind you, most pay-for mobile applications have licence keys which are tied to your individual handset via its IMEI number. This means that upgrading to a new phone becomes a very tiresome and expensive exercise. Besides the sense of injustice at having to re-buy something I've already paid for, it is the sheer inconvenience of this business model that makes me use free mobile applications whenever I can.
Tweets60 makes posting to Twitter very easy. While writing a "tweet" you get a countdown of the remaining characters. Also, by selecting the "Add URL" menu option, you can manually enter a URL or select a site from your bookmarks, which will then be automatically shortened through one of the popular URL shortening services.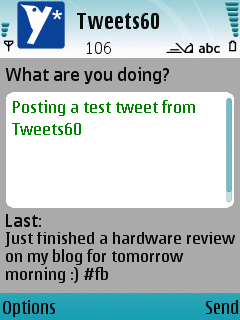 Posting to Twitter with Tweets60
Responding to tweets by other people is easy, with menu options to reply, re-tweet or direct message the user.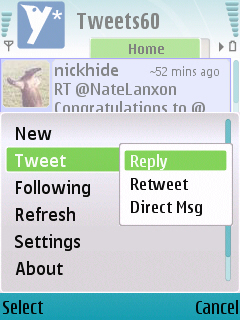 Responding to others with Tweets60
Tweets60 works on a tabbed system: you have your "Home" tab for seeing tweets of those you follow; A "replies" tab to see who is tweeting at you; A "Direct Message" tab for private communications; A tab for viewing your favourite tweets; Finally, there is a tab for your own updates, so you can review what you've been saying. However, you cannot delete your own tweets, which can be troublesome if you don't spot the typo you just made until after you pressed Send!
You also get a menu option to follow or unfollow people through Tweets60. Selecting this menu when just viewing your Twitter timeline gives you a text entry box to enter the name of who you want to follow or unfollow. If you select an individual tweet to read which has '@' hyperlinks to other users, selecting the hyperlink and pressing your select button will present a prompt asking if you want to follow that person. Tweets with hyperlinks will launch the phone's browser when selected. Tweets60 doesn't appear to recognise secure (https) links, which is a shame.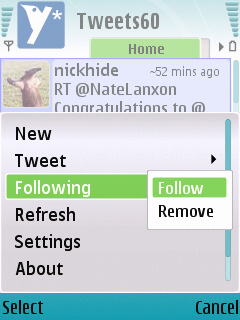 Following and Removing people on Twitter with Tweets60
Another interesting feature of Tweets60 is its alternative to the standard S60 access point list. Tweets60 requires you to make a list, in order of preference, of access points to use. This includes a "Easy WLAN" option which will automatically scan for nearby WiFi hotspots and connect to whatever it can. I think this is a nice idea, but in practice it is too slow. Even waiting for it to work out whether it's in range of my home router, and then when not, defaulting to my mobile data connection, just takes too long. Since I want to quickly check Twitter while I'm out and about, I find myself dipping into the menus to reconfigure the access points myself.
So, if you want to try out Twitter on your S60 phone with something more sophisticated than the mobile Twitter site (m.twitter.com), but without having to spend any money, then I'd suggest giving Tweets60 a go.
Update:
Since this review was originally written, Tweets60 has seen some rapid development. In addition to being able to add favourite tweets, the soft-key layout has now been altered. Previously, when writing a Tweet, "Send" was on a soft key and "Cancel" was in the menu. These have now been exchanged, making it far less likely that you'll either tweet prematurely or tweet without proof reading first.
David R. Gilson, 17th September 2009 (website)
Reviewed by Steve Litchfield at