Review:
Traffic TV
Score:
77%
Steve test drives Traffic TV, a Java-based traffic monitoring system for all smartphones.
Buy Link | Download / Information Link
If you've been around the mobile navigation scene for a while, you'll already have come across various real-time traffic monitoring solutions, though as part of larger route calculation products. TrafficTV, as the name suggests, gives you similar real-time traffic reports (sourced from TrafficMaster) but with the addition of relevant CCTV images from the affected areas.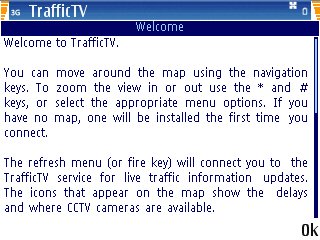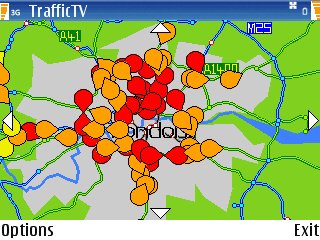 Booting up TrafficTV on any smartphone (here I'm using the S60 3rd Edition-powered E61) is straightforward enough, although as with any Java-based system there's a huge hit in terms of RAM - you'll lose 6MB at the very least, meaning that to stand a chance of running this you'll need an N70 or better (in the Series 60 world). Susprisingly, TrafficTV blends in well with the native S60 interface and only occasionally are there reminders that this is one huge J2ME midlet.
On starting up there's a familiar collection of traffic speed blobs (the redder, the slower the traffic) and it's easy to zoom in and out, scrolling around to see just the area of the country you're interested in.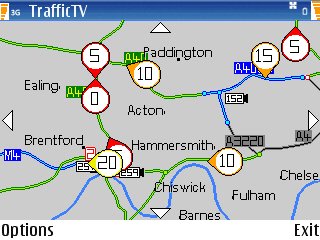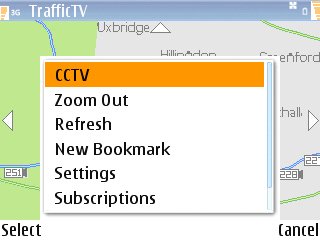 You'll be fairly familiar with the TrafficMaster coverage, heopfully, as it's been around for several years and covers 8000 miles of UK roads, which is basically all the motorways and primary routes plus major A roads near cities. The CCTV bit is newer, in that TrafficTV's developers have done deals with several suppliers of roadside images (the Highways Agency, giving mainly motorway snaps, Reading Borough Council, the Scottish Executive, Traffic Wales, Nadics, Tyne and Wear Passenger Transport Authority, Hampshire County Council, Transport for London, Southampton City Council and m-spatial). You'll get some idea on the geographic coverage of the cameras featured in TrafficTV by most of those names. In summary though, you get roadside cameras for most motorways, London, Tyne and Wear, Southampton, Reading and other selective locations.
Selecting CCTV shows the cameras available on the current map view: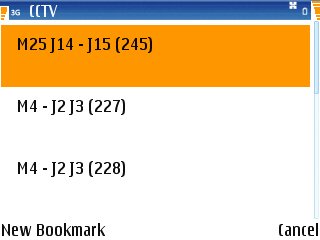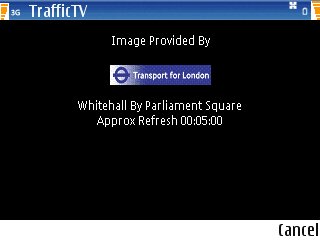 Road images are updated every five minutes or so, which is good enough, and they load quickly and don't use up too much precious GPRS or 3G bandwidth. In the course of a half hour session with TrafficTV, I managed to clock up 1.5MB, but in normal use (checking out an area and displaying a couple of cams) I'd estimate only 100K or so would be needed, equating to only 70p on the most expensive GPRS tariffs and only 23p on the most common one.
Once you've subscribed, you also get free access to the main TrafficTV web site, where you can view all these maps, warnings and photos over a desktop's broadband connection, letting you do many checks before you even leave home or the office, leaving only a few extra views to be done using your mobile's more expensive connection, and this should also help keep running costs down.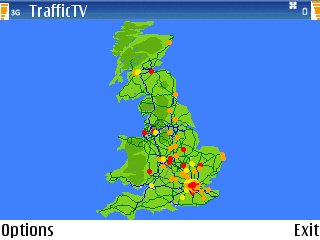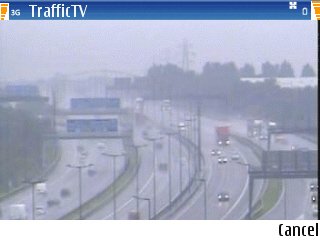 As a proof that the photos are genuine, the ones above and below this paragraph demonstrate that (unusually) it was a grey and rainy day in the South of the UK and a sunny one up in Scotland!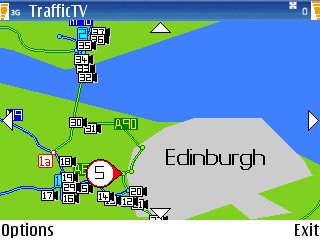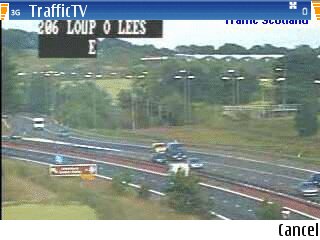 In all honesty, the cameras are a bit of a novelty. They're fun to look up and there's a huge wow factor, but in most cases they're simply going to show you what you already knew. Either that the traffic in a particular area was snarled up (which you knew because of the TrafficMaster icons) or that traffic in an area is bad because it always is - for example the two images of Reading below, snapped during rush hour. There's not really much point in seeing the lines of cars - as a local I know full well that both locations will be very busy.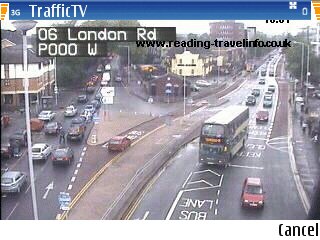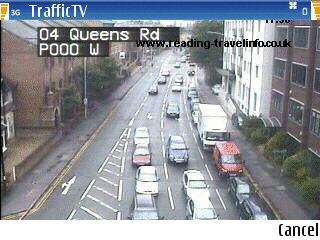 Still, there's no doubting the fact that TrafficTV works extremely smoothly and does what it claims to, within the limits of its TrafficMaster data feed and its licensing deals with camera operators. The developers plan to keep improving the product too (which they'll have to, as they'll have to keep persuading people to keep subscribing each quarter/year), with "speed camera warnings/additional information such as weather/car parks and more detailed maps".
Importantly, for a product of this kind, with such specific geographical coverage, TrafficTV can be fully trialled before committing yourself to subscribing. At £40 a year it's good value for any regular traveller though. It won't tell you about every hold up on every road on a 100 mile journey, but it'll give you a fighting chance of avoiding the worst snarl ups on the major roads. Which in turn equals less time on the road and less stress all round.
And the added side benefit of being able to impress colleagues, friends and family with 'live' CCTV images from around the country!
Reviewed by Steve Litchfield at