Review:
TomTom MOBILE 5
Score:
92%
TomTom MOBILE 5 is a tremendous achievement and a true killer application, with a beautifully honed interface and rock solid functionality.
Version Reviewed: 5

Appearances can be very deceptive sometimes. Seeing TomTom MOBILE 5 running on a Series 60 smartphone's tiny 176 by 208 pixel screen, the interface doesn't look very different from Route 66 and the capabilities don't at first appear significantly more than Wayfinder. But dig deeper and you'll find that MOBILE 5 contains exactly the same application as featured in TomTom's new range of standalone GO devices and the new versions of the Palm/Pocket PC Navigator 5 systems. Apparently the developers have gone to great lengths to standardise their code across all the different mobile computing platforms and MOBILE 5 is the first major fruit of this.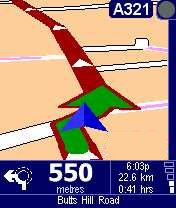 For you, the user, this means that you get advanced planning, vias, itineraries, animated 3D walk throughs of routes, dozens of POI categories, not to mention real time Traffic information, re-routing you if things turn nasty in the rush hour. All on your tiny S60 smartphone, absolutely nothing has been cut down. Now that's pretty impressive. But before you get too carried away, I ought to point out a few caveats to address the balance.
For starters, you'll need the right Series 60 phone. The TomTom web site suggests a choice between the Nokia 6260, 6600, 6630, 6670 and 7610, with no mention of older (or newer) models or indeed anything from other smartphone manufacturers. In practice, I'm led to believe that any unit with Symbian OS 7 and above should work, although you'll need something with lots of execution memory (RAM), MOBILE 5 needs up to 6MB all to itself when running. I tried it on the 6600 and 6670 (from their list) and am looking forward to trying the Series 80/90 versions on the Nokia 9500 and 7710 respectively (watch this space for a separate review link for this).
Next, the box contains TomTom's latest Bluetooth GPS, which may be a bit galling if you already own one (perhaps having been trying out a competing package). If you already own TomTom MOBILE (and have a valid product code), you can upgrade for about 80 Euros, which gets you a new memory card packed with maps and the new application. The 'Wireless GPS Mk2' is basically the same as the old TomTom GPS but with a hole through the top, presumably for attaching a lanyard.
MOBILE 5 comes on a RS-MMC (128MB for the UK version), with an adapter in case your smartphone takes the full size MMC cards. Incidentally, although I didn't try loading MOBILE 5 onto a corner of a larger card, I'm 99% sure that this would work, since TomTom's activation system is keyed to the physical phone and not to the card. Which would save having to shut the smartphone down every time you wanted to change card to the TomTom one.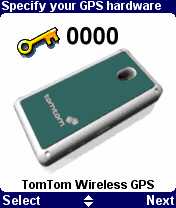 Finally, despite the impressive functionality in MOBILE 5, it's worth noting that it's ultimately not much better than any other route planning system at actually getting you to where you want to go as fast as possible. Yes, you'll almost certainly get to your destination, which in a strange town is usually enough. But when testing the system around your local urban area, you'll notice many occasions when your own local knowledge produces faster routes, avoiding known problem junctions and generally trying not to take the same route as everyone else. There are quite a few sets of traffic lights in my local city where you can quite (un)happily) sit for 10 minutes at a time because of poor light phasing, and in such cases you have to know to simply avoid them. MOBILE 5 has an 'Avoid part of route' function but there's no way to get it to remember that you don't like a certain road or junction for future journeys. Similarly for heavy traffic away from major roads, where there probably won't be TomTom Traffic information (see below for more on this, you get a one month trial of this service free), so you'll have to tell the system about the problem each time, at the time.
But you'll have noticed the AAS Mega App award at the top of this review. Despite its heavy memory requirements, TomTom MOBILE 5 is just as much a killer application for Symbian Series 60, UIQ and Series 80, as Street Planner was in the days of Psion. Adding really powerful voice-guided navigation to your smartphone is something of a revelation, of the same order as when you first set it up for mobile email and then realised that you could check it any place, any time.
Although MOBILE 5's interface isn't standard Series 60, in that there's no conventional Options menu and there's no network/status bar, the screen is used very efficiently and at no time was I left wondering 'what do I do next?'. Pressing in the navigator key pops up the main menu, with every function nested from this. You can either move round the menus using the navigator key or by pressing the listed number key, and everything's extremely intuitive. You don't even have to use the 'Next' menu functions, as left and right on the navigator cycle between the available menus. Because of the common code base, shared with all the other mobile platforms, you'll also find MOBILE 5 a doddle to use if you've previously used a TomTom GO or their Navigator PDA product.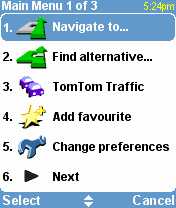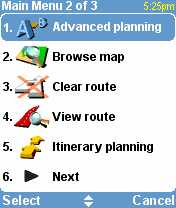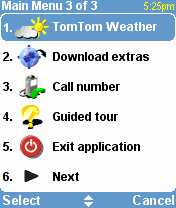 There's no point in going into detailed specs here (see TomTom's site for full details, manual and FAQs), but it is worth noting some of the standout features that I really liked. Remember that I've previously tried Wayfinder (nice idea, but let down by a quirky interface, by not working when GPRS coverage is patchy and by having to pay a yearly subscription) and Route 66 (works well and generally efficient, but very slow to start up and let down by poor POI databases and by a lack of town sorting in street finding results).
There's tremendous flexibility in MOBILE 5's selection system. When navigating to something, there's a choice of Home, a Favourite location, an Address, a Recent destination, a Point of Interest, a Postcode, a Point on map, a City centre or a POI in a city. And for every other situation in the program where selection of a location is needed, the full range of options is available, every single time. There's some seriously impressive programming at work here. Usefully, it remembers all the places you travel to (including POIs) and offers them for rapid fire selection next time round. Navigating 'Home' only needs three taps of the navigator, with no scrolling needed at all.
Although there's no direct integration with Contacts in the main MOBILE 5 application, there's a reasonable workaround in the supply of the clumsily titled 'Contacts Navigation', a simple viewer of your standard Contacts store with just two functions: for each contact, you can 'Show address in map' or 'Navigate to...'. The switch back to the main MOBILE 5 application is particularly slow (around 10 seconds), but it's still faster than entering most of the town and road name by hand.
Unlike Route 66's road-finding system, quick matching roads in MOBILE 5 is still pretty quick, with selection of town or village followed by street name, or (for UK and The Netherlands) just entry of the postcode, should you know it. Selection of POIs is made trivial and fun, thanks to good sorting by distance from your current position.
In fact, nearly everything is quick in MOBILE 5, with routes (and on-the-fly re-routes) being calculated faster than in Route 66 and with no discernable delays in screen updates after each route junction.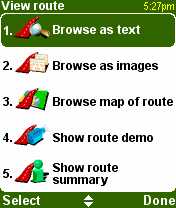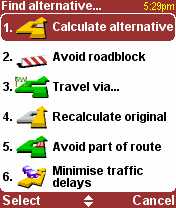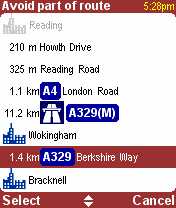 For anyone who likes to plan routes beforehand, there are powerful 'Find alternative' route options, plus a new itinerary feature, although I prefer to (hopefully) save time and just set off in the right direction, using as much common sense and local knowledge as possible, relying on MOBILE 5 to guide me and re-route me as needed. The 'Avoid roadblock' menu option is particularly handy for those occasions when you think 'blow this, I'm going to try a side road and see where it takes me'.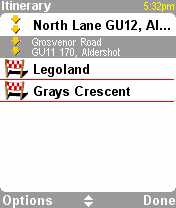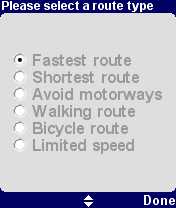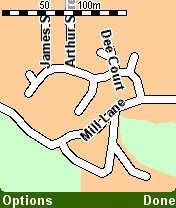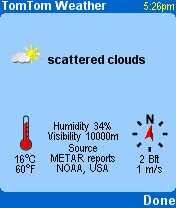 There's a great set of (surprisingly useful) Preferences, with the highlights being the switch to 'night colours', a POI manager that includes the facility to add your own categories and warn you when you're near a POI entry in a particular category, and the ability to choose how you want MOBILE 5 to plan your routes (fastest, shortest, avoiding motoways, 'ask me when I plan', etc). Impressively, there are over two dozen preference items in all, although there no sign of a preference to set speeds over different grades of road, with the result that journey estimates are sometimes significantly wrong (e.g. '44 mins' on a B-road journey I did yesterday in just under 30 mins).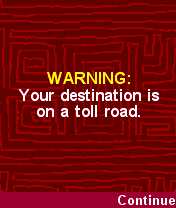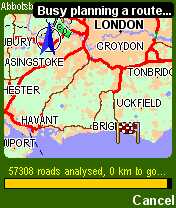 I mentioned TomTom Traffic above. This is part of TomTom's 'PLUS' service, essentially all the bits that need GPRS Internet access. Some downloads (a few city maps and updates) are free, but by far the most useful bit is access to the integrated real-time Traffic system, which is charged at up to 60 Euros (£40) a year. This pricing is about right, being too high to consider for casual use but a real bargain for a road warrior.
Once subscribed, you can update MOBILE 5's traffic incident database as and when needed or 'Automatically update traffic info while on route'. At its most powerful, you can set it to 'Automatically optimise the route after every update'. The upshot of which is that MOBILE 5 will keep you on the fastest route, automatically taking up to the minute traffic conditions into account.
The integration of TomTom Traffic into MOBILE 5 is impressive, with a incident guide on the main 3D view (the indicator at the top shows how recent the traffic info is) and a useful incident browser available at all times. As shown below, you can view a summary of incidents across the region and then scroll through details of those on your planned route. Slow moving queues are counted as incidents, but only on major roads - you won't find typical urban jams marked. If you haven't already opted for automatic replanning around traffic, the incident browser is where you press 'Avoid' to get re-routed around the area.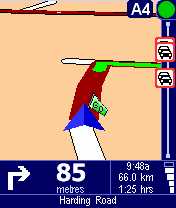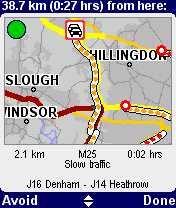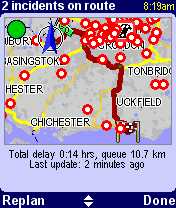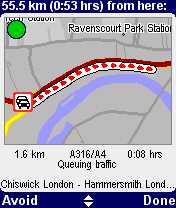 Would I recommend TomTom MOBILE 5 to a newcomer to the genre? Absolutely, it's a cinch to use, just bite the bullet and dip into your wallet to the tune of £200 inc VAT without reservation. If you already own the previous version then you're going to have to really want the new itinerary and Traffic features, plus updated maps, though at only 80 Euros (£50) the upgrade pack cost isn't exorbitant. If you've already paid for Route 66 or Wayfinder, you've got a tough call: yes, MOBILE 5 is substantially better, but having to buy a full satellite navigation system all over again will depend on the depth of your purse and how badly you want to own the best there is.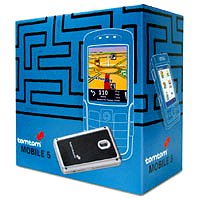 TomTom MOBILE 5 (and its sister products on Palm OS, Pocket PC and GO platforms) is a tremendous achievement and a true killer application, with a beautifully honed interface and rock solid functionality. Maybe it will finally help wake the great unwashed up to the capabilities of 'the smartphone they bought because they wanted to look cool'. Let's hope so.
[link to review of Series 80 - Nokia 9500 version]
Steve Litchfield
May 2005 for AllAboutSymbian.com
Reviewed by Steve Litchfield at