Review:
Time Chime
Score:
59%
Version Reviewed: 1.00
Buy Link | Download / Information Link
Ever since reading about a certain time management technique on Merlin Mann's 43 Folders website (http://www.43folders.com/) some years ago, I've been interested in the effect that a regular alarm can have on a busy lifestyle. The sort of alarm that goes off at a regular interval which then forces you to make sure you check your To-Do list, move on to another task, or finish that cup of coffee because there's a deadline.
So Time Chime, from Cellphonesoft, might be a good portable solution that makes this GTD-esque method work. It has a pretty simple goal; to trigger an audio alarm at regular intervals. There are two timers that work independently, one that is set to ring every hour, and another set for every quarter hour.
I remember having a similar option on my Casio digital watches and thought it was 'a really neat idea' (cf Douglas Adams) and you know what? Now it's back on my mobile phone I'm back to thinking this is really nice and helps me keep track during the day.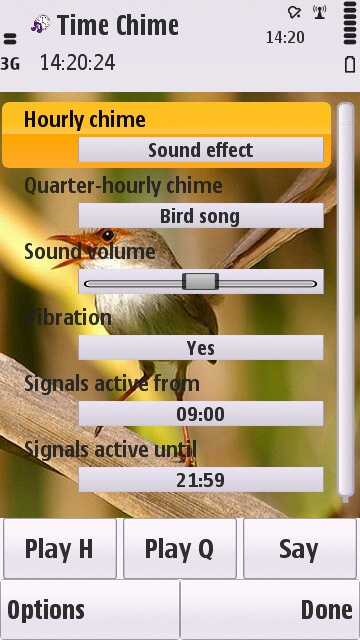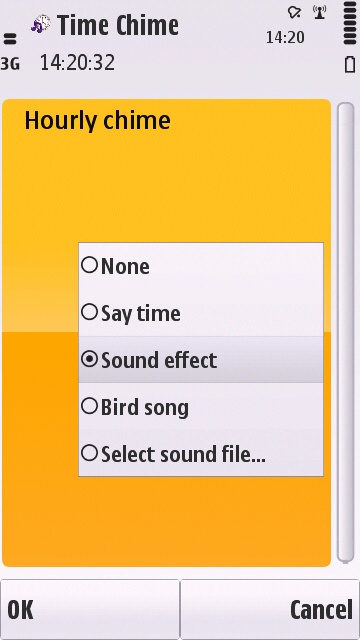 It's even got some special smartphone tweaks to make it fit my life even better. Most importantly, you can set a time period where the chimes will not ring – vital for a good night's sleep if your phone sits by your bed, as mine does. You also have a choice of alarm tone – and while the app suggests some rather nice bird song, a simple sound effect or "say the time", you can also have your own sound file play, be it a ringtone, mp3 track or other edit.
So Time Chime has a lot that's attractive, but it could do a lot more. I'd like to see the chimes have more flexibility... why restrict them to just two with one as hourly and one every fifteen minutes? I'd like to see the user allowed to enter his own time gaps, but by all means leave the hourly and quarterly alarms as the default! Personally I'd like to have hourly and ten minutely (if that's a real phrase!) as it would fit me slightly better.
And Cellphonesoft really need to think about the price. Nowadays you can't get away with a stopwatch/timer application costing close to $10. I think that's the only major blot on Time Chime's copy book. Bring this in at $3 with some more customisation and they'll have a winner.
-- Ewan Spence, May 2010.
Reviewed by Ewan Spence at