Review:
Symbian OS Smartphones For Dummies
Score:
75%
A great primer for new users, and given it is a Dummies brand, and not a manual, it's got more chance of being read.
Version Reviewed: First Edit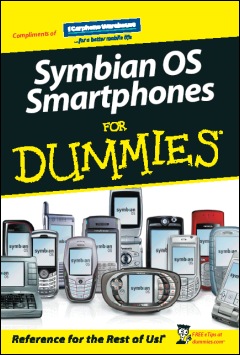 So how do you educate people that their brand new Nokia Cameraphone can do a lot more than take pictures and make phone calls. The solution? Put together one of the UK's most popular mobile phone shops (the Carphone Warehouse), the leading idiot's books brand (The Dummies Guide to...) and the intellectual dizziness of Symbian OS, apply some alcohol (probably), and see what they come up with.
The result is this: "Symbian OS Smartphones for Dummies."
It's got a simple mission to accomplish. Most people buying any technology refuse to pick up and read the manual, so unless they're really clued up about the unnamed Operating System and UI in their new phone, they'll never realise it's Symbian OS. They won't realise that , that they can change themes, add software, or do a million and one other things that will make them loyal to Symbian OS, and generate extra revenue throughout the community. If they get this booklet with the phone, then the main points are emphasised here, and everybody wins.
The book looks at four areas with just enough depth to get the reader started (which I guess is the idea, here). There's a brief mention of Series 80, but the book is primarily aimed at Series 60 and UIQ owners. The first part lets you identify your UI layer, and what everything does and represents. Part two looks at making the connection to your PC, and the process to install and then run new software downloaded from the Internet. Part three looks at a few good things the phones can do, such as theme support, changing your ringing tone, and getting onto the internet using the automatic Configuration via SMS service available from most networks.
Finally, there's a nice warm feeling when the recommended web links in Part four put All About Symbian as the number one site. It was only in the cold light of day that someone pointed out the list was in alphabetical order so I've still no idea if we genuinely would be top or placed further down. Not that I'm complaining, you understand...
"Symbian OS Smartphones for Dummies" was previewed at the Symbian Expo on the Symbian Press stand (a Symbian joint venture with Wiley who now own the Dummies brand, which is nice), but it's not really aimed at the Developers and Industry heavyweights. It's aimed at you, the end-user. In the UK it should be available to pick up in branches of The Carphone Warehouse this week. It would be great if the Dummies website could carry it as a PDF for overseas Symbian OS users.
Overall this is a great primer for new users, and given it is a Dummies brand, and not a manual, it's got more chance of being read. So a solid thumbs up from us here, and a 75% mark from the AAS team. The only complaint? It's way too small. While a little pamphlet like this is a great start, what it really needs in the back is an advert that says "order your copy of "The Complete Symbian OS Smartphones for Dummies" for the monster 300 page version. Hmmm....

Reviewed by Ewan Spence at