Review:
Super Drop Mania
Score:
75%
A great diversion, and perfectly suited for those moments when you want a quick five minute game of something while you're out and about.
Version Reviewed: 1.0
Buy Link | Download / Information Link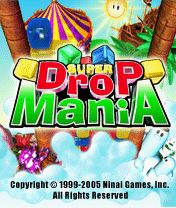 A long time ago, in a country far far away (Russia to be exact) the rules of Tetris were created. That was the proverbial lightning caught in a bottle. As the Tetris game slowly made its way onto every platform in the world (hey I even had a digital watch that played Tetris in 1990) people started to realise that gameplay was not everything, you needed a good interface, controls and something that the end-user could easily relate to.
And they also surmised that the perfect puzzle arcade game was with falling blocks against a rising sea of unsorted blocks, with some funky rules that would make them vanish. So if we twist it slightly and we make it big, then it's our game, not Tetris, and we can make buckets of money without worrying about copyright.
And on the whole, end-users have discovered that while the puzzle genre is a strong one, there are only a few sensible rules that can make blocks disappear. Probably one of the most effective (after Tetris' row rule) is when you have to gather a group of identically coloured blocks together. When you drop a 'bomb' of the same colour, that entire colour group will disappear, gravity drops the other blocks (no gaps left behind) and you keep on dropping colours.
This is where Fathammer's "Super Drop Mania" comes in. It takes the puzzle format above - which we've seen a few times before for Series 60, most noticeably in Puyo Pop for the N-Gage – and turns it into a pretty compelling game. It's nothing that puzzle freaks won't have seen before in a million other platforms, but Fathammer (and Ninai Games) have concentrated not just on the game play, but on the all important look and interface as well.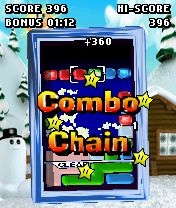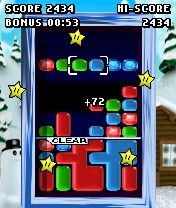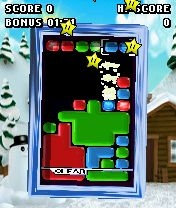 The Series 60 portrait screen is ideally suited to a game of this design, but what's incredibly freaky is the decision to have the game play area floating above a backdrop, and slowly rocking and spinning from side to side while you are playing. Now on one level this is just showing off. I can't blame them for that, because the X-Forge 3D engine used here, while it may be designed for 3D excitement like Stunt Car Racer (see our review here), it handles the flat-ish graphics really well. It makes the spinning board something really good to look at when you're not playing the game.
My one fear, that all this graphical work would distract you when you are playing the game, or slow down the gameplay, never materialised. In fact, even though I know the board is moving, because the I've watched the demo mode, it's something that does not distract you while you are playing.
The controls of the game are incredibly easy. Along the top of the screen, you have a strip of six coloured balls, and by pressing '5' you can swap over a pair of them. When you've got a pair that you are happy to have dropped into the playing field, hit down on the cursor. And that's it. From such simple controls, addictiveness ensues.
Super Drop Mania isn't insanely addictive, and is lacking a bit of a "one more go" feeling that you find in really good versions of Tetris. It is a great diversion, and perfectly suited for those moments when you want a quick five minute game of something while you're out and about. It's not going to change the world, but it is a good mobile game that's going to keep you entertained.
---
Reviewed by Ewan Spence at