Review:
Sudo Magic
Score:
75%
Ewan takes a look at another Sudoku variant, Sudo Magic, and is very happy with the challenge on offer.

Version Reviewed: 1.01
Buy Link | Download / Information Link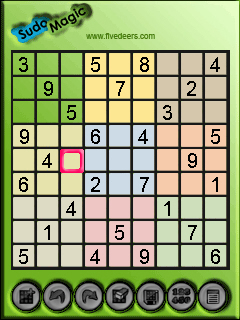 I've been watching the development of the titles from Five Deer Software since the summer, with the launch of a java Rubik's (err) Magic Cube. Just before Christmas, Patrick dropped me an email to say that they had finished Sudo Magic, and would I like a look at it? Yes, I would!
And while it does get tagged YASC (Yet another Sudoku clone), there's enough thought going on here to make it a keeper on my smartphone.
Starting with the interface – it's a dual switching mode. In the first mode, the cursor moves around the 9x9 game grid, and your number pad enters the numbers into the onscreen Sudoku grid. Hit one of the soft keys, and you're taken to the icon strip along the bottom, which provides all the functions you'll need in the game, including a handy undo feature.
I have to say, the look of Sudo Magic is wonderful. Five Deer Software have put a lot of effort into the look and feel of the application. It's very bright and cheerful – just the sort of welcoming touch a puzzle game of this complexity needs. I especially like that the smaller 3x3 squares that make up the grid are each given a different pastel colour to help you recognize where they are on the small screen.
And lets make no bones about it, Sudo Magic is hard. Rather than go down a simple Sudoku grid where you can easily work out where a number goes just by looking at the surrounding grid and two other columns, the logic required for the Sudo Magic generated grids requires more complicated Sudoku solving techniques – you'll have to infer a few squares in your head before you can lock down a single square to a definite number. And that's just on the easy level.
I'm actually quite glad of this – trivial Sudoku grids are just like patience card games that are always solvable – I like a challenge in my puzzles, yes even to the point where I have to give up(it just means I've found my level and know when I'm improving), and Sudo Magic is certainly delivering that.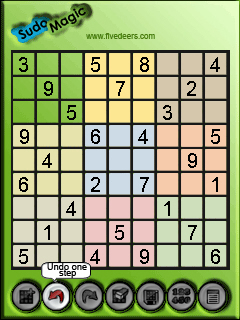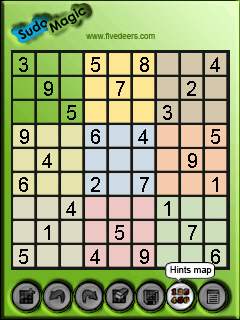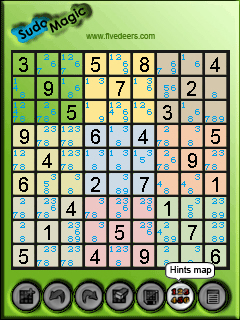 One thing that is missing is the ability to build up 'hints' inside each square – i.e. if you're sure only a 1 or a 5 could be there, you can add in very small numbers as an aide memoir. This is something a lot of Sudoku games have, but Five Deer have implemented this in a slightly different way. The small hint numbers are already pre-populated, and one of the options on the icon grid is to show all these hints in one fell swoop. This not only negates the mind numbing task of doing it myself, but also gives those not adept at techniques such as 'double pairs,' 'hidden triples' and ' the x-wing' (see here if interested) a fighting chance at solving the grid on sheer intuition.
Sudo Magic is a departure from what you would expect from a Sudoku game, but not drastic enough to scare you off. As I said, I think that there are enough trivial Sudoku implementations that this decision to 'go hard' is the right one, and makes this a great application to keep you thinking in your downtime.
-- Ewan Spence, Jan 2008.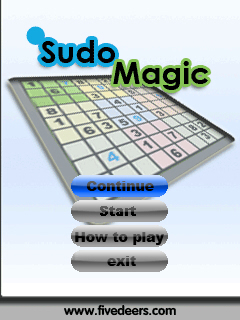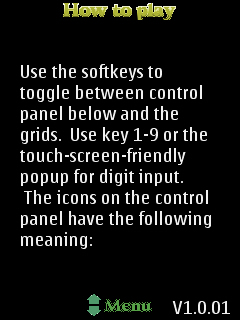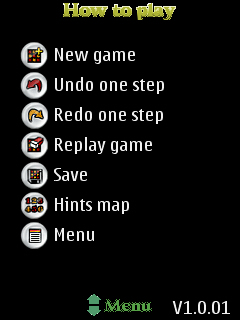 Reviewed by Ewan Spence at