Review:
Sticky Notes Review
Score:
63%
David Gilson looks at this productivity novelty....
Version Reviewed: 1.0
Sticky Notes is a note manager with a difference. Rather than typing notes, the user has to write them to virtual peices of paper, which are then stuck to a virtual notice board.
The application initially starts with an empty board and stack of blank notes. Tapping the stack changes its colour. To begin writing a new note, the user simply has to choose which colour they want, and then drag a note from the stack onto the board.
While editing, the note is scaled up to the full width of the screen, which makes writing easier. Writing is best done with a stylus, but the tip of a fingernail usually does the trick. There is limited editing capability, as there is no variable width or eraser tool, as found in basic paint applications. If a mistake is made, the only remedy is to tap the bin icon at the top of the screen, and start all over again.
On the board, notes can be dragged to any location, and even overlapped. Moving from one side of the screen to the other induces a subtle tilt, making notes look naturally placed, adding to a slight sense of realism.
There is a temptation to see Sticky Notes as more than a novelty application. However, there is no way to import or export data, besides taking a screen shot (for later uploading to something like Evernote). But it is an enticing idea to have this as a shortcut on your home screen, thus allowing you to quickly capture thoughts with a quick scribble.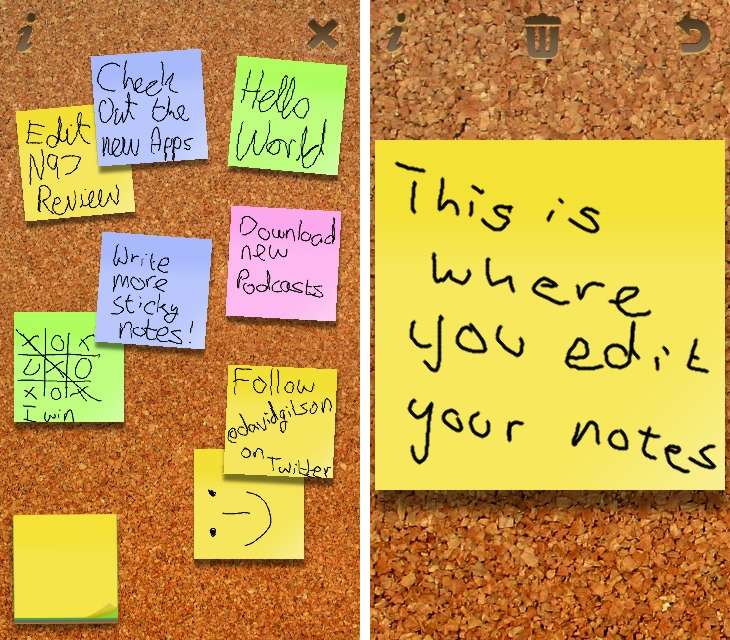 Reviewed by David Gilson at