Review:
Review: Spotify Premium
Score:
70%
David Gilson dips into his wallet to subscribe to the tenner-a-month Spotify Premium, giving him streaming and download access to just about all the DRM-ed music he'd ever want from Spotify's servers. Is it ultimately worth it and how good (or limited) is the mobile (S60) client? Find out in David's detailed Spotify Premium review.
Version Reviewed: 0.3.23 (64201)
Buy Link | Download / Information Link
The streaming music service , Spotify, occupies an interesting position in the online music market, standing between the world of purchased DRM-free music, and obtaining free music from less legitimate sources. Spotify makes it so simple to start listening to the music you want to hear, that pirated music finally has some competition.
For zero-cost to the end user there is a desktop-only client, supported by advertising. Then the premium subscription of £10 a month gets rid of the adverts, lets you listen at higher bit rates, and lets you download content for offline listening. Furthermore, and of most interest to readers of All About Symbian, the premium service provides a mobile application which synchronises your playlists to your phone and allows you to stream or download on the move.
The beginning is usually a good place to start, which unfortunately means I have to start with a complaint. There is no option to choose which drive Spotify is installed to. It is hard-wired to install on internal memory (C:), yet it knows to cache music on the memory card (E:). This is important because Spotify is a 5MB installation, which is a significant chunk of internal storage on most S60 phones.
On launching Spotify, you have the option of going online or staying offline. The latter only being useful, of course, after you have downloaded some tracks. During your session you can switch between online and offline modes from the settings screen.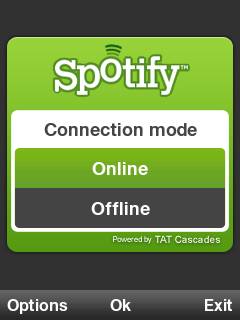 The user-interface is impressive, and the style will be familiar to Gravity users. There are four key modes to Spotify: Playlists, Search, Home, and More. The latter being your de-facto settings page.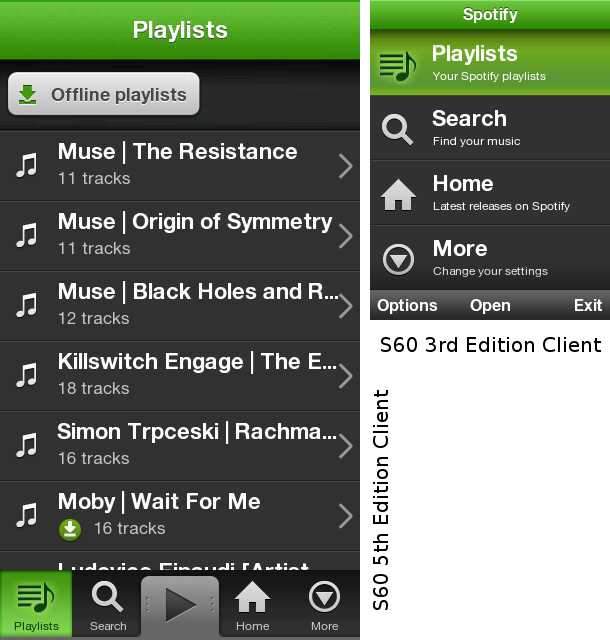 On S60 3rd Edition phones, these modes make up the first screen you see. Although touch-screen 5th Edition phones have these as buttons along the bottom of every screen, along with an extra button in the middle which will throw up the 'now playing' interface. The latter displays album art, and pop-up menus for other control functions.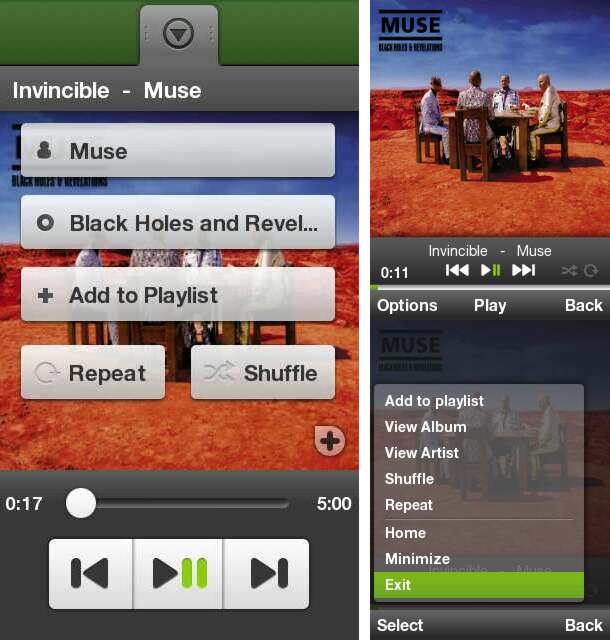 When you load up the playlist screen you'll see all of the same playlists that you had on your desktop client, thanks to them being synchronised with Spotify's servers. This is a really nice touch which gives you a sense of cloud computing for music. Any list you create on one platform will be available on the other. From there, you can switch into the download selection screen to choose what you want to listen to offline. This way, you can download all you want via your home wifi, and when you're out and about you won't have to be using up battery power or money to stream your favourite tracks.
When you uncheck offline playlists, you'd be forgiven for thinking nothing has happened if you check the size of the E:/data/spotify/storage/ directory. However, I checked with Spotify's press office, who said: "Spotify is smart in that it waits for a few minutes before it starts deleting tracks - in case you change your mind about unchecking a playlist".
While you are in offline mode, the playlist screen displays your online, and thus unavailable, playlists in grey, while the rest are shown in bright white. I would have liked to have an option to filter out unavailable content, so that I didn't have to scroll through dozens of playlists that were not available to me, at that time.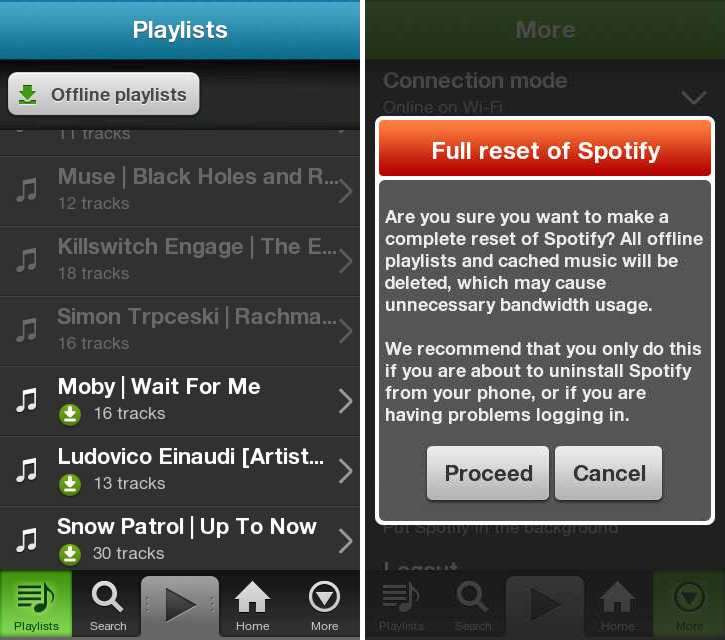 Searching for content is easy. Once you've entered your search text, you are given matches in three categories: Tracks, Albums and Artists. You can pull up a three-tabbed sub-interface for artist information from either search results or the 'now playing' screen. This gives their top hits, Spotify discography, and biographical information – all as you'd expect to find on the desktop client.
One small gotcha I noticed while testing search on a touch-only 5530, was that you were stuck with T9 or multi-tap input. The Spotify client doesn't seem to support any form of screen rotation, and this applies to the on-screen keyboard too. So you can't rotate the phone for a full-screen QWERTY keyboard.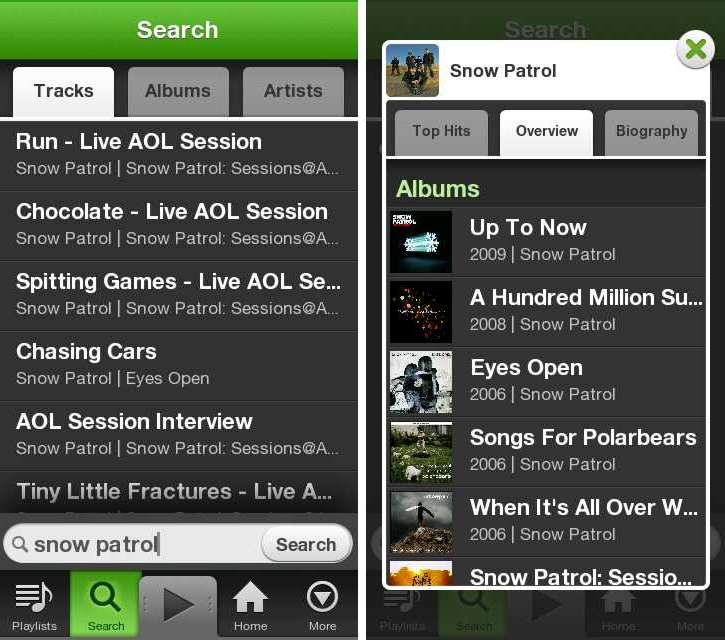 The 'Home' screen displays a selection of newly added material, just as you find on the desktop client. Although, this is where some desktop to mobile disparity creeps in, since the desktop home screen also suggests other artists you might like, based on your listening habits. This is sadly missing from the mobile application.
Other social features are missing too. The desktop client will 'scrobble' to your Last.Fm account, but this is not available in the mobile application. There is also no way to share playlists between users on the mobile client.
Conclusion
Despite my list of grumbles with the mobile Spotify application, it is a pleasure to use. The novelty of having such a huge catalogue of music available for direct delivery to my phone has yet to wear off.
You have to consider the cost though, £10 per month is expensive. Do you think you spend an equivalent amount, or more, on CD's or digital downloads? If so, then this isn't a bad deal. It might also be worth bearing in mind that you can get Spotify Premium bundled with some contracts on Three. Once you decide to stop subscribing to Spotify, you still have access to all the same music, but only on your desktop computer.
Other things you might want to consider are audio quality, and music availability. I'm no audiophile, but I think the quality is excellent. As for track availability, I think you'd have to search pretty hard to find something that isn't there. Although the record labels, in the inimitable industry style of shooting oneself in the foot, did impose regional restrictions on Spotify. Like the song says though, "things can only get better".
David Gilson, All About Symbian, 23 Feb 2010
Find me on my blog and @davidgilson on Twitter
Reviewed by David Gilson at