Review:
Sony Ericsson P1i - part 2: software
Rafe Blandford's continuing review of the latest UIQ 3 flagship, the P1i...
In part 1 of this review I looked at the hardware and design of the Sony Ericsson P1i. In this second part of the review I look at the software component of the P1i.


Additional RAM
It is actually one hardware change that creates the most significant impact on the software of the P1i. The doubling of RAM from 64MB to 128MB means there is a lot more memory available to run programs. The effect is more exaggerated that the mere doubling would suggest. The operating system requires just over 40MB to run and consequently, after booting, the first generation of UIQ 3 devices had up to 20MB of available RAM. With an extra 64MB now available this means the available memory has effectively been quadrupled.
As a result of the extra RAM, many more applications can be open at any one time. On the first generation UIQ 3 phones, applications would silently close down in the background if extra RAM was required. For example, it was unusual to be able to run both Web and the Camera application on the P990i at the same time. This situation was exacerbated by programs which needed to run all the time (and would automatically restart themselves if shut down) such as push email implementations like DataViz's RoadSync.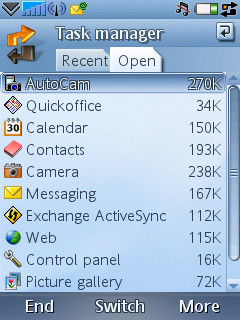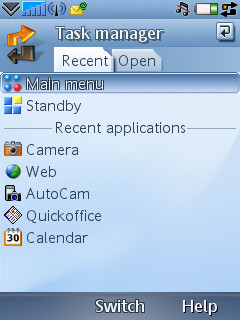 In some cases, programs would close or not start at all because of memory errors. This is no longer an issue in the P1i, since the extra RAM means it is possible to have all the major applications running at the same time and still have memory left over. This considerably speeds up most operations, because switching to an already open application (either from the launcher or from the Task manager) is much faster than starting the same application from scratch. It also means users can switch away from an application and be assured that it will in the same state when you return to it (especially important for games and for applications like Web).
The effect of the increased RAM should not be underestimated; aside from the performance benefits, it puts the UIQ 3 software platform in a much better light. UIQ 3's multitasking works far better when applications are not being shut down in the background.
Idle Screen
The P1i's most obvious software tweak are the changes to the idle screen. The P990i's idle screen was separated the today view and shortcuts via tabs and was rather fiddly to use. By contrast, the P1i's idle screen is similar to that found on the M600i. It combines the today view and shortcuts into a single screen. The today view lets you see new messages, upcoming appointments and tasks and missed calls at a glance.
The shortcuts are displayed along the bottom of the screen. On the M600i there were only five of these, but the P1i has an additional ten shortcuts which can be accessed via an on screen 'up arrow'. These extra shortcuts mean that, effectively, the best of both P990i and M600i idle screens are combined and is a definite improvement.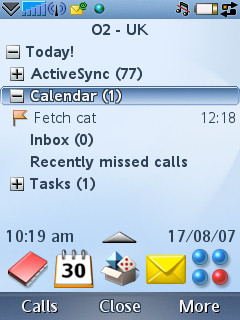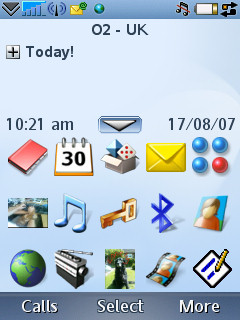 The shortcuts are flexible in what they can do; you can assign a shortcut to an application, a common task (e.g. new SMS, Bluetooth toggle, new appointment etc.), a contact, a document, a radio preset, a video, a web page or to a setting. Each of these types has differing set up, adding another layer of flexibility, for example contact shortcuts can specify the type of action (call, SMS, MMS, email). You can also customise the icon used for each of the shortcuts.
Although the shortcuts can be used to duplicate the application launcher, this is rather wasteful. I think they are best used for shortcuts to common activities. For example if there is someone you SMS regularly you could use a shortcut to allow one tap access to this rather than the multiple taps that would normally be needed. Alternatively, if have a regularly visited web page (e.g. for a weather forecast) set this up as a shortcut. Since phone usage patterns often revolve around the same regular activities (e.g. sending an SMS as you leave work) these shortcuts can save a lot of time if you take the time to set things up optimally.
One item of particular interest is that one of the default shortcuts on the idle screen is for 'More applications'. This is a mini application which opens up a web page offering links to third party software and services. Giving this sort of space and prominence to the ability to add third party software to the device is a step that should be applauded. It is exactly this kind of measure which is needed to educate new users about the abilities of smartphones and the potential for extra functions to be added. The web page is question offers four links: one to free applications - currently a VPN Manager and iSkoot (which offers Skype calling), one to Try and Buy applications – a broad range of some of the best third party software for UIQ 3, one for fun and downloads – free downloads of wallpapers, themes and ringtones, and one for the Sony Ericsson Application Shop (a mobile version of Motricity).


PIM, Messaging and Business
UIQ 3 users will be familiar with the PIM software bundle of Contacts, Calendar, Tasks and Notes. Calendar is the strongest component of the three, with flexible data entry and a variety of different views. Contacts is also good, but is somewhat unwieldy when used with 100+ contacts due to the anaemic search functionality. The necessity to record voice tags used in voice dialing is a poor experience compared to the speaker independent recognition systems found in other (S60) phones. Power users may want to consider a third party replacement such as DreamSpring's DreamConnect 3.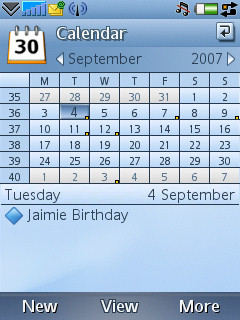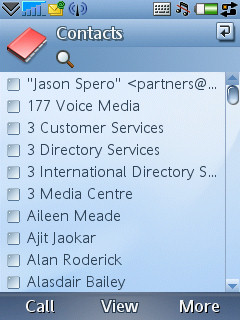 The P1i, with its QWERTY keyboard, has a definite enterprise email slant and, as you would expect, has excellent messaging support. Messaging itself supports all the usual standards and has good support for scheduled and partial download of emails. Out of the box support is provided for both Microsoft Exchange and RIM via a licensed version of DataViz's RoadSync and a copy of Blackberry Connect software. Only one of these systems can be installed at one time, but the fact that they are included by default reflects the all round good value of the P1i.
Both push email systems are fully integrated into UIQ's system of alerts (including the previously mentioned notification via the connector port LED) and into Messaging as extra inboxes and perform as expected. The supplied RoadSync version is not as fully featured as DataViz's latest offering on S60 (which has support for Exchange 2007 and remote search) although this may be rectified in time. Inevitably, always on push email has a battery life penalty, but it is surprisingly small in the P1i's case, thanks to good power management.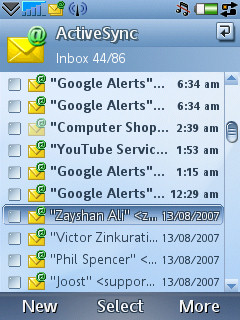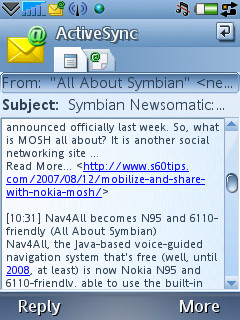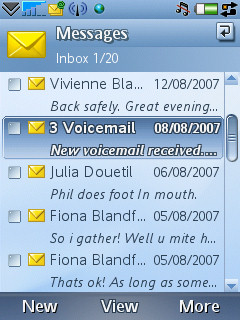 Also associated with email is Quickoffice which allows you to view and edit Microsoft Word, Excel and PowerPoint files. The version supplied is 3.6.60, which is a shame as the version 4.0 release (view and edit on S60 and view only on the UIQ 3 powered Z8) improves document round tripping and adds additional viewing and editing features. With the QWERTY keyboard, editing is a realistic proposition, especially for quick on the road edits. Given the software retails for $40+ it is a valuable extra to include out of the box. The familiar Pdf+ for viewing Adobe PDF files is also present, to round off the excellent attachment support.
There is also a business card scanner which, although perhaps a little gimmicky, does work and can save data entry time provided the card is formatted in a reasonably standard way.
PC Suite, supporting both Windows XP and Vista, is used when connecting to a PC. PC Suite ticks all the right boxes: it is functional, stable and easy to use. There is support for sync to Outlook, Lotus Notes, Lotus Organizer and the Windows Address Book (Outlook Express). On the phone there is also a SyncML client which gives further sync possibilities to Internet PIM systems. PC Suite also includes a number of other components, including a backup manager, a file manager for viewing and transferring files to and from the phone, an application installer, a MMS message composer and a mobile networking wizard that lets you use the phone as a modem.


Web and Multimedia
The P1i's web browser, a rebadged version of Opera, is good, although it lacks some of the innovations (such as page overview) found in other browsers. It has both full page and fit to screen modes, the latter of which is particularly suited to browsing on the move as you can follow links and move up and down the page using just the scroll wheel. Extra features, such as a variable zoom, full screen mode and landscape mode also help enhance the browsing experience. However, if you regularly browse full web sites then you may be frustrated by the lack of a page overview. It is a shame this functionality has not been included as it is in the beta version of Opera Mini 4 (which of course you can load as a Java-hosted third party app).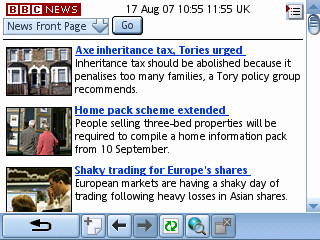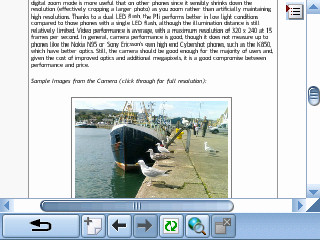 Sony Ericsson also include a basic RSS browser, which is useful for keeping up with news and is well integrated into the browser, but has a limited feature set and no import or export, making it impossible to sync a reading list with other RSS software.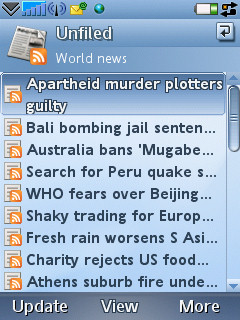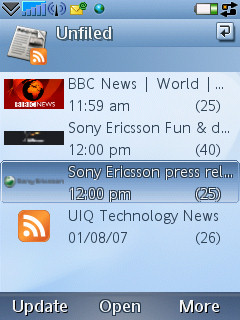 The hardware design of the P1i suggests an enterprise focus, but multimedia is also well served, thanks to an impressive software bundle. Music player has the usual category (Artists, Albums, Playlists, and Tracks) and hierarchical viewing approach to browsing through music stored on the device. Music player on the P1i lacks a few features and looks plainer when compared to its Sony Ericsson Walkman cousins, but is still a competent application and with features such as idle screen integration, playlist editing, a collection of preset equalizers and support for album art, measures up well compared to its competitors. The lack of a 3.5mm audio jack is a shame, although any of Sony Ericsson's stereo Bluetooth headsets can alleviate this issue.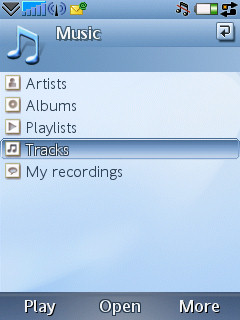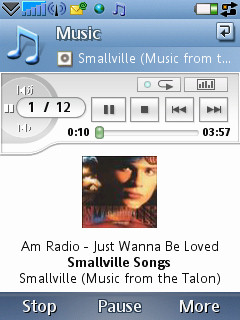 The Video application is used for both local and streamed video. It supports a number of MP4 video formats, including the popular H.263 and H.264 codecs and RealVideo. Video can be played back either within the application viewport or in full screen (in landscape orientation). A nice touch is the bookmark feature which allows you to easily resume a video at a previously saved point at a later time. For those that encode films or other long videos for playback on their phone, this feature will be particularly welcome.
Video performance is generally very good, although I did notice a few audio/video sync issues with some clips. Video encoded specifically for mobile usage generally does not have this trouble and streamed video playback performance can be improved by adjusting the application settings. You can configure the buffer for streaming media (extending this can improve performance on lower bandwidth networks) and change the video playback characteristics (original size, auto fit size and full screen size).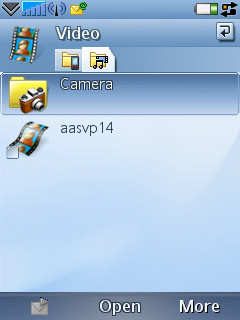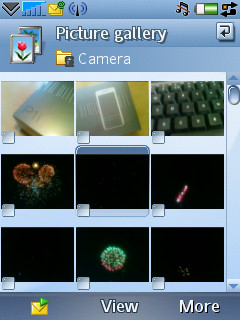 We covered the camera in part 1 of the review, but its companion application, Picture gallery, also deserves a mention. Basic image browsing is relatively speedy, even with large number of pictures stored in a single folder. The zoom function with an overview thumbnail in the corner is excellent and there is also a built in slideshow feature and basic picture editor.
There are a number of other multimedia applications: 'FM Radio' lets you tune in and listen to traditional radio (as with other phones, you will need a headset plugged in to act as an aerial). 'Online media' is used to store and play back streaming media links for both video and audio. MusicDJ can be used to mix together a variety of sounds to create your own ringtones.
'Sound recorder' can be used as a dictaphone for recording voice notes, but also has a new TrackID function. This is used to identify unknown music from a short audio sample. You record a short sample of music in the Sound recorder application and it is then sent over the air to a recognition server. The server returns a web link which opens a page identifying the music track in question and, if supported by your operator, offering purchase and download links. TrackID's accuracy and range is very impressive and has definite potential to drive music sales on mobile. If nothing else, it should prove very handy for impressing people at pub quizzes.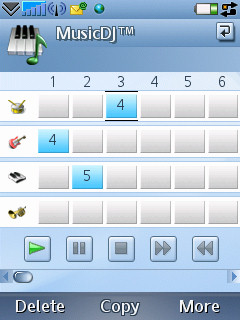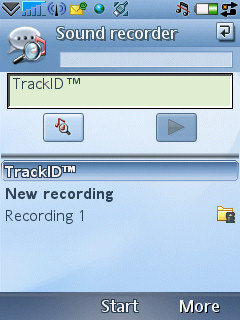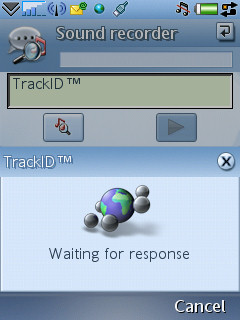 The Java games Vijay Singh Golf Pro 3D and Quadra Pop are part of Sony Ericsson's familiar software bundle, along with the array of extra small applications such as Stop watch, Converter, Time and Calculator.


Battery Life and Power Management
The P1i's 1120 mAh battery should just about last two days with moderate usage. Heavier users will need to charge the phone every day, although the included desk stand makes this relatively painless.
By default, the P1i has an aggressive key lock and backlight time out (30 seconds). The first of these can be turned off via the Security | Locks module of Control panel, but the second cannot be adjusted. It does save battery life, but may annoy some users. There's a power save function (switches the screen off after a user defined period) under the Device | Backlight module of Control panel which is also well worth using.
Conclusion
Overall, software performance is good with a definite difference between the first and second generation UIQ 3 devices. Many of the bugs that plagued the released version of the P990i were fixed in subsequent firmware updates and this is to the great benefit of the P1i, which is released with a much more stable and mature software base. As a consequence, the device is faster in operation, has fewer glitches and no unexpected reboots. Also important is the extra RAM found in the P1i, which means the software is able to multi-task much more effectively.
Sony Ericsson's UIQ 3 phones already boasted an impressive software suite, and with a few additions and small tweaks the P1i builds on this. The P1i software suite is unusual compared to other smartphones because it excels, out of the box, in both enterprise and multimedia areas. With other smartphones you usually find a strength in either multimedia (e.g. Nokia's Nseries) or in enterprise (Windows Mobile, Blackberry, Nokia's Eseries). In some areas this means that the P1i does not measure up to its competitors, but it does offer one of the best all round software packages available on any phone.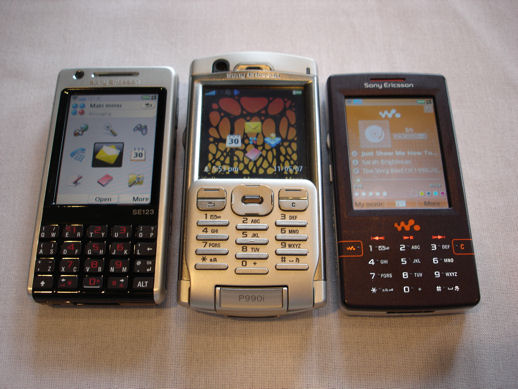 Rafe Blandford, AllAboutSymbian, 17th August 2007
Note: We have covered some of the P1i's software applications only in brief. The applications themselves are the same as those found on other UIQ 3 phones and you can see more details and screenshots of these applications in both our M600 and P990 reviews.


---
Reviewed by Rafe Blandford at