Review:
DreamConnect 3 for UIQ 3
Score:
90%
Many users have been disappointed with the built-in UIQ 3 Contacts, because it lacks some features previously available on UIQ 2, especially the limited search function. Enter DreamConnect 3 (DC3), an application which offers more functions and control. DreamConnect's history goes back to Psion days, where again it provided an alternative contacts app. It's also available for UIQ 2, by the way.
Version Reviewed: 3.00
Buy Link | Download / Information Link
Highlights
The Main DC3 Contacts view offers direct access to the 3 most commonly used functions, calling, new text message and new MMS. Compared to the built-in Contacts, which can only trigger calls.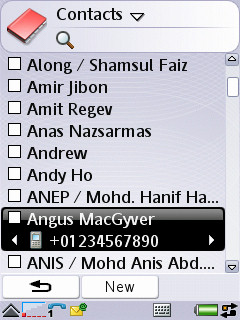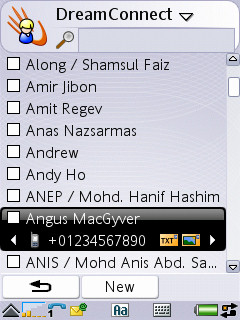 Main view. UIQ 3 Contacts on the left, DC3 on the right, tapping on the icons triggers actions
Instead of tabs, DC3 shows all info in one detail view. Editing an item is also presented using a single view. I really like this feature because it eliminates the need to use extra taps. Most important operations, like selecting actions (SMS, calling a contact, Email, etc) can also be done without the stylus. It's designed with one-hand (Jog dial) usage in mind.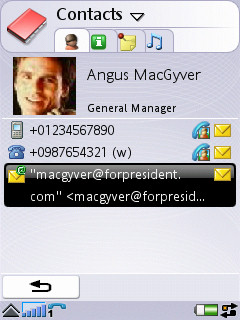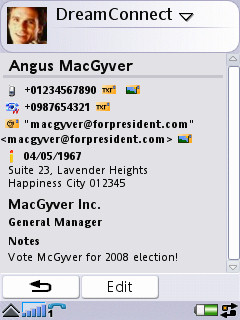 The detail view in DC3 (right) gives more information
DC3's search function works very differently to the built-in Contacts. It has 2 main search modules. The first one is Quicksearch, accessible from the main view. When you type a letter in the search box, DC3 will filter the data and only matching results are displayed. It's very accurate and nicely done. The second search function is SmartFind, a very strong filtering utility which needs to be accessed via the menu.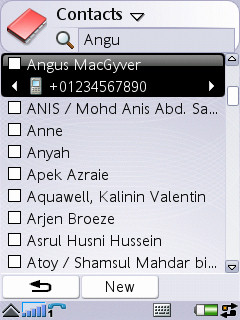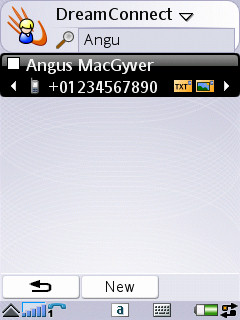 See the difference? DC3 (right) displays matching search result only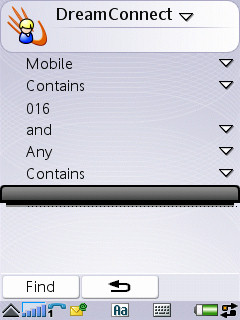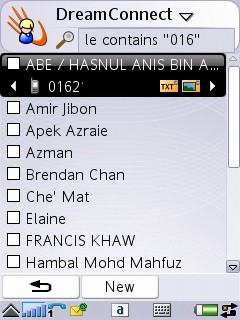 Two screens from DC3: A more powerful search, in SmartFind
How frustrating it is when you accidentally delete a contact. You've lost valuable info and if you don't have a backup in Outlook or similar, it's gone forever. One of the strongest features in DC3 is the Undo function. It lets you edit contacts without worrying about deletion or misplaced numbers or wrong addresses.
Regarding contact sorting, the built in Contacts offers only 3 choices but DC3 has 14! I find this very useful because Asian names don't have first and last names.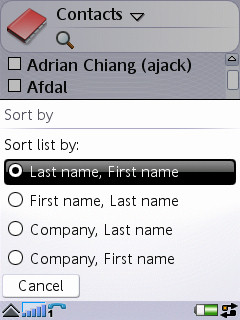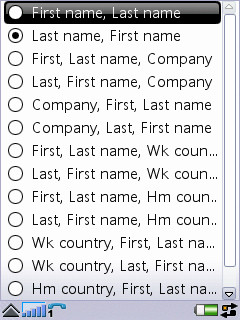 Sorting options in Contacts (left) and DC3 (right)
If you like to categorise your contacts into different categories, DC3 goes a step further by allowing a contact to be attached to multiple categories and the category list is presented in a tree structure (shown right - Categories in tree view)
DC3 also has utilities to make contact management better. Contact Info summarises your contact database and if it's necessary, you can compress it. Another little (but very useful) function is text copying, which can be done when viewing a contact's details. All text in this window can be copied, to be pasted into other applications. For example, you can paste contact details into an SMS to be sent out.
Issues
The built-in Contacts has an option to backup contacts into a single VCF file but DC3 doesn't have any backup utility (I've been told it will be integrated in the next version, including import and export. Yay!)
There needs to be a full screen option to view more details.
The biggest gripe for me is the RAM consumption. DC3 takes around 2MB of RAM, compared to only 500K taken by the built-in Contacts. This is not entirely the developer's fault, but with Exchange ActiveSync and Messaging running in the background all day, DC3 gets killed too often. Other than that, DC3 runs with no problem in both flip open and closed modes (on the P990).
The fat lady sings

Whether you're a plain UIQ 3 user or a power user, DC3 offers convenient on device contact management. I found it hard to go back to the built-in Contacts and I wished DC3 was the default UIQ3 contact application. And, in my opinion, DreamConnect 3 deserves AAS' prestigious Mega App Award! Highly recommended!
Pros
Displays contact info on one screen, with no tabs
Strong filtering
Enhanced messaging
Cons
Takes more than 2MB of RAM
No function to backup contacts and categories
Asri al-Baker, June 5th 2007
Reviewed by Asri al-Baker at